Most of us in the photography industry know who Jeremy Cowart is, but for those of you who don't, Jeremy Cowart is an award-winning photographer, artist, author, hotelier and entrepreneur whose mission in life is to explore the intersection between creativity and empathy. Jeremy has created such incredible photography & charitable projects like Help-Portrait, The Purpose Hotel, The Forgiveness Project and many more.
With the recent lockdown due to the Covid-19 pandemic, many photographers were trying to figure out a way to keep working while maintaining some sort of Social-Distancing practices. From porch shoots, to toy photoshoots, and then FaceTime photo sessions, things got pretty inventive and inspiring all around. Well Jeremy was definitely inspired, but as is his way, he wanted to do something different altogether which is where his new photo-project was born!
His current project is called #LOVETRANSPORTED and is a global, virtual photoshoot. Jeremy projects individuals and families all over the world, one at a time, onto various objects and surfaces in his photo studio in Tennessee and then takes pictures of the scene. The result he says "Is hopefully a permanent memento of this crazy pandemic we're all living in. We'll all be talking about this moment for the rest of our lives. My hope is that these portraits will serve as a chapter marker for those who participate. For better or worse, we're all in this together."
How Does It Work?
Well basically Jeremy is creating a Zoom conference call and projecting the image of his "clients" onto a cardboard cutout inside of some old picture frames using some of his 8k projectors he's got in his studio. With one projector he pushes the video feed from the conference call, and with the 2nd he projects various backdrops and textures onto a canvas he's got behind the photo frame.
He then lights the scene with his Profoto D2 lights and captures everything while shooting tethered through Capture One Pro. Once he finished editing the images he uploads everything to a service called Pic-Time where his clients can then download all the high-res files.
Check out the explanation of the process from Jeremy himself in his video here. (notice the videographer is also keeping a healthy "social-distance" in it as well!)
Since Jeremy is an entrepreneur, and like all of us, needs to keep making some money during the pandemic, he's been using Crowdcast to create live conference events that you can sell/buy tickets too and this is how he's been getting it all rolling. In the last few weeks he's already captured several hundred portraits from clients, quite literally, all over the world! If you're interested in taking part in this project, he's charging $35-$75 per ticket which you can sign up for here: jeremycowart.eventbrite.com.
Each shoot lasts just a few minutes and while he's doing these events, he's broadcasting it all live through his Facebook, Twitter, and Instagram so you can watch the whole process before you join in!
As you can see below, the end results are pretty fantastic, and a much needed distraction given the current global situation. As Jeremy said "It's nice to have an excuse to actually dress up and do something normal again"
Check out some of Jeremy's favorite shots from the project so far;
There's a lot of interesting ideas out there keeping creatives doing awesome things during this lockdown, and hopefully some of these ideas can keep everyone busy and inspired during this time of isolation.
"I'm hoping this all provides maybe a little spark of inspiration, just like I so desperately needed 10 days ago."
What do you think of these shots and Jeremy's project? Will you be signing up and taking part? Have you started a project of your own? Let us know in the comments below!
*Images, video, and details shared with permission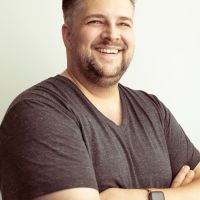 David J. Crewe
David J. Crewe is a full-time commercial photographer and Senior Editor with SLR Lounge. Based out of both Southern California & Las Vegas, Nevada. View his work and blog:
DavidJCrewe.com
Follow his Instagram:
@DavidJCrewe