Our "SLR Lounge Artist Feature" articles highlight some of the very best photographers in the world. This article features an interview with Joanne and Jason Marino, of Imagine Photography (Kingman, Arizona). Internationally recognized photographers and educators, Joanne and Jason Marino are also very accomplished business owners with a reputation for a client experience that is second to none. Over the last few years, they expanded their photography business, establishing a luxury portrait studio in downtown Kingman.
Read on as Joanne and Jason Marino chat with us about how they got into photography and what it takes to run a successful portrait studio. As well, they give a few tips for those wanting to improve their photography business. Definitely worth the read!
Thanks so much for taking the time to talk to us, Joanne and Jason. Tell us about how you first got into photography.
Joanne: I took a photography class in high school and just fell in love. I continued with photography only as a hobby for years. Finally, when Jason came along, he encouraged me to really dive in and make it a bigger part of my life.

Jason: I was an artist growing up. I was always illustrating something on paper. Eventually I got into music, and spent about two decades on stage. During that time, I tinkered a bit with cameras, taking pictures of cars and other mechanical things. Over time, I kind of forgot about photography. However, when I met Jo, I watched her photograph people, weddings of my friends, etc. It suddenly rekindled that flame, and the rest (as they say) is history.
Pretty recently, you opened a portrait studio. What was that transition like? What do you love most about running your business out of a studio?
Joanne: There are a lot of moving parts with running a portrait studio. I have to admit that the business part of it can be not so fun and stressful, but the reward is how happy we make our clients. Creating amazing art for them (and how it changes how they see themselves) is more than worth it. Moving into a commercial space is a huge part of the success we have been able to achieve …

Jason: We started by working out of our home. There were many challenges to working this way. First, with a busy household of three teenagers, all coming and going at all times of the day, it would require some finesse so as not to interrupt client meetings. Moreover, the client meetings were an interruption to them, and our home life. We quickly built a studio space in my old band rehearsal studio at our house, but, within six months, we outgrew it. … Now, having moved into our second commercial studio space, we are just in love with the freedom it gives us to create, and welcome clients.
You are well known for your client experience. To what do you attribute your success in this area of business?
Joanne: First, It's important to remember that it's always about the client. Every client that comes in has a reason why they want to get portraits done. It's our job to find out why they came to us, what's important to them, and how they want their finished art displayed.

Jason: I'm a big shopper. We both are. But I'm obsessed with shopping. I have a nose for finding exceptional client experiences as a consumer and began taking mental notes of the experiences we had. From Nordstrom to BMW to William Sonoma, we cataloged everything, from the sights and sounds to the scent in the air. Then, we watched how the staff interacted with us and how they would guide us through our experiences in their stores. When we had a bad experience, we openly discussed it on the drive home. We realized that all of the great experiences we had have the same things in common: a total sensory experience of light, sound, smell, and service that just sets them apart. So, we simply replicated that as best we could …
That's awesome, Joanne and Jason! What's your best tip for photographers looking to up their game, whether it's going full-time or just wanting to offer a better experience for their clients?
Joanne: The best advice I can give is to never stop learning. I have been a photographer for 20 years, and I never want to stop educating myself. There are so many ways to expand your point of view and your creativeness. That's the beauty about this profession.

Jason: Don't worry about having the latest, fancy gear. Get some solid equipment that can do what you need it to do, and then focus on being excellent using that equipment. And before you do anything else, learn how to take great care of your clients. There is nothing more important.
How about the best business advice someone gave you?
Joanne: Listen to what is important to your clients.

Jason: Our mentor,

Steve Saporito

, has given us more amazing business and life advice than we could ever explain in a sentence or two, though Joanne summed it up very succinctly. He's been the catalyst for where we have come, and where we're headed. He deserves so much praise for how he has transformed our lives, and the lives of countless others. Mostly, he took away our fear of success. Now, we let success happen. And we know we deserve it.
Joanne: There are definitely things about our business that I am super passionate about sharing. The biggest one is how we make a difference with our client experience …

Jason: We just wrapped up our fourth straight year of teaching at WPPI. And Imaging USA was kind enough to give us a chance in Atlanta earlier this year. In fact, they invited us back for Nashville in 2020, where we will be doing a three hour class with a room of 700 attendees. To say we're a bit nervous is an understatement. Realistically, there are a million better photographers than us, so we don't try to come out and reinvent the wheel at these conferences, or workshops. We just give people an honest look inside of what we do, how we do it, and why … As well, we do a lot of one-on-one business mentoring. And photographers  can contact us directly to learn more information about that!
We always like to give our artist feature interviewees a chance to mention any companies that they love working with … And any last thoughts for our readers, Joanne and Jason?
We have so many wonderful companies that we love to work with, and are ambassadors for: Bay Photo, Fundy Software, MagMod, Interfit Photographic, Atmosphere Aerosol, and Light and Motion. These people take great care of us, and provide us with the tools to do our jobs the best we can! Huge thanks to all of them!

Joanne: Having a successful business takes a lot of hard work. If you love it, don't give up on your dream. We have had plenty of failures, but we have learned and grown from each one of them.

Jason: You don't have to spend insane amounts of money, have all of the latest gear, 'be famous,' or live in a big city to be successful. Carve out your niche, be comfortable where you are, and treat people like they should be treated. Do that, and you'll do just fine. The rest is just noise.
Thanks for checking out our latest artist feature and interview! You can see more photography by Joanne and Jason Marino on their website. Check them out on social media as well: Facebook and Instagram.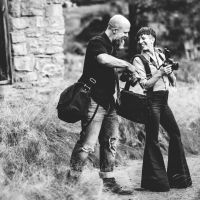 Amii & Andy Kauth
Amii & Andy are a wife and husband team of rad portrait and wedding photographers (Sunshine & Reign Photography) who absolutely love life and are generally just stoked! Yeah! When they aren't photographing or writing and teaching about photography, you'll find them off on a seriously legit adventure with their little ones, lifting weights in their garage, training jiu-jitsu, refining their archery skills, or surfing every chance they get. And on the rare chance they escape off on a "date night"? Yep! They'll find a wedding to crash (true fact). Website:
Sunshine & Reign Photography
Instagram:
@sunshineandreign