Licensing quality music just got more accessible than ever.
Earlier this year, Musicbed renovated their site to include personalized features that made it convenient for filmmakers to "discover new artists and keep track of the new music from artists they love", all within their highly curated catalog. Today, the full service music licensing platform launched their completely rebuilt iPhone app, giving users access to Musicbed's abundant library of songs on-the-go.
Serving entertainment powerhouses such as Sony Pictures, 20th Century Fox, Lionsgate, and cult favorite, Netflix, Musicbed has evolved to become a staple in the music & soundtrack industry. Its interface is designed to relieve filmmakers of the stress & duress involved in finding a soundtrack that works cohesively with their footage, allowing users to browse music, create & sync wishlists across all devices, and purchase songs within the app.
The revamped app brings a couple of updated features that push users to engage, collaborate, and create together:
Offline Mode: make Wishlists and Playlists available for offline listening wherever your shoot takes you – even on a flight or to locations without LTE service or WiFi.
Discover: follow top notch playlists – updated by our team daily – and your favorite artists to be the first to find out when we add new music you love.
Shared Wishlists: invite collaborators to access, contribute to and comment on songs for a project within a wishlist.
Curated Home Screen: learn about the best new music, straight from our curation team.
Although today's launch is for IPhone users specifically, Musicbed launched a mobile-friendly version of their site giving Android users access to many of the site's features last year.
SLRL Premium Members can enjoy a discount for Musicbed here, giving you access to over 600+ of the world's best musicians, bands, and composers to fit your soundtrack.
Download the app for free today on the App Store here and watch the film for it below: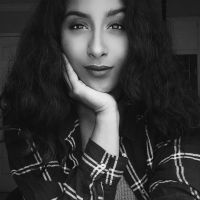 Shivani Reddy
Shivani wants to live in a world where laughter is the cure to pretty much everything. Since she can't claim "Serial Bingewatcher" as an occupation, she'll settle for wedding/portrait photographer at Lin and Jirsa & marketing coordinator here at SLR Lounge. For those rare moments when you won't find a camera in her hand, she will be dancing, eating a donut, or most likely watching Seinfeld. Follow her on Instagram:
@shivalry_inc