I grew up around women who were into fashion and within it, and that carried through my life thus far, but whereas fashion is really about the concept/clothes, it held significantly less interest to me than the man/woman inside them. I think to photograph people you've got to really love looking at people, and when you do the attire sort of falls away. Is that not kind of the goal of portraiture?
It's probably why Peter Lindbergh, Patrick Demarchelier, and Richard Avedon were, and remain, my favorites. Kate Moss notably says it's Avedon who taught her how to have thought behind the eyes, and Lindbergh, who famously likes to capture complexity in a single photograph, has been known to say, "The woman is always more important than the clothes." Looking at his body of work that becomes exceedingly clear. While he shoots fashion, it would appear he's more about fashion portraiture. The distinction between the two is at one fine and wide, but the video herein presents an interesting take on the matter.
Clinton Lubbe of YouTube's Dphog explores the psychology behind fashion portraiture, and explains how it's different while offering advice on how to think about it and how to do it well. On the half-shell, Clinton describes the relationship between fashion and fashion portraiture as an emotional one; one where fashion focuses on the garment and fashion portraiture focuses on the person and how that wardrobe makes them feel.
That is actually a very tidy description to keep in mind, and not only should that help you plan out your shoots, but also help you engage with your subjects and frame them. Clinton further discusses his take on fashion portraiture lighting, why he chooses not to be overly precise with it, and what equipment he prefers. We can make out from this video he is using:
If you're interested in a timeless look and want to learn more about the mentality behind a classic fashion portrait, this is a truly good video to take in and bookmark. It is about 9 minutes long, but it's inspiring enough that you may want it to be longer.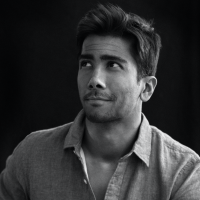 Kishore Sawh
A photographer and writer based in Miami, he can often be found at dog parks, and airports in London and Toronto. He is also a tremendous fan of flossing and the happiest guy around when the company's good.