I want to address the elephant in the room straight away before we get this thing started: public perception of Canon's M series cameras isn't great. From comments on the First Impressions post, it's clear that Canon has a PR problem on their hands regarding this line. Forget what you think you know about this camera if you're only familiar with other Canon M cameras. I will admit that Canon was late to the mirrorless party and stumbled on the way to where they are now, but the M5 is a pretty solid camera.
I received this camera for review the day before leaving for vacation and it was perfectly suited for the task. Testing the M5 on a trip was an ideal way to become familiar with it, and its compact-yet-sturdy form fits snugly in my hand, and the images produced looked great so it was compelling (and easy) to take everywhere I went.
It's not without faults, but it's a very useable, very fun camera.

The M5 has quite a lot going on in the features department. Its 24.2MP APS-C CMOS sensor provides ample detail in photos, and its speedy DIGIC 7 processor is a treat hardly any other Canon cameras have received yet. The dual pixel CMOS phase detection autofocus system has 49 focus points that can detect faces and track motion, and with no mirror causing hinderance, it can shoot a burst of 9 frames a second. ISO ranges from 100 to 25600 and shutter speeds are 30 seconds to 1/4000, plus bulb mode.
Video is a mixed bag. 4k aficionados will be disappointed that the M5's highest video resolution is 1080p HD, and in an odd oversight, Canon has included a mic input but no headphone jack for monitoring. This instantly makes it less appealing for videography, unless you prefer to capture sound on an external recorder like a Zoom H5. But the M5 does boast 5-axis digital image stabilization in video mode, which is certainly useful, though it would have been nice to have in-body stabilization for stills as well.
The 2.36m-dot electronic viewfinder, which sets it apart from the rest of the M lineup, is gorgeous. The 3.2″ rear LCD also looks stunning, can tilt up and down for photos above and below eye-level, without climbing or crouching, and can also fold out to face the front, under the body. It's a touch screen, and it's very responsive.
The M5 has WiFi and Bluetooth connectivity for on-the-go image transfers, and unlike some of its competitors, it is wonderfully reliable.
There are physical buttons and dials for most things that you would typically need to change on the fly as well as accommodations galore for the novice consumer, which, thankfully, don't get in the way of the experienced photographer.
It has a built-in pop-up flash which will not intrude in your photos uninvited – it must be popped up manually with a button next to it and when not in use sits incognito, and there is also a hot shoe for attaching Canon Speedlites. Photos are stored on a single SD card, and battery life is rated for 295 shots or 85 minutes of video.
It's available in a kit with either an EF-M 15-45mm f/3.5-6.3 IS STM lens or EF-M 18-150mm f/3.5-6.3 IS STM lens, or body-only (which is what I'd recommend.)
The M5 has earned itself four stars for features because while it does have a lot of great features, some are notably missing. Consumers have been asking for 4k video on Canon cameras for years and while they've finally delivered in some professional bodies, leaving it out of the M5 was a missed opportunity to be more competitive with other mirrorless cameras on the market. The tilting screen is useful, but since it flips down and not out, it can't be used in conjunction with a tripod, and it ticks the WiFi box but leaves out GPS.
For the most part, this camera performs very well. Autofocus is snappy and tracking is effective. The touch and drag autofocus is a cool feature that works well. If you aren't familiar, touch and drag autofocus lets you touch the screen while you're looking through the viewfinder and drag your finger around to change your autofocus point. The spot you're touching is shown in the EVF and that's where the camera focuses. The M5's autofocus may not quite be DSLR-fast, but it's not too far off.
For testing, I received two lenses – the EF-M 15-45mm f/3.5-6.3 IS STM kit lens and the EF-M 22mm f/2 STM prime. The kit lens is… a kit lens. It's not awful for what it is. Overpriced, probably, at the $299 asking price but adequate. I hardly used it and when I did, I wasn't overly enthused. It's light and plasticky, like a toy. Optically it's okay, but if you're reading camera reviews, "okay" probably isn't what you're after.
The 22mm f/2 is what I used a good 95% of the time or better, and I enjoyed it. It has a more substantial feel to it, despite being very small, and has a curiously tiny front element through which you can see an adorable set of aperture blades. With it, images are sharp and have good contrast, and with this lens mounted, while not quite pocketable, it's very compact and easy to carry around with you all day.
Battery life isn't the best, as to be expected from a mirrorless camera, however, I only received one battery with the camera and only found myself wishing for the already-depleted juice a couple times over the month plus that I had it. Just plan ahead and charge it fully when you know you'll be taking it out, and ideally, if you own this camera you will have more than one battery anyway.
One reason I found myself with less battery than anticipated occasionally was that the video record button is easy to bump and start an accidental recording. There were a few times that I hit the button without noticing and took a five-minute video of nothing in particular, eating up battery life on the way. It's not just me, as I handed the camera off to another photographer to check out and realized after getting it back from them that it was recording a video, but they hadn't intentionally started recording.
Ergonomically, the M5 is a delight. The first thing noticed on unboxing was that it felt like it was made of high-quality materials. It's compact but solid, and doesn't feel cheap. The grip fits the hands comfortably, and most of the body is covered in a textured rubberized material that looks and feels nice.
The M5 has focus peaking, something that most Canon users have to get via Magic Lantern if desired. Whilst shooting a concert, to use autofocus would have meant blasting the musicians in the face with a bright autofocus assist beam, so manual focus was clearly the way to go. Thus,  focus peaking was turned on and it was nice to have, but I the lines could have been a little more obvious.
You can change the colors of the peaking indicators, which is really useful for things like changing stage-light colors. For example, when the lighting became blue, the blue peaking indicators were doing me no good, but there's the ability to easily change it to red which was much more visible. Still, after uploading the images more were not quite in focus than I would have guessed in the moment looking at the focus peaking in the EVF.
Another discovery as a result of shooting the concert was the slight delay from the press of the shutter to the capture of the image, and that was a bit of a let-down. It's not really noticeable until you're shooting something fast-moving, but when you are it requires a little bit of extra prediction to grab the moment you want. Granted, the 9fps can help with that, but who wants to spray and pray when not necessary?

The tilting LCD is handy. Photographing dogs on the street, it's very convenient to not have to be on knees and elbows to get to a dog's eye-level for photos. Also, if you're short, like I am at 5′ 3″, it's nice to be able to reach overhead and see the photo I'm taking if I need a higher vantage point. Even those who aren't vertically-challenged will find uses for this feature, like shooting a top-down scene from overhead while previewing it on the LCD. Since I personally don't have any particular need to mount the camera on a tripod and be able to see the LCD from the front, I'm not too perturbed by the fact that there isn't a way for that to work, but vloggers beware – you wouldn't be able to set the camera and monitor yourself as you record.
That you can mount Canon Speedlites and use all of the functions is great, but the jury's still out as to the M5's validity as a strobist's camera. I tested it with a 600EX-RT and had no issues other than the fact that the Speedlite feels really big on top of the tiny camera, but I was not able to successfully use it for any OCF purposes.
First I tried a Yongnuo YN-E3-RT, which is a clone of Canon's ST-E3-RT TTL radio transmitter. It was incompatible, though Canon's own transmitter may work. Next, I tried a Profoto Air Remote but oddly it wouldn't even fit in the hot shoe. Perhaps the M5 has a lower profile hot shoe than a DSLR. It wasn't tested with Pocketwizards during my time with the M5, and if those will work with this camera I'll retract my statement, but I haven't seen any evidence that they do.
One of the biggest complaints I've heard about the M lineup is a lack of native lenses, and this is true; the pickings are slim as far as that goes. There is only a handful, and there are no fast zooms at all. What's nice for those who are already Canon users and who want to pick up a mirrorless companion, is that Canon makes their own EF to M adapter.
If a Canon user buys another system, they have to rely on third party adapters which are not known for working flawlessly. I used the  Canon EF-M Lens Adapter Kit for Canon EF / EF-S Lenses and tried out some EF lenses with the M5 to how how it all fared.
The 100mm f/2.8L macro was much less awkward than I had anticipated. The 40mm f/2.8 pancake was basically doubled in length with the addition of the adapter but was still quite slim and fit nicely with the camera. The 50mm f/1.8 STM was marginally bigger but still felt pretty natural on the M5. The 24-70mm f/2.8L II was tiptoeing into ridiculous territory. It works, and the resulting images are great, but it's a big, bulky mismatch for the M5. Usable, but silly. That said, the adapter is an ideal solution when used with smaller lenses, and autofocus performance doesn't appear to suffer.
The design is very good, for the most part. Foibles would be the shallow hot shoe, the easy-to-accidentally-press video button, and the LCD that can't be used with a tripod when flipped to the front of the camera for viewing while facing the camera.
Aesthetically, the M5 is very similar to a shrunken 5D series or 60/70/80D series camera in form. It has a look that's a little sleeker and classier, though. The material the body is made of has a slight metallic sheen and the dials and buttons on the top of the camera are beautiful metal, with the dials having textured edges. As mentioned earlier, there is an attractive rubberized, textured coating around the front of the camera. Controls are easy to access and intuitive.

The quality is outstanding. It feels solid, comfortably weighted with some heft – neither too little so as to feel cheap or too much. The materials are beautiful and look and feel high quality.

It's not inexpensive, nor should it be, but the fact that you need to spend an extra couple hundred dollars on an adapter to widen your range of available lenses brings the value down a notch to a four-star rating. It is a high-quality camera that produces high-quality images, and if it the adapter was included with the purchase or more high-quality native lenses were available the value would be improved.
The M5 is docked for the missing features, design flaws, the small selection of native lenses, and difficulty with OCF use. There's a funny thing about this camera, though, that when you write out every little thing about it, it sounds less awesome than it feels when you actually use it. It really is a super fun, super cute little walk-around camera.
Ideal candidates to make the most out of Canon M5 ownership: street photographers, parents who want a camera handy to capture all the little family moments, natural light photographers (I do think this could be used professionally if you don't need to use an off camera flash – the image quality is there), people who enjoy photo walks, photojournalists (the sneakiness coupled with the quick uploads via WiFi could potentially let a PJ get the shot and send it to whoever needs it ASAP), people with some money to burn who want to pick up a little camera for a trip. For all of these characters, the best value is going to be for those who are already anchored in the Canon system.
People who probably want to look past the M5 in search of their dream camera: those who are serious about videography or feel they need 4k capability; people who need their camera to have many native lenses; photographers who are all about their lighting (unless the M5 would be a companion camera to one that can is more compatible with OCF).
There you have it. A big review for a little camera. Love it or leave it? If you love it so much that you're ready to pick yours up today, you can find it right here.  Let us know what you think!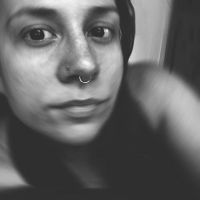 Holly Roa
Seattle based photographer with a side of videography, specializing in work involving animals, but basically a Jill of all trades. Instagram:
@HJRphotos