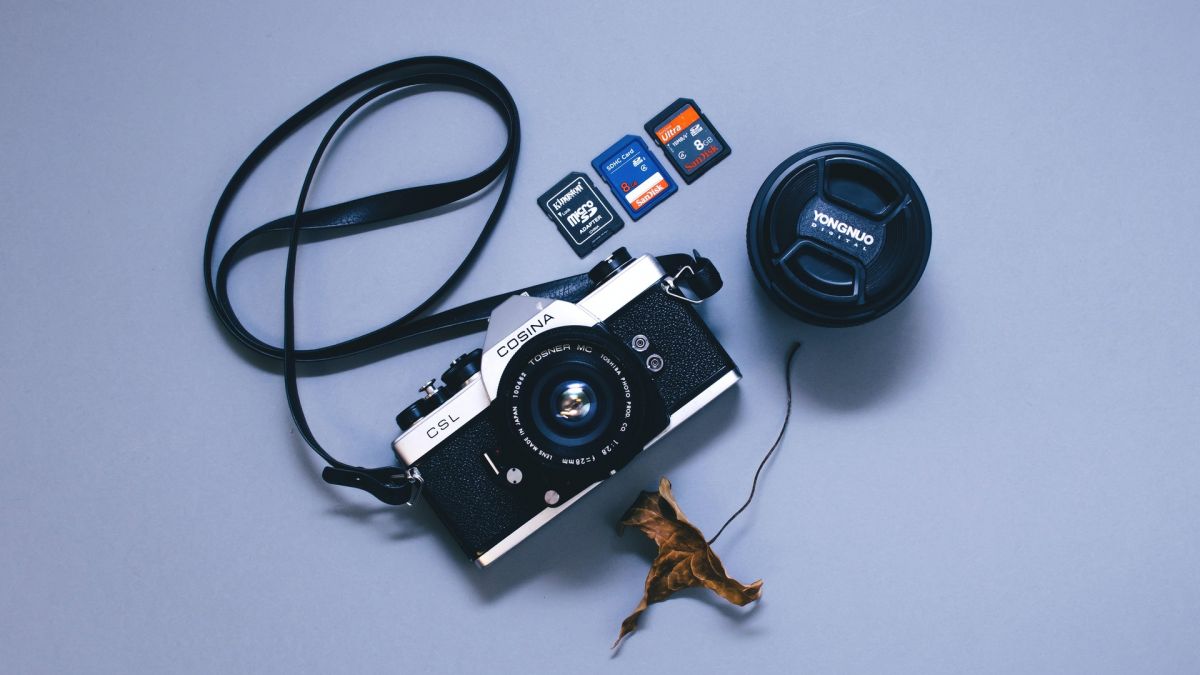 People tend to focus more on camera bodies and lenses when discussing camera gear. Those are exciting, fun purchases! Once new photographers find themselves with a camera body in hand, however, the next equally (or even more) important piece of gear takes center stage: memory cards. All digital photographers must use them to store photos, and indeed, you absolutely want to have the best memory card you can get.
Of course, not all memory cards are created equal. They come in different shapes and formats. They come in different sizes, AKA storage capacity. Also, of course, there are different brand names, as well as different transfer speeds and physical durability. Put all this together, and it can be intimidating to consider how it's actually the memory card, and not your camera or lens, that is the final "point of (potential) failure" in capturing your photos!
When it comes to choosing which is the best memory card for photographers, it's worth noting that the answer will change based on each photographer's needs. Specifically, of course, what camera do you own, but also, what do you photograph?  With that in mind, here's our guide to help you find the best memory cards for you.
Understanding Different Types of Memory Cards
If you're new to photography, you should notice early on that your camera does clearly label which type or types of memory cards it can accept. There should be a basic label on the camera itself, plus the user manual will go into greater detail about memory card compatibility.
Some cameras only take one SD card, or two SD cards at once, while others may only take XQD, CFexpress, or other memory cards. Some cameras with dual card slots can use multiple memory card formats at once, such as SD and CFexpress.
What you still must figure out, however, is which version of the card that your camera uses is the best memory card to serve your needs. We intend to help you in both areas. Below, we'll break down different memory card types and look at the strengths and weaknesses of each before sharing our picks for the best memory cards.
SD Memory Cards
Professional photographers and hobbyists alike use SD (Secure Digital) format memory cards. However, the specific acronym, "SD", is actually outdated, as you'll see next. It is important to remember this because you do not simply want to buy any SD card; you need to look for specific types. (Read on!)
SDHC Memory Cards
Again, SDHC (Secure Digital High Capacity) cards are an older type in the SD family. They were/are ideal for casual and aspiring photographers; more than good enough for everyday use. However, SDHC only comes in 8-32GB capacities, and we usually recommend 32-64GB as a bare minimum for most photographers who have a camera with 24 megapixels or more. So, once gain, read on!
SDXC Memory Cards
SDXC (Secure Digital Extended Capacity) is the current generation of the SD card format. SDXC comes with 64GB and higher capacity, as well as significantly greater speeds.
So, when a fellow photographer asks you, "Hey, can I borrow an SD card?" …they probably mean SDXC. However, again,  when shopping for memory cards, double check to make sure it says SDXC!
The SDXC memory card format is perfect for photographers and videographers of all types, from beginners to professionals. Even if your camera has 40+ megapixels, or captures 4K video, an SDXC memory card should be fine. Unfortunately, there is one more caveat, so read on…
SD Memory Card Speeds | UHS-I, UHS-II, V30, V90, U1, U3, …and more!
Now, this is where shopping for SD(XC) memory cards can get truly confusing and frustrating. Unfortunately, there are multiple ways in which SD card speed is measured/labeled.
First, there is what is called a "Speed Class" rating. As before, many of the slower, older speed classes are either discontinued and/or irrelevant to modern cameras, so we'll skip right over the oldest speed ratings, and talk about UHS-I and UHS-II. (UHS stands for Ultra-High Speed)
Start by looking for SD cards with a "U3" rating. By comparison, a "U1" would be practically unusable on modern high-megapixel cameras, because it only guarantees a  transfer speed of 10 MB/s, and cameras these days can capture 50-75+ MB raw files at 10+ frames pre second. Yikes!
So, "U3" SD cards with a UHS-I and UHS-II speed rating are the bare minimum for most photographers. UHS-I should be fast enough for casual photographers, even with high-megapixel cameras. They usually reach up to 200 MB/s read speed, which is very respectable. Professionals or anyone who photographs fast action will likely want UHS-II, which we'll get to in a minute.
Memory Card Read Speed VS Write Speed
It is important to insert this caveat now: memory cards have two different speed ratings: read speed and write speed! You may see "200 MB/s" displayed prominently on a memory card or packaging, but that could only be its read speed, which is the speed you get when transferring photos to your computer. The write speed, which is how fast your camera can save photos to the memory card, might be a LOT slower, unfortunately! So, always read the fine print when shopping for SD memory cards, and check both the read and write speeds. These days, most all photographers will want an SDXC UHS-I or UHS-II card that reaches 200-300 MB/s transfer speeds.
UHS-II SD Cards
Photographers who do a lot of high-speed or near-constant shutter clicking, (or high-quality 4K video) will want to shop exclusively for UHS-II SD cards. The best ones can offer not just 300 MB/s read speed, but also an impressive 299 MB/s write speed. (Impressive for SD, that is…)
Unfortunately, as if that wasn't complicated enough, there is one more thing: a video-centric speed rating: "V30" or "V60". Thankfully, this "V" rating is a bit more straightforward: V30 means a minimum of 30 MB/s write speed. V90, for example, means a minimum write speed of 90 MB/s.
Memory Card "X" Speed Ratings
A few memory card brands, (mostly Lexar) still also use yet another unhelpful speed rating, such as "1667X" or "1800X". Unfortunately, these numbers don't mean much, and again they may only denote a read speed, not a write speed. Therefore, we recommend ignoring these numbers completely; just look closely for the read & write speeds.
[Related: Memory Card Backup Tips For Surviving An Apocalypse]
microSDHC and microSDXC
The microSDHC and microSDXC formats are perfect for camera phones and action cameras, but we don't generally recommend them for professional cameras because you'll be relying on a (cheap plastic) adapter to write and read every single one of your photos.
Outdated: CompactFlash Memory Cards
Another card format that is becoming rarer because of upgraded versions is the CompactFlash. Before, this memory card format was common for almost all high-end DSLRs. However, the capacities and speed of SDHC and SDXC have made CF an outdated memory card format.
Outdated: CFast Cards Memory Cards
Don't be fooled! The CFast memory cards are not compatible with the Compact Flash format, despite sporting the same structure and size. The CFast cards are known for being significantly higher speed than CF, however, both are now relatively obsolete. If you own a slightly older camera that uses CFast cards, or are considering buying one, you'll want to keep this in mind.
XQD Cards
These memory card formats are limited only to some Nikon DSLRs, mirrorless cameras, and Sony camcorders. At this point, camera manufacturers are not leaning toward this format, because CFexpress cards supersede it. But, XQD Cards are known for impressive performance for video recording and high-speed photography.
CFexpress Cards
For a high-speed, professional memory card, the current industry standard is CFexpress. Unfortunately, this memory card format is only available for selected high-end cameras such as the Sony A1, Nikon Z9, and Canon R3, plus a few others.
CFexpress cards come in two types: Type A and Type B. These two types are not interchangeable, and a camera that allows only a Type A card cannot operate with a Type B format, or vice versa.
CFexpress type A memory cards are unique in that they are physically similar to SD cards, though not exactly. A few cameras can accept both SDXC and CFexpress type A; mainly Sony, plus some Canon, but not all. CFexpress type B memory cards, on the other hand, share physical dimensions and connection formats with XQD; so, some cameras are compatible with both. (Mainly Nikon)
With these two different versions of the same memory card, (by name at last) it is definitely important to pay very close attention to which type of CFexpress card you are buying, and making sure it is compatible with your camera. Having said that, virtually all CFexpress cards are blindingly fast, with transfer speeds measured (theoretically) in the 1000's of MB/sec.
NOTE: CFexpress type A cards have a theoretical maximum speed of 1000 MB/sec, while CFexpress type B cards reach up to 2000 MB/sec. Both are adequate for almost all types of photography
Now that we established the differences, strengths, and weaknesses of each memory card format, it's time to delve into our best selections. You'll discover the best memory cards for every format in the rest of the article below.
[Related: How To Recover A Damaged or Corrupt Memory Card}
Best SD Memory Cards
First, let's start with the best SD cards. This format is definitely the most ubiquitous, and unfortunately, has the most options that you'll probably want to avoid. (Remember what we wrote about read speeds VS write speeds.
If you need a well-rounded choice that combines performance, fast transfer speeds, and ample storage, at an affordable price, this SanDisk Extreme Pro selection is perfect for your needs.  We recommend it as the minimum investment, (Sandisk also makes "Extreme" and "Ultra"; avoid them!)
The incredibly affordable UHS-I Sandisk Extreme Pro SDXC cards (starting at $15-30 for 64-128GB capacities, respectively) may be tempting, however, we strongly recommend the Sandisk Extreme Pro UHS-II cards, for their significantly increased physical durability. (Click here to see a lot of broken SD cards!)
Although the UHS-II Sandisk card read speeds are similar, the significant increase in write speeds, plus the physical durability, are worth the price tag of $50-80 for 64-128GB cards.
Specifications:
Card Type: SDXC UHS-II
Storage capacity: 64GB to 1TB
Read speeds: 200-300 MB/s
Write speed: 90-260MB/s
Ideal for: general & professional photography and video
ProGrade Digital is an all-professional memory card maker, so you don't have to worry about accidentally buying an old, outdated, slow, or poor quality memory card. Their most affordable SD cards, the 128GB SDXC UHS-II, offers 250 MB/s read and 130 MB/s write, for $54 or just $98 for a 2-pack!
As a bonus for workflow compatibility, ProGrade Digital also makes high-speed memory card readers for your computer workflow, with 10 Gb/s USB3.2 (type-C) connections, as well as 40 Gb/s Thunderbolt 3. Last but not least, ProGrade has specialized software for both data recovery and checking the overall health of your memory card. Therefore, we recommend them for all professional photographers who might be at risk of reaching the standard 100,000-image read+write cycle lifespan of a memory card.
Specifications:
Card Type: SDXC UHS-II
Storage capacity: 64-512 GB
Read speed: 250-300MB/s
Write speed: 130-250 MB/s
Ideal for: professional photographers who often shoot rapid-fire, high-volume, and high-resolution 8K and/or raw video.
Best CFexpress Memory Cards
For maximum speed, and of course professional reliability, we recommend these CFexpress Memory Cards.
Professional photographers looking for the best-performing CFExpress Type B memory card will do well with the SanDisk selection. It provides an astounding 1400MB/s to 1700MB/s read/write speeds, which only a few cards can keep up with.
Note that this class of CFexpress cards does have slightly varying speed ratings depending on the exact capacity. All of their speeds are more than enough for high-speed action photography and 8K/raw video, though.
Specifications:
Card type: CFExpress Type B
Storage capacity: Available in 64GB-1TB
Read/Write speeds: Ranges from 800MB/s to 1700MB/s
Ideal for: Professional photography & videograph
This memory card provides an excellent value option for professional photographers who need impressive performance without encountering any data issues. (Buffer clearing for stills, or video recording "skips"
The Lexar Professional memory card offers a remarkable read speed of 1750MB/s and a respectable (For CFexpress) write speed of 1000MB/s.
Specifications:
Card type: CFExpress Type B Card
Storage capacity: Ranges from 64GB, 128GB, 256GB, and 512GB
Read/Write speeds: 1000MB/s to 1700MB/s
Ideal for: Professional photography
Since the main camera system using CFexpress Type A cards are Sony cameras, we strongly recommend Sony Tough cards. CFexpress Type A cards may be comparatively slower than Type B memory cards, however, they're still multiple times faster than the fastest SDXC cards.
The Sony Tough CFexpress Type A memory cards provide an impressive 700-800MB/s speed that will carry you through almost any photography or videography session.
Specifications:
Card Type: CFExpress Type A
Storage capacity: 80-640GB
Read/Write speeds: 700-00MB/s
Ideal for: Professional photography/videography
Best CF Memory Cards
If you use a DSLR that accepts Compact Flash cards, here is our one and only recommendation; this is the tried-and-true memory card onto which we as a studio have recorded, no exaggeration, literally millions of photos:
Because some cameras still utilize the CompactFlash format, choosing the best memory card that provides impeccable read/write speeds and storage capacity for your shooting needs is only fitting. The SanDisk Extreme PRO CompactFlash can sustain HD video capture and provide various storage capacities that suit your needs.
Specifications:
Card Type: CompactFlash
Storage capacity: Maximum of 256GB
Read/Write speed: 150MB/s to 160MB/s
Ideal for: Both photography and videography (4K raw videos)
Best microSD Memory Cards
Although we don't recommend using them in professional cameras with an adapter, if you have a Gopro, Drone, or similar compact device, you'll definitely want one of these…
Sticking true to its moniker, "Endurance," this Samsung microSDXC memory card can store up to 43,000 hours of continuous video footage. It offers read/write speeds from 30MB/s to 100MB/s, which makes it a top-performing card.
Specifications:
Card type: microSD (comes with an SD card adapter)
Storage capacity: Up to 128GB
Read/Write speed: 30MB/s to 100MB/s
Ideal for: drones, GoPros, dashcams, home security cameras
Another budget option that provides peace of mind against damage or image loss is the Samsung EVO Plus microSDHC memory card. It comes with a standard SD adapter, so you can use it as storage for devices that only uses the SD card format, in a pinch.
This memory card provides a read/write speed from 30MB/s to 100MB/s, which is adequate for photography and filming on most phones. Additional security features include a 10-year limited warranty and hardening against damages.
Specifications:
Card type: microSD (comes with an SD card adapter)
Storage capacity: Available in 32GB, 64GB, 128GB, and 256GB
Read/Write speeds: 30MB/s to 100MB/s
Ideal for: everyday photography (cellular/mobile phone storage, etc)
The Best Memory Cards – XQD
A select few cameras such as certain Nikon DSLRs and early mirrorless such as the Nikon Z7 & Nikon Z6 cameras accept XQD cards. For these cameras, here are our recommendations:
This memory card is suitable for high-quality 4K video recording and high-framerate photo drive modes up to 10 FPS and 45 megapixels. It provides a whopping read/write speed of 400MB/s to 450MB/s.
Specifications:
Card type: XQD version 2
Storage capacity: Available in 64GB, 128GB, and 256GB
Read/Write speeds: 400MB/s to 450MB/s
Ideal for: High-speed action, 4K video
The Best Memory Cards – CFast
Commonly utilized for professional videography, the CFast memory card has one of the most limited usability because this card is only used for the Canon EOS 1-D X Mark II and Hasselblad H6D-100C. If you own one of these, then you'll want a SanDisk Extreme Pro CFast memory card.
Specifications:
Card type: CFast
Storage Capacity: 64GB, 128GB, 256GB, 512GB
Read/Write speeds: 430MB/s to 525MB/s
Ideal for: High-speed action and 4K videography
Conclusion | The Best Memory Card For Your Camera
Despite the overwhelming variety of memory cards available, your camera manufacturer will always be a reference point for which format to choose. You don't have to get out your user manual every time you shop for a new memory card, though; just go by the guidelines outlined in this article, and the label on your memory card door.
Beyond that, the best memory cards for you as a photographer will depend on the genre of photography you shoot, as well as the frequency. Wedding photographers will potentially capture thousands of photos per week, for example, and will require more storage, faster speeds, and long-term durability. Most photographers, whether doing professional portraits or casual vacations or everyday photography, will get the best value out of owning just two (since everybody needs a backup, pro or not) …of whichever offers enough storage space and physical quality.
Knowing your own specific needs will give you criteria for your budget, storage capacity, and speed.  We hope that this list helps you with your search for the best memory cards. If you have a top pick that didn't make a list, let us know in the comments below.
Alice Houstons
Photography has been a part of Alice Houston's life for over a decade now. Here at SLR Lounge, she prides herself on being a wealth of knowledge in the latest photography news and tech. Always searching and a self-described "Digital Nomad," she loves learning about those unique stories that inspire photographers around the world!