Digital cameras have not just changed the world of still photography, but videography too, of course. In fact, a lot of the best cameras for video are actually "photography" cameras! That is why we are creating this guide, for every photographer and videographer who is looking for the best camera for videography. These cameras often look very similar, but a few small differences in the features can have a huge impact on the video results.
There's good news and bad news: the bad news is that if you want to capture mostly video, you could definitely buy the "wrong" camera for your needs. There are so many cameras on the market today, in a wide variety of price ranges, and not all of them are capable of the best video quality, let alone optimized for video recording. The good news is, these cameras in particular aren't just digital cameras that happen to record video, they're fully dedicated to videography, or highly versatile and capable of excellent stills and video.
With that being said, let's dive in!
Things To Consider When Shopping For A Good Camera For Video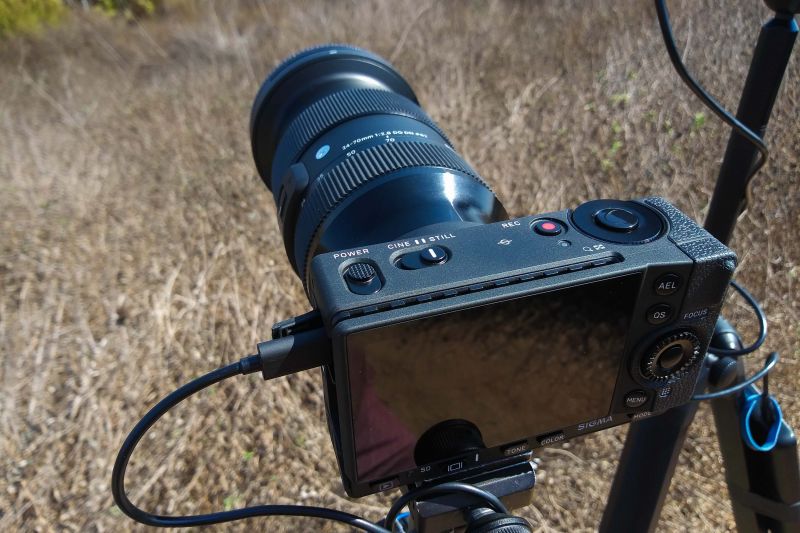 There are a lot of things to consider when looking for the best camera for videography. You don't just think about the usual photography-related things, such as megapixel count, ISO range, and frames-per-second. You must consider the video resolution, quality, and more in-depth factors such as bitrate. Plus, of course, there's an entirely new realm of audio recording, too!
Video Resolution & Quality
This one is relatively straightforward: You usually get either 4K or 8K, and you usually get either 30p, 60p, or 120p. (the "p" is FPS, or the video framerate) However, there are also some more subtle, subjective things that can't be measured as easily on a spec sheet, such as, how sharp is the video detail itself. How good is the color reproduction? What is the video dynamic range like? These are things that you will only know by either testing out the camera for yourself or reading/watching an in-depth review.
Bitrate & Other Quality Numbers
Another aspect of video quality that can be both obvious on paper and yet visibly subtle is video bitrate and other quality settings. We could write an entire article on the different settings, such as 10-bit, 4:2:2, and Megabits per second… All we can say in this overview is that the differences may be subtle or invisible to the untrained eye, but you do get what you pay for, and sometimes these specs can make a difference that adds many hundreds of dollars to a camera's price. (In other words, don't pay a ton extra if you don't need it, but if you do, then you should save up for it!)
Audio Quality
This is one subject that photographers are not going to be familiar with at all. Audio quality is very important to creating good video, and it can be quite a challenge. The primary thing to look for, at a minimum, is a camera that offers an audio port. It's not much, but it's definitely essential for anyone interested in serious videography.
Beyond that, you can look at settings regarding audio compression, and/or other input options such as timecode or XLR adapters, etc.
Image Stabilization
If you thought image stabilization was important for capturing hand-held still photos at certain shutter speeds, wait until you try videography! Stabilization is indeed very necessary; in fact, it will often make or break your footage depending on how you're handling the camera. Simply put, if you're doing anything besides a completely static shot from a tripod, you'll want optical, mechanical sensor-based, and/or even electronic digital stabilization for smooth video motion.
Value
Value is highly relative for videographers. On the one hand, you can make great money as a famous YouTuber or influencer making videos on your phone, and yet, on the other hand, if you want to be an indie filmmaker, you may find yourself looking for "affordable" cinema movie cameras.
Thus, as long as you follow our guidelines and consider your personal goals very carefully, you'll find a good value video camera anywhere from under $1,000 to over $5K or even $10K.
Portability
Unless you specifically like to bolt as many extra bells and whistles onto your "video rig" as possible, most videographers want portability to be on their side. While there's nothing wrong with the former, (we're all camera geeks here!) …the latter is what we are considering the most when we make our recommendations.
Thus, all of the cameras you'll find on this list are relatively portable, with minimal requirements for added-on accessories.
For those of you who are going to be working in hot conditions often, you'll especially appreciate our recommendations that have a built-in cooling fan, the Panasonic S5 IIX, and the Canon EOS R5 C.
Battery Life
Once again, if you're used to only ever capturing still photos, and especially if you're old enough to remember how much battery life you could get from an SLR or DSLR with an optical viewfinder, you may be shocked to learn just how quickly video filming can eat through your batteries!
Therefore, it is very important to consider battery life when looking for a good video camera. Thankfully, all of our recommendations, save one or two, are also compatible with direct USB power, which offers you virtually limitless filming time.
Lens Selection | Video Zoom Function
Last but not least, here's a bonus consideration for you: a camera needs a lens, of course! Each lens mount is different, and some mounts offer more lenses that are suitable for videography than others. That being said, every mount can certainly "get the job done".
We strongly recommend considering a mirrorless video camera system that offers specialized "power zoom lenses, with electronically controlled zooming functionality. They can be relatively affordable or very expensive; for example, the new Sony 16-35mm f/4 PZ ($1198) for full-frame, and the Sony 18-1110mm f/4 PZ ($3,648) for APSC sensors.
Now that we have covered what to look for, let's dive into our recommendations! We have mostly organized them by price, however, do note that we have also added a few feature-oriented categories, such as which cameras offer 8K
The Best Budget Video Camera: A Phone?
If you're trying to find the best camera for filmmaking on a budget, (and not merely a cheap vlogging camera!) …then the good news is you may already own it! Indeed, your phone may provide the best video quality available. A Google Pixel Phone, for example, comes in various different forms that can range in price from $299 to $899.
So, while we acknowledge that camera phones are getting better and better, let's be honest: you're probably here because you already know you want a CAMERA, not a phone. You love the craft of photography and/or videography, so the tool itself is part of the creative process. With that in mind, let's dive in!
Best Camera For Video Under $1,000
Sony ZV-1 ($718, B&H | Amazon)
This is a rather bare-bones video camera, aimed more at vloggers than filmmakers. That being said, its features and design do indeed give you the feeling that you're working with a "tiny movie camera". We're recommending it first because it's one of the few video cameras to include a lens; most of the cameras we are about to recommend will actually cost much more than their body-only price range. Just something to keep in mind!
The Sony ZV-1 does omit a viewfinder, however, unlike its E-mount sibling, the Sony ZV-E10 which lacks in-body stabilization, the ZV-1s' built-in lens offers optical image stabilization. Also, another feature that makes it user-friendly to first-time videographers is the included "deadcat" (fuzzy windscreen) that helps you get significantly better audio quality before you are able to invest in an external microphone.
Sony ZV-1 Specifications:
4K, 29.97p, 4:2:0, 8-bit
4K, 29.97p, 4:2:2 8-bit via HDMI
Sony S-Log 2, S-Log 3, HDR-HLG recording modes
24-megapixel APSC sensor, Sony Real-Time Face/Eye detection & tracking
Nikon Z50 ($896, B&H | Amazon)
One of the best values for photographers, Nikon cameras in general always offer an excellent user experience. The Nikon Z50 handles beautifully and is surprisingly compact and lightweight considering its rugged build quality. This is also one of the only interchangeable lens cameras we're recommending that includes a lens in its budget!
The video specifications are on the lower end compared to its competition, but for those who want a camera that feels the most like a camera, we recommend the Z50. If you are specifically looking to do almost nothing but vlogging and selfies, however, you might prefer the Nikon Z30 instead.
Nikon Z50 Specifications:
4K, 29.97p, H.6264/MOV/MP4
30-minute recording limit
20-megapixel APSC sensor
Read our full Nikon Z50 review here!
Nikon P950 ($796, B&H | Amazon)
This camera is exclusively for those videographers who want absolutely incredible telephoto reach. Indeed, its "plain" video specs of 4K, 30p, and limited compression quality options are not its strong point; the impressive strength lies with its zoom "each" which is equivalent to a staggering 2000mm. With digital cropping from the P950's 16-megapixel, 1/2.3″-type sensor, the reach extends to ~3000mm.
This camera is perfect for making videos of birds, wildlife, or any extremely distant subject, and the results are simply unmatched without spending many thousands of dollars on lenses for other camera systems.
Nikon P950 Specifications:
4K, 29.97p, H.264/MP4
30-minute recording limit
16-megapixel, 1/2.3″-type CMOS sensor
24-2000mm optical zoom lens (83X), optical VR
Click here to read our full Nikon P950 Review!
Canon EOS R10 ($879, B&H | Amazon)
Canon has announced a plethora of new RF-mount mirrorless cameras recently, and many of them are affordable, entry-level cameras. The Canon EOS R10 gets our top recommendation instead of the others (namely the Canon EOS R50) because it offers a few more controls and features. Although the video specs are rather similar across the board for most Canon cameras between both the sub-$1K and sub-$1.5K categories, the R10 offers an excellent overall experience to users.
Canon R10 Specifications:
4K, 29.97p, HDR-PQ, 4:2:2 10-bit
4K 59.97p (with crop)
Dual Pixel CMOS AF II
24-megapixel APSC sensor, 23 FPS raw photos
Best Video Camera Around $1,500
We do highly recommend stretching your budget for a good video camera up to about $1,500 if you can afford it. (Also, keep in mind that for all of these cameras, you'll need to buy lenses, too!)
In this price range, you'll get a lot of additional features that are really useful
Canon EOS R7 ($1499, B&H | Amazon)
This is one of Canon's best APSC sensor mirrorless RF-mount cameras, and for the price tag, it is quite impressive.
What sets it apart from other, more affordable options is the balance of good ergonomics and physical controls, whereas many cameras that are more affordable tend to omit lots of controls. The Canon R7 includes in-body image stabilization and dual (SD) memory card slots.
Canon EOS R7 Specifications:
4K, 59.97p, 10-bit, 4:2:2
HDR-PQ, C-Log 3
32-megapixel sensor, 30 FPS stills w/ electronic shutter
Panasonic GH-6 ($1,679, B&H | Amazon)
This little Micro Four Thirds camera is simply the most professional, advanced option in its price range. Normally costing a little over $2,000, it wouldn't technically qualify for this price category. However, you should be able to find it for $1,697 (or less) when instant rebates/savings are available. With this in mind, we absolutely must recommend this gem of value and performance.
The Panasonic GH-6 offers 4K, 120p, and 5.7K 60p video, as well as ProRes 422 HQ. The GH-6 also includes built-in active cooling, dual card slots, and an impressive 7.5 stops of sensor stabilization. The body itself is professionally built in terms of both durability, weather-sealing, and ergonomics & controls.
Panasonic GH-6 Specifications:
5.7K, ProRes, 4:2:2 10-bit
4K, 120p, 4:2:2 10-bit
External Raw 12-bit via HDMI
3.68M dot EVF
75 FPS 25-megapixel raw stills bursts (AFS) (only 8 FPS with AFC)
Best Camera For Video Under $2,500
Sony FX30 ($1,798, B&H | Amazon)
With the FX series, Sony has blended their professional cinema camera line with their professional (and consumer) photography camera line. The FX30 is their most affordable "cinema-style" camera, with an APSC E-mount and a mix of similarities with many other Sony cameras. It contains an excellent 26-megapixel BSI CMOS sensor and offers 4K at up to 120p. Or, it even offers 16-bit raw output, too!
The Sony FX30 body itself is a blend between the respectable Sony A7-series line and the Sony Cinema line. The ergonomics are highly customizable with attachment ports everywhere, and a rugged overall design.
Panasonic FX30 Specifications:
4K, 120p, 10-bit 4:2:2 XAVC S-I
Oversampled 6K-to-4K, 60p
External Raw 16-bit
S-Cinetone, S-Log 3, HLG, 14 stops dynamic range
Dual card slots, in-body image stabilization, professional weather sealing
Fujifilm X-H2S ($2,499, B&H, Amazon)
For one of the most well-rounded video cameras on the market, you can't go wrong with the Fuji X-H2S. It's one of the few cameras to offer 4K 120p video, let alone in its price range! The Fuji exclusive X-Trans Stacked BSI sensor offers incredible image quality, with 26 megapixels and 40 FPS for still photographers as well.
NOTE: This camera's sibling, the Fuji X-H2, is also on this list, but only because it's an affordable way to get to 8K. We recommend this camera more, for those who don't absolutely require 8K, because its sensor readout speed is much faster, virtually eliminating "rolling shutter" effects.
Fujifilm X-H2S Specifications:
6.2K, 30p, 3:2 open-gate
4K, 120p, 4:2:2, 10-bit
External Raw via HDMI full-size port (both ProRes and Blackmagic RAW)
Best Camera For Video (Over $2,500)
Sony A7S III ($3,498, B&H | Amazon)
The Sony A7S III is their dedicated video camera that is visually almost identical to its A7-series siblings. With a 12-megapixel sensor that is actually pixel-binned from an 8K sensor, however, the detail you get from the video files is truly impressive.
The full-frame sensor only delivers a 12-megapixel resolution, however, so it's significantly less well-suited for still photography than the Sony A7 IV. (More on this one soon!)
Sony A7S III Specifications:
4K, 120p, 10-bit, 4:2:2 internal video
16-bit raw output
XAVC HS and XAVC S-I codecs, offering wide range of video compression quality options
No recording time limit
Incredible high-ISO performance
Sony FX3 ($3,899, B&H | Amazon)
This is Sony's truly dedicated video camera, with a much different body style than the aforementioned A7S III. It shares the same sensor, and has IBIS, and dual card slots, however, after that, it becomes quite different. It lacks an electronic viewfinder but adds an XLR adapter, and the camera comes in a kit with a very nice XLR adapter itself.
Sony FX3 Specifications:
4K, 120p, 10-bit, 4:2:2 XAVC S-I
16-bit raw output
Rugged, squared body for "rig" style attachments
XLR adapter with audio controls
RED Digital Cinema Komodo 6K Digital Cinema (Canon RF, $5,995, B&H)
As one of the leaders in digital movie cameras, RED is at the top of the pile in terms of both performance and cost. It's not cheap at $6K, but that's still one of the most affordable cameras RED makes! At first, the specs of 6K 40p or 4K 60p may not sound like the camera is very special. However, you'd be wrong, as its entire physical body and other specs are totally optimized for high-end videography. In addition to recording raw video with 16 stops of dynamic range, it offers even more subtle features such as a global shutter, shutter angle settings, and multiple raw recording options.
Red Komodo 6K Specifications:
6K, 40p, REDCODE RAW
4K, 59.94p, REDCODE RAW & ProRes 4:2:2
External 4K, 59.94p, 4:2:2 10-bit
Best Camera For 8K Video
Fujifilm X-H2 ($1,999, B&H | Amazon)
Fujifilm's X-H2 is the high-megapixel version of their current flagship camera. (The X-H2S) With a 40-megapixel sensor, it's one of the highest-resolution APSC sensors on the market. It's also one of the lightest, most compact, and most affordable cameras to offer 8K video, too!
NOTE: as we mentioned earlier, f you don't need 8K and are okay with 6.2K video, we highly recommend this camera's faster sibling, the Fuji X-H2S, which has far less rolling shutter effect.
Fuji X-H2 Specifications:
8K, 30p, 10-bit,
4K, 60p, 10-bit,
7-stop in-body stabilization
Sony A7R V ($3,898, B&H | Amazon)
This is Sony's current resolution champion. It's a popular choice for landscape photographers, with its 60-megapixel full-frame sensor, but it also records 8K video. While the 8K video specs themselves aren't very impressive, the A7R V gets a recommendation in the 8K category for any videographer who does a lot of subject/face tracking with autofocus. Why? Because this is Sony's first camera with a completely separate, dedicated, AI-based subject tracking processor, and it works shockingly well.
Sony A7R V Specifications:
8K, 24p, 10-bit, 4:2:0
4K, 59.97p, 10-bit, 4:2:2
External 4K 16-bit Raw Output, S-Log3/S-Cinetone
61-megapixel raw still photos, up to 10 FPS
AI-based subject tracking dedicated CPU
Best Camera For Raw Video
Since raw video is the other specific feature that many aspiring videographers may be interested in, this list would not be complete without a specific mention. Note that these cameras also fit perfectly into their respective price categories, too!
Blackmagic Pocket Cinema 4K ($1,295 – $1,799, B&H | Amazon)
This is quite possibly the most popular video camera for raw video capture, and for good reason. With a Micro Four Thirds sensor, the price tag comes in at a mere $1,295 without any accessories, or just $1,799 for a kit with an external HDMI monitor. The giant LCD on the back of the Blackmagic Pocket Cinema is already the biggest one around, though, and offers desirable features such as waveform histograms and numerous controls & connections of a dedicated video camera.
Blackmagic Pocket Cinema 4K Specifications:
4K, 60p, DCI RAW
ProRes 422 HQ RAW
422 10-bit via HDMI
12-bit raw via USB
4:3 Anamorphic
5" touchscreen
Sigma fp ($1,899, B&H | Amazon)
As one of the only other mirrorless cameras to fit the video "rig" form factor instead of looking like a camera, the Sigma fp is truly unique. It's tiny, with no electronic viewfinder, no stabilization, …not even a grip! However, for an aspiring filmmaker, it packs a punch with its truly stunning image quality.
Also, the Sigma fp presents the perfect transition for photographers who may be used to working with raw still frames, and feeling intimidated by the thought of learning the even more advanced process of color grading raw video footage in a different software: its "RAW" is actually just a folder of individual frames separately saved as DNG files, so you can do your color grading in Adobe Lightroom!
Sigma fp Specifications:
Full-frame sensor with unique 12-bit DNG file raw video recording
DNG frames can be color graded in Lightroom as if they were still frames!
Unique "shutter angle"
Metal heat sink frame offers impressive silent heat dissipation abilities
Canon EOS R5 C ($4,399, B&H | Amazon)
Similar in many ways to its namesake the Canon EOS R5, the Canon EOS R5 C is a "Cinema" line version with as many bells and whistles as possible. The Canon R5 already offers 8K and RAW recording, thanks to its impressive 45-megapixel sensor, but this camera adds features such as a built-in cooling fan, waveform monitoring, and other slight ergonomic and interface redesigns that make this camera truly a "mini movie camera".
Canon EOS R5 C Specifications:
8K, 60p, Cinema RAW
8K, 30p ProRes raw to an external recorder
4K, 120p, (slow-motion) 10-bit 4:2:2
Waveform monitor
Multi-function audio shoe
Built-in cooling fan
Conclusion | Best Camera For Videography
We can thank digital photography itself for these amazing video cameras, and the evolution from stills to video over the last decade-plus. The best video cameras that were made specifically for video capture from just a couple of decades ago are completely blown away by photography-related cameras today!
In order to get the best value for your investment, however, It is still very important to consider how much videography VS photography you will be doing. Answer that question for yourself before you make a purchase! The cameras we have mentioned above will provide you with the absolute best performance and value for many years to come.