Brooke Shaden has unique editing style and being one of my favorite photographers to follow I am naturally interested in her process. I Would love to try and emulate her style when I am feeling a bit more creative than normal, but I have not clue where to start since it is no secret that she heavily produces her final images.  Here are some of Brooke Shaden's best photography tutorials.
Brooke Shaden Editing Tutorial
Brooke recently released a video, albeit in timelapse fashion, showing her edit one of her recent images "The Way Life Grows". It is really neat to see what the image started out as and to see where brook took it. If you are interested in trying to emulate her style, or are maybe looking for ideas on how to creatively edit your art in photoshop then you should check this out.
Brooke Shaden Wedding Photography Tutorial
Wedding trends can be heavy on the tulle, lace and giant hair, but we've seen a return to understated elegance in the last few years. Organic beauty and muted colors were in vogue this season, and no one knows how to capture these natural themes like award-winning fine arts photographer, Brooke Shaden.
During her creativeLIVE course last May, SLR had the chance to go behind the scenes and watch Brooke photograph a bride and groom in a custom-made oversized birds nest. The result? A jaw-dropping gallery-worthy photo that highlights the bride and groom's natural beauty and plays on this season's back-to-nature wedding trends. Here's how to recreate Brooke's photo shoot.
Step One: Prepare The Nest
Lay a tarp on the ground, cover it with a layer of soil, and start creating a circle with sticks of varying size. Just make sure the circumference is big enough to accommodate your bride and groom! Let in some natural light if you need it, arrange the sticks in a way that's aesthetically pleasing to you, and voila! You're ready to shoot.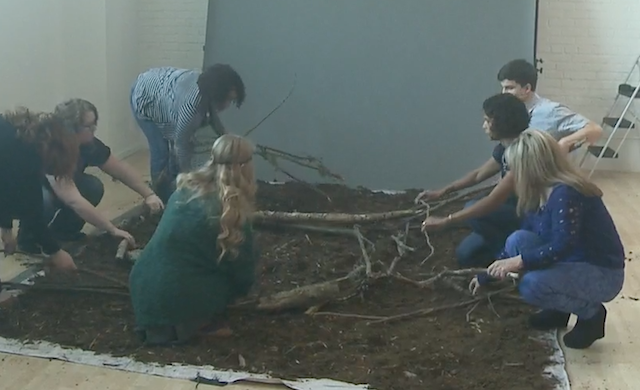 Step Two: Shoot From Straight-On
Time to place your bride and groom in the nest! You'll start by shooting the  couple from straight-on, so have them step into the nest and take a few test shots to establish the correct ISO. Try taking a few shots with your bride and groom sitting, and a few with them lying down on their sides for variation.
Step Three: Jazz Up Your Background
Shooting against a background is a great way to make your bride and groom the focus of your image, but you might find that the simplicity gives the picture a studio feel. Try setting off a smoke bomb to make the background more versatile and add dimension to the shot. This can also make things a bit more interesting while editing in Photoshop.
Step Four: Shoot From Above
The nest will really come alive once you start shooting from above –– just make sure your bride and groom are curled up in the sticks so the picture has a nice circular movement. Use a step stool to get an aerial shot, and then play around with you angles so the light hits your bride and groom in the right place. Brooke suggests styling them in several poses –– even in a head-to-toe yin-yang shape!
[REWIND: Check out the SLR Lounge Natural Light Couples Photography Workshop]
Step Six: Consider Shooting In Square Format
Brooke shoots most of her images in square format for the simple reason that it puts viewers into the world of the photograph instead of feeling like they're looking at a picture. Moving away from the standard 2:3 aspect ratio makes it easier for viewers to get lost in the image, and will help your concept be the first thing people see.

Step Six: Deconstruct The Nest
Create a "forest effect" by asking a few assistants to hold sticks, branches and vines in the frame surrounding the bride and groom. This will help create more texture, and Brooke says the added features allow the shot to look increasingly "mystical." Just make sure not to go overboard on your props –– each one should have a specific purpose.
For more awesome tips from Brooke Shaden, check out her blog and her upcoming course during creativeLIVE during Photo Week.