In 2011, Apple's Final Cut Pro X was initially received with mixed reactions as many professionals were turned off by the update. An all-new interface and perceived "dumbing down" of the app left many video editors looking for alternatives for their video production workflow.
Additionally, Adobe's Premiere Pro and eventually, Black Magic's Da Vinci Resolve, have offered their users more advanced color grading options while Final Cut Pro X, though capable, seemed geared to appeal to a more simplified editing experience. If users wanted to obtain similar features found in the competition, it came at a cost; for example, purchasing Color Finale. But, with the latest update, FCP X 10.4 incorporates many of these features in a timely fashion to coincide with the forthcoming iMac Pro behemoths that will soon grace an Apple store near you. Will this latest appeal to high-end pros keep them sipping on the Cupertino kool-aid? Or is it already too late.
Here's Whats New?
Advanced Color Grading
360 VR Editing
High Dynamic Range video
Easily import iMovie projects from iPhone and iPad into Final Cut Pro for advanced editing, audio work, motion graphics and color grading.
HEVC and HEIF support for importing and editing high-efficiency video and photo formats from Apple devices.
Updated audio effects plug-ins from Logic Pro X with redesigned, resizable interfaces.
Faster, higher quality optical flow analysis built on Metal, Apple's advanced graphics technology.
You can find a full and in-depth look at the updates on Apple's Newsroom here.
Who does this help?
If you're in the ad agency or design world, FCP X has a place, but you are more likely going to be using Premiere Pro because it's more efficient to maintain continuity within the Adobe ecosystem. You're often working within a team that utilizes the rest of the Creative Cloud Suite and projects can easily make the round trip through their app family. On the other hand, Da Vinci Resolve has a robust feature set that is industry leading and, in many cases, it offers more than some editors need.
However, the one man filmmaker that doesn't want or need to be trapped in the Adobe suite; using three apps while paying for the other 87, or doesn't tell stories that require a color grade the level of Mad Max could potential find all they've with this update.
This is a very welcome update and if it piques your interest, for $299 Mac users can download the latest version of Final Cut Pro X here.
Check out a little bit more about it in the video below.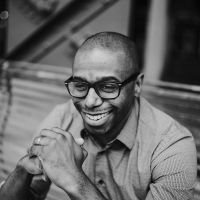 Wendell Weithers
Wendell is based in Atlanta where he shoots events, portraits, and food photography. He also supports his wife Andrea as she runs their cake design business, Sweet Details. Instagram:
Wendellwphoto