DVLOP and SLR Lounge have partnered to create Impossible Things, a new, advanced AI Photo Editor.  This new AI powered solution provides an intuitive, powerful editing tool that enhances photos with speed, accuracy, and artistry. The goal is to not only save photographers hundreds of hours each year, but to also improve the quality and consistency of their edits.  Let's explore further.
The Primary Features
This AI Photo Editor was designed by working photographers with a deep understanding of the editing process and pain-points. We want speed, but not at the sacrifice of quality. We want convenience but not at the expense of artistry, creativity, and personalization. With this understanding, we designed these primary features:
Never Leave Lightroom – Impossible Things is 100% Lightroom Native, so you never have to leave the program or waste time exporting/importing catalogs or wait for email confirmations. Edit one image or thousands with our easy and simple workflow.
Edit better (with more consistency) – Impossible Things intelligently adapts 38+ separate slider predictions to edit your raw files.
Use Your Lightroom presets – Impossible Things is also the only AI editing solution that works natively with Lightroom Presets, including Visual Flow Presets, DVLOP Presets, presets you purchased elsewhere, and even presets you created yourself.
For photographers that don't own any presets, Impossible Things includes an expanding library of "cloud styles" that give photographers immediate access to a variety of popular looks.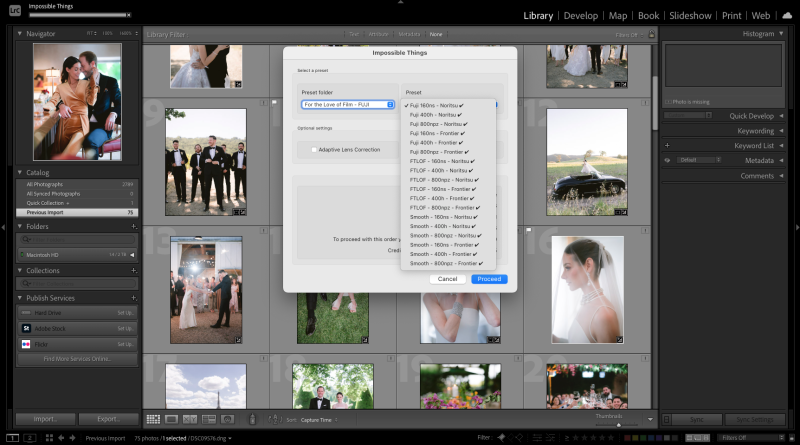 Edit with Artist Presets – The system was designed and tuned for the DVLOP Artists, such as Jose Villa, India Earl, Shortstache, Nirav Patel, Two Mann Studios and More.
If you own their presets, you can either apply their presets directly to your RAW images or custom tune them to match your personalized style. We'll also be adding more incredible artists consistently to expand your creative toolkit with Impossible Things.
No Training Required – Start right away! The AI was trained with over a million dngs, over 200 unique camera models, and 300 different lenses. Not only does it incorporate camera profiles, it's the only AI solution that incorporates a patent-pending "Lighting Condition Based Development" system to adapt image color based on specific lighting conditions.
The result is a model that recognizes and correctly edits in every common scenario a photographer faces, including tricky mixed lighting, low light conditions, high dynamic range scenes, and more.
Custom Tuning – For even more control, you have the option to use Custom Tuning, which lets you adjust a wide selection of sliders, such as exposure, temperature, tint, saturation, and more, to your exact specifications and tastes. Any changes you make are synced with the cloud and are accessible on any computer you log into.
Advanced wizardry – Additional unique features include:
The Intelligence Slider – which lets

users

determine exactly how much influence they want the predictive model to have on the images. (learn more)
Adaptive Noise Reduction – which applies the perfect amount of luminance noise reduction to high ISO photos. (learn more)
Adaptive Lens Corrections – that accurately corrects for lens vignetting, and even "AI Masking Preconditioning," which sets users up for targeted retouching within Lightroom. (learn more)
AI Masking Preconditioning – For users of Lightroom Classic 12 or later, use masking preconditioning to enhance the subject of the photo or to provide some targeted retouching. We call it preconditioning because the final render isn't applied until you are ready so that it doesn't interfere with the speed of your workflow. These masks are subtle and designed to be used often and on everything. (learn more)

AI Mask Preconditioning
More on the way!  We even have a future roadmap of inspired features, styles and tools. Impossible Things is primed by and for innovation and this is only the very beginning of our journey. For more on Impossible Things, check out Impossible Things.  Read More about the "Benefits of Impossible Things" here or read more about what's Under The Hood.
Getting Started
The system was designed with your workflow in mind.  To get started, simply start an account or log into your existing DVLOP account, run the installer and launch Lightroom Classic.  You'll get 500 free edit credits to experiment with.  From there, simply select your images, select your preset, and watch as your RAW files are edited in seconds directly inside of Lightroom.
Here's a quick primer to walk you through the steps: