Article Overview
When it comes to building a computer for applications such as Adobe Premiere CC, we always run into a lot of questions. Is having two CPUs that much better than one? Is a professional workstation graphics card that much better than a high-end gaming graphics card? In this article, we put these hardware solutions to the test in our real world Adobe Premiere CC benchmark simulations.
We are going to test Adobe Premiere CC performance and hardware configurations between two of our machines, Thor and Hulk. (yes, we do like to name our high-end machines after Marvel Characters). Hulk, our Dual CPU Xeon build, was recently made possible with the help of our friends at Newegg; you can view the build in our article, Dual Xeon Benchmark Build with Newegg. Our goal for this test is to determine whether an overclocked single CPU build can compete with a dual CPU Xeon build. In addition, we also want to compare graphics cards in order to determine if the EVGA GeForce GTX 680, a gaming graphics card, can compete with the PNY Quadro 4000 Workstation Video Card, a mid tier workstation video card.
Watch the Video of the Adobe Premiere Performance Testing:
As a quick note, I recorded this video at the same time as the Lightroom Performance Guide video which means I often accidentally said the word "core" instead of "CPU." Please forgive the oversight.

Music: "Aerials" from Lights & Motion "Reanimation" (Deep Elm)
License this song at The Music Bed
THOR Specifications
HULK Specifications
Pre-Testing Expectations
While gaming cards don't have optimized drivers for workstation graphics, they do often feature more raw processing power and quicker clock speeds. We expected that the EVGA GeForce 680 GTX would perform well, but not quite as well as the PNY Quadro 4000 with its optimized drivers.
Testing Procedures
On our desktop workstation, we created a Premiere project and loaded it with four 1080p DSLR video clips fitted into a single frame as shown below. We applied various processor intensive effects to each clip. We then saved out our project file and loaded the same project onto all test machines. For each test and machine, we played the videos back at 100% resolution in the default work space, attempted real time effects editing and rendered out the project sequence on each machine. We recorded the times for each test and machine setup, completing each test three times to guarantee accuracy.
Test 1 : Real-time Playback Results
For our first test, we set the standard real-time playback at 100% preview resolution and played back the file within the default work space.
On Thor, our overclocked single CPU build, we noted that with both the Geforce GTX 680 and PNY Quadro 4000 video cards loaded, the real-time playback stuttered quite a bit throughout the sequence.
On Hulk, our dual CPU Xeon build, we noted that with both the Geforce GTX 680 and PNY Quadro 4000 video cards loaded, the real-time playback stuttered a bit, but was significantly smoother than what we saw on Thor.
While the graphic card performance appeared to be virtually identical on each machine, the dual CPU setup in Hulk was clearly more effective over Thor's overclocked single CPU.
Test 2 : Real-time Curve Adjustments Results
For our second test, during real-time playback at 100% preview resolution we made adjustments to the exact same curve effect on the upper left video within each project file to see how real-time adjustments affect playback.
On Thor (overclocked single CPU) we noted that making adjustments to the curve layer completely stalled the real-time playback while using both the Geforce GTX 680 and PNY Quadro 4000 video cards.
On Hulk (dual CPU build) the real-time playback on both the Geforce GTX 680 and PNY Quadro 4000 video cards stuttered a bit but did not stall like it did on the Thor build. We were able to successfully modify the curve in real-time.
Once again, we noted that the performance difference was based upon the dual versus single CPU setup.
Test 3 : Sequence Render Speed Results
For our final test, we reset all the project files to the original test project settings. We then rendered out each clip with the exact same render settings on each system and graphics card setup.
Here were the results: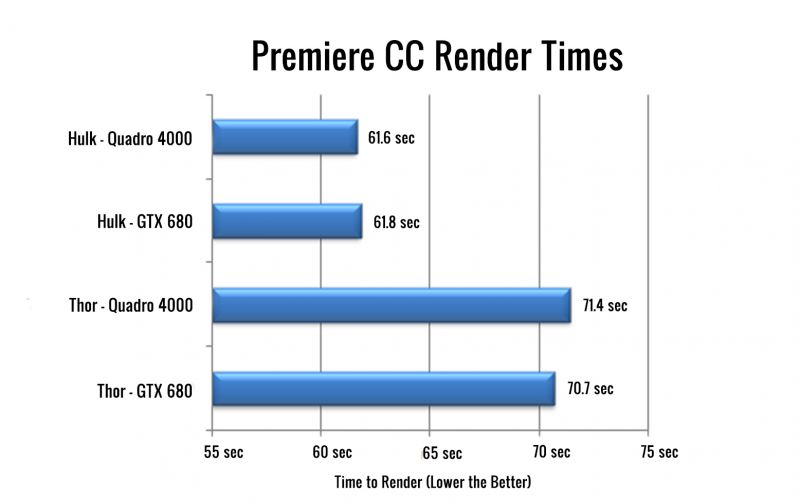 We noted that both graphics cards didn't affect the overall render speed, but that our dual CPU Hulk was 13.4% faster than overclocked single CPU Thor in the final rendering time.
Conclusion
We can conclude that Adobe Premiere CC performance was nearly the same between the EVGA Geforce GTX 680 gaming graphics card, and the mid-tier PNY Quadro 4000 work station graphics card. Adobe Premiere CC has far more native support for non-workstation graphics cards than prior generations of Adobe Premiere, which may be the reason that these cards now perform so similarly.
However, it should be noted that when it comes to gaming graphics cards, the Geforce GTX 680 is already considered a high-end video card; Beyond a step or two up to the the GTX 780 and the Titan there are not many more upgrades can be made. On the other hand, when it comes to workstation graphics cards, there are many more powerful cards and dual card solutions beyond the Quadro 4000.
On the graphics card side, for most enthusiast and indie film makers (which is 99% of those reading this article), we can conclude that a gaming card such as the NVidia GTX 680, 780 or even a Titan will give you the best overall bang for the buck (especially if you also happen to enjoy gaming). Adobe Premiere CC is also now supporting AMD graphics as well, which is a nice addition for Radeon users. For advanced editors requiring advanced real-time effects processing, than a Quadro or even Quadro + Tesla pair is going to be your solution, albeit a very pricey one.
As for the CPU, our conclusion is that the dual Xeon-CPU work station provides significantly better performance than an overclocked single CPU system when running Adobe Premiere CC. Premiere CC is optimized to handle dual CPUs, so if you need more performance and can cough up the extra dough, the dual CPU workstation will give you a significant speed boost.
We hope you all enjoyed the video and article. Please feel free to leave your comments/suggestions below!
REWIND -> The Lightroom Hardware Performance Guide
REWIND -> The Dual Xeon Computer Build with Newegg