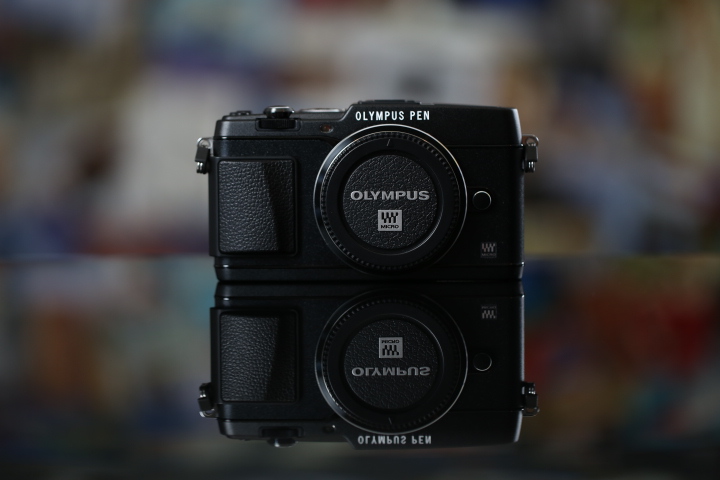 I've been a DSLR Photographer for about 7 years with Lin and Jirsa and this was my first experience with a Micro 4/3rds Camera. I was planning a trip to Cartagena, Colombia and I knew I wanted something light and versatile with high image quality.
I decided to test out the 4th generation Pen series camera, the Olympus Pen E-P5 in conjunction with two of their lenses, the Olympus M.ZUIKO 12mm f/2.0 Lens and the Olympus M. Zuiko 45mm f/1.8 Lens.  See the following travel photography setup:
First Impressions – Aesthetics
The unique look and feel of the Pen E-P5 sets this camera apart. The EP-5 is a retro-meets-modern mashup. It has the classic rangefinder look, a solid build, high-quality finish and solid metal accents for a sturdy feel.
Relevant Specs of the Pen E-P5
16.1 MP sensor
ISO Range Low-25600
9 frames per second
3.0″ 460k-Dot Tilting Touchscreen LCD
Full HD 1080i Video at 60fps
5 axis image stabilization
Built-In (popup) Flash
Why the Olympus Pen E-P5 is Awesome For Travel Photography
DSLR vs. Micro 4/3rds for Travel Photography
I fully realize that comparing Micro 4/3rds Cameras to DSLRs is like comparing (tiny) apples to (large, luscious) oranges. However, if those tiny oh-so delicious apples were comparable to the heavy, burdensome oranges, it would be worth considering the smaller alternative.
In all honesty, I really missed my 5D Mark III in many situations, particularly in low light. But for this particular trip, the pros of the smaller camera far outweighted the cons.
Safety – In a country of high poverty and crime rates, staying inconspicuous can be the difference between going home with happy memories and going home camera-less. To those outside of the photography world, bigger appears more expensive, which can lead to the conception of being an easy target.
As you can see below, the Olympus Pen is small and nimble.
Weight – In a country of long hikes, sleeping in hammocks, and just-out-of-the-shower-and-already-sweating combinations of heat and humidity, the difference between a 5 pound camera/lens DSLR setup and a 1 pound Micro 4/3rds setup goes a very long way. I remember having my Canon 40D on a Machu Picchu hike a few years ago and missing a ton of great moments because my camera was packed away in my backpack.
With the smaller setup, I felt like my camera was a bit more accessible. In fact, I converted a small personal item belt normally used for running into my lens belt and didn't need to carry around any additional bags for my camera. With a small pocket for credit cards and cash and another one for my lens, I was good to go.
With the belt, I was able to leave my One Bag for my DSLR entirely at home.
Quick and Accurate Focus on the Olympus Pen E-P5
The focusing on the Olympus Pen E-P5 is quick and accurate. Even at F2.0, I was getting pretty sharp images of the people of Colombia and of the group of friends I was travelling with. Below are a few examples:
Accurate Colors
I shot all images with Auto White Balance in RAW file format with the intention of importing into Lightroom for post production with our presets. For most day time shots, after import, minimal color correction was necessary, as the colors were very accurate.
Easy to Use | Focusing
A huge plus of the EP-5 for travel photography is its ease of use. Once you set the settings, it doesn't take a photographer to understand how to use the touch screen display. Simply tapping the subject on the touch screen focuses and fires the shutter, making it great for the ever so tourist task of having others take your picture.
The image below was taken by a friend with no photography experience. It definitely beats a selfie.
Wish list for the Olympus Pen E-P5
In-camera HDRs and Panoramas – I would have appreciated in-camera panorama stitching functionality and in-camera HDR functionally. Though it's something you can do in post processing, it's much more satisfying to see the result in-camera. It also gives you the ability to correct mistakes, as you get a glimpse of the final product. Here is a panorama that I later stitched together of Tayrona National Park.
Weather Sealing – Though I wasn't in Colombia during their rainy season, we did experience a few quick, short, heavy downpours. Though the camera never came into direct contact with the elements, weatherproof sealing would have provided a much-appreciated level of comfort.
Sample Images and Conclusion
Below are a few more sample images from the trip. For those who haven't been, I highly recommend Colombia as a travel destination. It's an amazing blend of gorgeous beaches, rich history, and lively nightlife.
I was glad to have a camera with me that was light and accessible. After all, the point of travelling for me is not to search for amazing photographs, but to experience the culture, broaden perspectives, and have a memorable time with great people. The fact that the Olympus Pen got out of the way of my travels and came along for the ride, while also taking great quality images made it a wonderful on-the-go choice for the casual photojournalist.
[FAQ: What is HDR Photography?]