Felicitous compliments of the gorging season to you all, peace on Earth and fat tums to all men, etcetera. Whatever it is you celebrate, whether it be Christmas, Hanukkah, Kwanzaa, or just the festive feelings in the air and a little time to yourself, it's likely you've got someone to get presents for, and people will be wondering or asking what it is you would like from them.
If you're reading this, there's a good chance you haven't stumbled upon the page while googling 'humbug,' and are photographically inclined. So it stands to reason you'd like to go in for a spot of gift giving along that line, and possibly, receiving too. It just makes it easier all round to have a few items in mind, and we've sorted the wheat from the chaff and come up with a few great gift ideas under $200.
So without further ado:
Western Digital My Passport Wireless 1TB
Having external hard drives is no longer the reserve of the techie or serious photographer. With even phone cameras typically shooting 5 to 8 MP now, point and shoots shooting 20, and DSLR owners shooting more and more in RAW, digital storage has never been more in demand. Devices are also increasingly more portable and being used as such, so having something on hand is more than convenient. Sure, memory cards aren't all that expensive anymore and you could buy a pocketful of them to carry with you for an entire vacation, but what's more important is securing those files, and the Western Digital My Passport Wireless fulfills both the problem of security, and mobility.
Unlike your average farm grown drive, this WD My Passport will wirelessly transfer images right onto the drive. It also has a built in SD card slot for quicker offloading, and is equipped with USB 3 for even faster transfer to a computer. It also works to allow for remote browsing of the recorded data on the drive by computer, phone, or tablet. Our resident tinkerer, Anthony, has done a full review of it here and solidly recommend it. At $179 for the 1TB model, it sits nicely in this budget bracket. Get it here.
Fuji Instax Cameras
Want to bring some life to the Christmas office 'do', or indeed any other party? Whipping out your iPhone or even the gorgeous Sony RX100 isn't really going to get anyone to smile without being told to, but that's precisely the opposite of what will happen if you arrive with a Fuji Instax camera. Instant film has a wonderful way of harking back to a different time, and the immediate satisfaction of getting a 'print' is always attractive. It's always a crowd pleaser, and a photographer pleaser.
Fuji has been leading the way these days with their impressive line-up of insta-cameras and can be credited with the resurgence of the instant film popularity. Their cameras are good looking enough to carry around, and even the most technologically disinclined can use them. They are also quite inexpensive, which is good news for everyone. Right now you can get the Instax Mini 8 with two twin packs of instant color film, for just $125, and the retro themed, somewhat prettier Instax mini 90 Neo Classic for $179. Both are sure to return you to a state of childhood joy. I want one…to anyone listening. Get the Mini 8 here and the Neo Classic 90 here.
Adobe Creative Cloud 1 Year Subscription
Moving to the cloud, is what software companies are doing, and it's not surprising. Not only does it cut down on piracy, but more importantly for the consumers, means the software companies can listen to the users on their needs and complaints and implement changes and updates quickly, and often. One of the best deals in the photography world, without a doubt has got to be Adobe Creative Cloud for Photographers bundle. For under a tenner a month ($9.99), you get access to the 2 most used and acclaimed photography programs, Photoshop and Lightroom.
These days, Photoshop and Lightroom are as essential and integral to photography as the dark room was two decades ago, and this bundle will give you access to them, for use on multiple devices, for $119.80 a year. If you or someone you know is getting into photography, this is about the best gift you could give them for the money. Buy here.
SLR Lounge Lightroom Mastery Workshops
In keeping with the post processing line, these extremely powerful tools won't do you much good should you not know how to use them. While there is no shortage of sporadic tutorials online, to achieve a level of mastery that will push your creativity and reward you with incredible images at break-neck speeds really requires a comprehensive structured approach. If you want that for Lightroom, to be able to wield it like a demi-god, with only a teensy amount of bias, we recommend the SLRL Lightroom Collection.
The Lightroom Workflow System ($79) will up your post production speed by 10 – 20 times; the Image Processing Mastery ($79) is a full on video education that shows you how to process in LR for maximum effect; and the Lightroom Collection is a complete education including the above two and our industry standard Preset System – ok, that nudges just past $200.
California Sunbounce Bounce-Wall Set
In a sea of expensive pieces of plastic and foil, and their cheap, equally as useless knock-offs, few flash modifiers rise to the top. California Sunbounce produces, arguably, the best reflectors and diffusers on the market, and so it would seem fitting that when they released a flash modifier it would be exceedingly good.
The Bounce-Wall is a strange, somewhat awkward piece of kit that attaches to your camera via a curved plastic arm, that holds a reflective 'wall' at which you aim your hotshoe flash. It diffuses light so well it will have you grinning, and quickly. It produces beautiful even light for headshots, general portraits, and even reflects sunlight well. Surprisingly, unlike its larger brethren, it doesn't cost as much as a camera. Coming in at $108 dollars, this with a camera and flash are all you need to take beautifully lit portraits.
Buy here.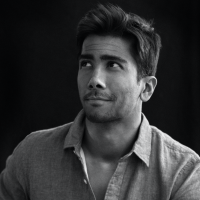 Kishore Sawh
A photographer and writer based in Miami, he can often be found at dog parks, and airports in London and Toronto. He is also a tremendous fan of flossing and the happiest guy around when the company's good.