[Compare: Intuos Pro – The Ultimate Retouching Tool Review]
Mid last year Wacom made a departure from their old style into a chic, new one. What was once the Wacom Bamboo series is effectively now been re-branded as the Intuos Pen, Pen & Touch, and Intuos Manga tablets. The Intuos 5 has, in similar fashion, been re-branded as the Intuos Pro series. Then of course, there is the Cintiq, an altogether different animal.
Though the Bamboo series has been updated and the line now inherits the Intuos name, the moniker 'Bamboo' still exists within the company, but only in reference to their pen styluses, and trackpad. If you're curious what the differences are in the Pen, Pen & Touch, and Manga are; in the case of the Pen & Touch and Manga, it's strictly software, and the Intuos Pen doesn't have an eraser, nor does it have multi-touch capability. For the extra few dollars it seems pointless not to get a version with the added functionality, as it can be turned on and off at will via a small button on the top right.
Appearance & Build
Right away it's apparent that Wacom's tablets have seemingly swapped the red cups for gin tumblers – they've grown up. Gone, and not missed by me, is the 'fun' colorful and plastic look of the old series, and in its place lies a sleeker Apple-esque slate. Matte silver framed by black, it's a handsome piece. The small blue hoop bearing the Wacom name on top is a stylus holder, and is another indication Wacom cares about its aesthetics, as it comes out of the box blue, but underneath has a little chamber where a black hoop can be kept and swapped. To match this the ring around the stylus also can be color coordinated. Big deal? No. Nice feature? Sure.
Noteworthy however, is the fact that Wacom has managed to effectively reduce the size of the tablet considerably, while maintaining the same active area real estate. The active area on this model is 4" x 6", which makes it ideal to move around with or stow away, and doesn't take up much space on the desk, which matters if you're like me abhors clutter.
The face of the tablet, the active area, also has a very different feel to previous generations. What used to be a very smooth, almost glossy plastic surface, now somewhat resembles the feel of paper, in that it has some 'tooth' to it, if you will. It will therefore give a bit more resistance, which I know many will welcome. The feel is more natural. This is another nod to the Pro line.
The pen itself is also remodeled and is closer, though not as good as, the Intuos Pro stylus. Still, the ergonomics are better, and it looks and feels weighted better
Functionality & Primary Features
If you feel you need 2540 pressure levels, then this is not for you. If you feel you can 'deal' with a mere 1024 levels then…what am I saying, very few people will need those extra levels, and especially in photography, I doubt most will require the 2540 of the Pro line. 1024 pressure levels is what this series has, as did the ones before it. One of the key differences with the Pro line is the tilt recognition, and with that function the extra pressure levels can be useful. However, again, only a very select few photographers will be using it to this extent.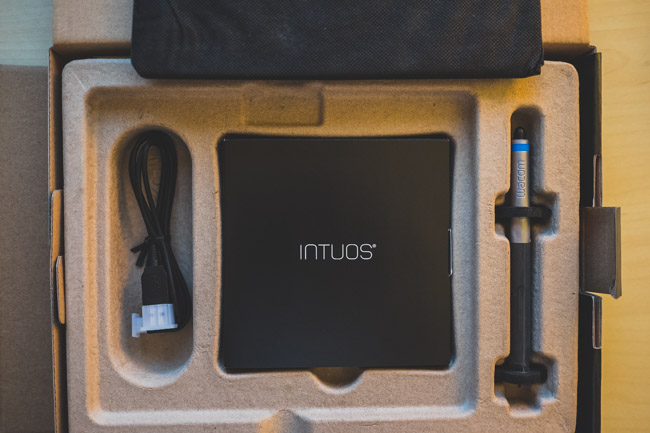 Customizable ExpressKeys
Above the active area of the face, you'll find 4 programmable buttons. However, they need not simply be single function buttons. Highly customizable, they can be programmed to function as a group of buttons, or a single/combination of keystrokes, which allows you to execute common functions. The same goes for the buttons on the Pen itself, and the capability can be altered to work differently with different programs.
It's arguable that having the buttons on the top of the active area isn't the best placement, that they should be to one side so one hand can be dedicated to operating them. You'll find a layout as described on the Pro line. However it was likely done this way to be equal in functionality for both right and left handed users. I think this could be solved with an orientation switch but…
Multi-Touch Surface & Stylus
This surface allows the tablet to be used much like a trackpad; navigate a mouse, scroll, pan, zoom, rotate etc are functions this allows for and is invaluable to editing at pace. This feature is highly suited for photographers doing post processes, and the combination of this feature with the abilities of the Pen, make this a phenomenal editing tool. The Intuos Pen, which is without multi-touch and eraser options, is only slightly less expensive, and the value of the features vastly outweighs the mere $20 premium.
As previously mentioned, the stylus is certainly an upgrade with a look and feel much closer to the Pro line.
Wirelss

Flexibility
Using your TV as a monitor to edit your last session (no self respecting retoucher would EVER do this)? This wireless connectivity kit option is a nice touch that declutters your workspace, and doesn't seem to have any lag. It's an added cost as it's sold seperately, and maybe you don't need it, but it's nice to know the ability is there. Wireless functionality is included in the Pro line.
On the rear of the tablet, there are two bays that can be fitted with the battery and the wireless transmitter should you choose that route.
Supplied Software
The contents of the purchase are not limited to the box, as Wacom have included online access to download a suite of applications, which vary depending on the version of tablet you get. This particular model comes with the following (MAC and WIN versions available)

Thoughts So Far
If you are doing even a modicum of photographic edits for your own business and have not yet acquired a tablet then I can think of no better time. The precision, flexibility, and faster workflow the tablets provide will pay for themselves in exponents, ten times over. Continuing with that train of thought I can, with heart, say that this is an ideal tablet all but the utmost discerning retouchers, and at this price-point it's hard to say no. Coming in at list price it's $99, but can be had at many retailers now for $88. Consider that the small Pro rings up 2.8x the price at $249.
I'll be following this up with my final thoughts as I have more time to spend with this tablet and put it through its paces. For the time being, it looks very promising, and I wouldn't hold you back from buying one now.  You can get it here.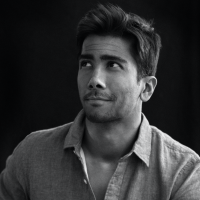 Kishore Sawh
A photographer and writer based in Miami, he can often be found at dog parks, and airports in London and Toronto. He is also a tremendous fan of flossing and the happiest guy around when the company's good.