Last week, I shared Gavin Hoey's video explaining how to use one light in a softbox with a reflector to create better portraits in a small studio space. While that technique is cost effective and easy to master, sometimes you really need a second light to achieve the look you're going for.
In the Adorama sponsored video below, Gavin Hoey shows you how to add a second light to up the production value and create great portraits in a small studio space.
Gear
Canon 5D Mark II
Canon 24-105mm f/4L
Flashpoint StreakLight 360 Ws
Flashpoint StreakLight 180 Ws
Technique
Gavin's technique is very simple to replicate at home. Utilizing the Apollo Orb with the higher power light as his main light (key light), he positions it to not only light the face of his subject, but also most of his background. That is a great tip to remember, if you only have two lights, and one is used as a hair light, postioning the key light allowing it to spill onto the background. This is a great way to light your background in a pinch or in a tight space. Gavin then uses his second lower power light as a hair light helping to separate his subject from the background.
Gavin also shows us a very simple way to add more bubbles into this final image. By turing the key light away from the background making the background pure black, he photographs himself using a bubble machine creating what I would call a base bubbles image to blend into his final image in Photoshop.
Gavin's technique to add more bubbles to his final image in Photoshop is simple. First, he uses the free hand tool to select bubbles from his base bubble image.
He then copy and pastes them to his final image and changes the layer blending mode to screen.
When using screen blending mode, it turns an all black background transparent, leaving only the bubbles to be seen, since they were photographed over a black background.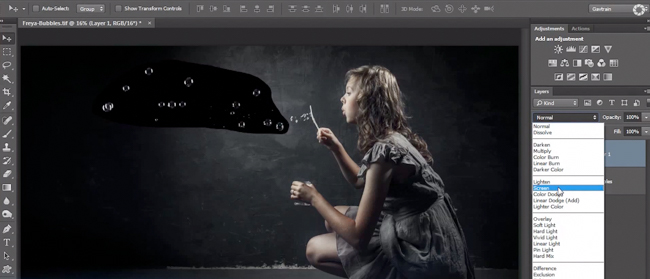 Final Image
Thoughts
Don't think you're limited by having a small space to work with or little room in your home or office to create great portraits. Gavin proves that in a small space, with only two lights, you can create great work. Learning techniques such as this one can really help you when you need to work with minimal gear in a small space to create professional quality images.
Images captured via screen grab.
Chris Nachtwey
Chris Nachtwey is a full-time wedding and portrait photographer based in Connecticut. He is the founder and creator of
35to220
a website dedicated to showcasing the best film photography in the world. Chris loves to hear from readers, feel free to drop him a line via the contact page on his website! You can see his work here:
Chris Nachtwey Photography