We are back today with another Top 3 lens post, but with Canon and Nikon both out of the way, it's time to focus on the Pentax K Mount. Pentax may be on a bit of a downer lately, but with their first Full Frame DSLR on the way, things have the potential to be turned on their head.
The Pentax K mount is full of great lenses that can be had for under $500, but we are highlighting three that we feel stand out from the pack as both a great value and good performers.
1. Pentax HD DA 70mm F/2.4 – $496
Sure, it is JUST under the $500 limit for this post, but the Pentax 70mm F/2.4 is a beautiful low-profile lens that gives Pentax shooters an outstanding 105mm (35mm equivalent) portrait lens.
The 70mm F/2.4 features Pentax's new HD coatings that help minimize flare and ghosting for enhanced contrast, clarity, and color fidelity. The 70mm F/2.4 also features a nine bladed aperture for a very nice Bokeh.
You can get your hands on the Pentax HD DA 70mm F/2.4 over on B&H now for $496.
2. Pentax smc DA 50mm f/1.8 Lens – $116
Are you noticing a theme here with 50mm lenses being on this list for every mount we have highlighted so far? That is because 50mm lenses offer some of the best price to performance value no matter what system you use. The Pentax 50mm F/1.8 is no exception.
The Pentax smc DA 50mm F/1.8 lens offers a great portrait and landscape experience to shooters looking to keep things small and light weight. The image quality is outstanding for the price and would be a great start for someone jumping into the K mount system.
You can grab your own 50mm F/1.8 over on B&H for just $116.
3. Pentax 35mm DA L F/2.4 – $146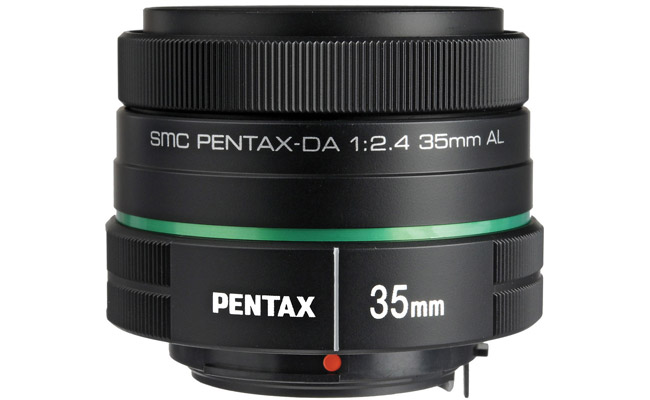 Rounding out the Pentax Top 3 is the 35mm F/2.4; your best option for a 'normal' lens under $500 in the Pentax K mount. The lens offers that traditional 50mm FoV on 35mm or full frame sensors and offers another great price to performance value.
Together with the 50mm F/1.8, for less than $275 you can have two wonderful prime lenses to start your photographic journey. Not a bad price at all considering the excellent image quality you get. These would be enough to tide you over until you can upgrade over that $500 mark.
You can get the 35mm F/2.4 today over on B&H for just $146.
What are your top three Pentax K Mount lenses under $500? Do you agree with our list, or do you have your own ideas? Leave a comment below and let us know what you think!