"My mother used to tell me, 'don't be like everyone else," Dublin-based photographer Kevin Goss Ross recalls, and his work reflects her encouragement to be different from everyone else. A quick look through his portfolio shows varying genres of photography, all different, but all with a very distinct style. This made Kevin the perfect photographer to be the debut artist in a collaboration with Thinkhouse X, who wanted creative imagery for their youth communications agency.
Thinkhouse wanted something unique and also be able to showcase some of the talented younger generation of creatives worldwide. Giving Kevin free reign to unleash his creativity, they ended up in some "varied and unusual places to create a juxtaposition of the normal and the surreal – from iconic barbers and butchers of Dublin, to the lakes and deserts of South Africa" in this wild, unusual, and evocative series.
We had a chance to ask Kevin Goss Ross some questions about the project in the interview below.
Kevin Goss Ross Interview
Your images for the Thinkhouse X series are very different and creative. What inspired you to create these images? Where do you come up with your ideas?
Early this year, Thinkhouse approached me to create a new suite of images for them to use across their branding. They're a bold bunch of creatives and they were looking for someone with a fairly playful, surreal, and youthful style and when they contacted me I was delighted to find that I'd finally found a client who would let me just do my thing. The brief was wide open, bordering on vague, but as Thinkhouse is a youth communications agency, the focus was on my own weird interpretation of 'youth'.
This is series of photographs of humans inspired by youth and the glimpses of fleeting truths hidden between the chaos of wild weekends – a flexing of creative muscles in an exercise focussed on aesthetic and visual experiments. With references borrowed from popular culture's more sleazy heroes and folklore narratives from different continents forced together to produce this collection of almost childishly colourful and surreal photographs.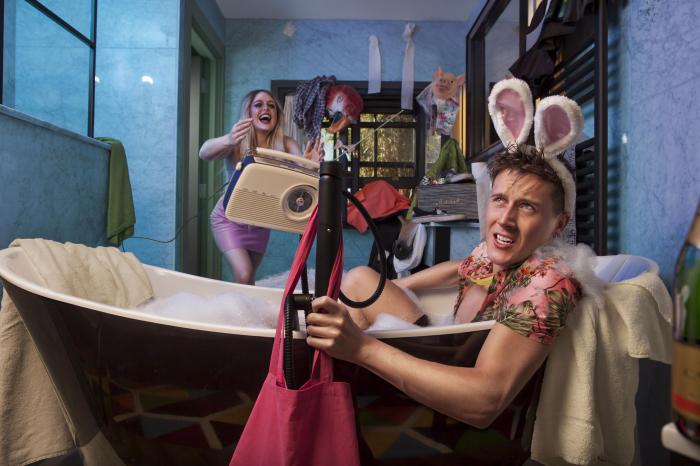 Which image was the most difficult to set up, shoot, post process, etc? Why?
The image of my friend Purity Mkhize covered in gold body paint was definitely the most challenging. It is a conceptual effort dealing with my own identity as a South African living in Ireland. The areas around Cape Town had recently burned down and I was selfishly desperate shoot something in the aftermath. I hadn't been in Cape Town in many years, and had to shoot it the morning after landing after 23 hours of travel. I also didn't have any transport, but I borrowed a car from a friend, got some cool people to assist me and found a patch to shoot on.
I landed, immediately started shopping for props, spray painted all the bits that evening and shot the very next day. The location was half way up an exceedingly steep incline which we hiked up with far too much gear. There was nowhere to safely leave anything without the risk of it rolling down the hill and onto the road below, and the South Africa sun was assaulting my now almost Irish skin, weak and pale from years of cloud cover. I also hadn't told Purity that I needed her to be topless, right near a busy road too.
We couldn't drop a light stand because of the slope so I had my brother boom it over the model for me while his girlfriend hid behind Purity while holding the cardboard covered in spray paint. We also couldn't source an appropriate skirt for this so we had to make do with a bronze colour coat. It didn't look great (you could see the one sleeve) so it took some doing to fix that in post.
Which is your favourite image in this series and can you give some background to it?
I personally love the image of the bearded man dancing wearing a tutu in the Wicklow Mountains. Ever imagine a world where Billy Elliot grew up in Wicklow and didn't have the nerve to tell daddy that he just wanted to dance? We shot it near the Sally Gap over Lough Tay on a day Irish people love to complain about – absolutely lashing rain and a punching wind leaving people hanging on to light stands.
The majestic Rory wasn't too pleased with me while we were shooting: "You know I'm never going to be happy about this Kevin," but cheered up after a pint. I saw his mum in Dublin a couple of weeks later and she voiced her concern about me bullying her son. I love working with Rory because he absolutely hates the process while we're shooting and his expressions are wonderfully grumpy.
What is your favourite piece of photography equipment and also, what gear do you use?
My friend Rory Burn (the model in the ballet shot) is a product designer and he helped me mold bits of old speedlight brackets into something I'm really happy with. It basically holds two speedlights inside a softbox for more power. Before this thing, I used to destroy three speedlights annually – now when they come loose, they just fall into the safety of the softbox. Genius.
I don't really care much for gear – a hammer is a hammer. A big hammer is going to get the nail in faster but a little one is still going to get the job done. Eventually. I use a Canon 5D Mark II, a 5D classic, and two great lenses. A Canon 50mm f/1.2 and my favourite, the Canon 24mm f/1.4 II. Glass is the only thing I like spending a lot of money on.
What has been your favourite project or can you give us a hint on what you're working on in the future?
I'd say that this has been my favourite, if only for the freedom I was afforded and the way Thinkhouse helped so much with the production end of things. Maybe it's just my favourite because it's still fresh and new and I haven't yet reached that point where I've seen it too much and started hating it. Which is usually what happens with everything else I do.
Currently, I'm going through a body of work myself and my friend Tyrone Bradley shot in the Karoo in South Africa in April. It is probably a bit more mature than this project in terms of concept and aesthetic but it was no less fun to produce. We spent a week in the back arse of nowhere meeting weirdoes in peculiar little towns, staying with them and photographing them and their surroundings. It's an exercise in complete collaboration. We swapped and shared cameras, we tag teamed doing lighting.
Neither of us knows who shot what because it's all just a blur of letting go and trying new things. We're also going to be editing everything separately and overlaying the results so both of us have an equal input on that end of the process. We've yet to see if it is going to work – our styles are so different we might just cancel out what the other person does in their edit. The project is called 'In Tussen In', which is Afrikaans for 'Somewhere, In Between'.
Anything else you'd like to share with our readers? 
Being allowed to create for a living is a privilege which might be fleeting. I sometimes allow myself to forget that but when you do, your creativity always suffers for it. Make like you won't be able to or allowed to tomorrow.
Also, for more like this, follow me on Instagram or check out my website and Thinkhouse's website, Facebook, Twitter, and Instagram.
CREDITS: Photographs by Kevin Goss Ross are copyrighted and have been used with permission for SLR Lounge. Do not copy, modify or re-post this article or images without express permission from SLR Lounge and the artist.
Hanssie
Hanssie is a Southern California-based writer and sometimes portrait and wedding photographer. In her free time, she homeschools, works out, rescues dogs and works in marketing for SLR Lounge. She also blogs about her adventures and about fitness when she's not sick of writing so much. Check out her work and her blog at
www.hanssie.com
. Follow her on
Instagram