Photoshop is THE ubiquitous retouching program, even amidst the rising popularity of Capture One and Lightroom's broad grip. There are just things Photoshop enables a user to do that the others simply can't, and it's so good at it, it's unlikely the others will (Affinity users may object). The fact is, the images you are bombarded with on a daily basis are highly unlikely ever raw images, and have been put through some sort of processing. If you want your images to look like many of the ones you admire, well, you're going to need Photoshop.
Now that it's more readily affordable than ever, given the Creative Cloud subscription plan, there's no reason not to have it and use it well. Doing the latter, however, typically requires some learned skill in its use, and the first thing a new user will be is intimidated, and rightly so. Photoshop does require a learning curve and will be more difficult for some than others, but saying that you should still do it. There is, however, some help.
Depending on your level of experience within PS, you'll likely have come across Photoshop Actions and plug-ins, as the two have become utterly commonplace in the market both paid, and free. Actions and plug-ins and scripts are all great, but are limited, unless you know some code. Thankfully, there are some good professional plug-ins out there, and StyleMyPic Photoshop Pro Workflow Panel is one.
What Is The StyleMyPic™ PRO WORKFLOW Panel?
Simply put, it's a collection of scripts that cover many of the bases of quality retouching, making for a quicker, and in some cases, easier workflow. If you think this is anything like Portrait Professional, then you're on the wrong track. Whereas those pre-packaged solutions take the creativity out of your hands, this only aims to help you achieve your creative vision regardless of skill level.
StyleMyPic™ PRO WORKFLOW is a Photoshop® extension Panel, designed to meet Pro Quality demands with beginner Ease of Use
That's the marketing pitch, and it's quite on point. Being familiar with other plug-ins and panels, the first thing that struck me about the panel is its rather simplified layout, making it an intuitive tool for even total neophytes. It's actually broken down in such a way that it guides you step-by-step in the process, which can teach you some good retouching etiquette.
For example, the first section of the panel deals with reshaping and global adjustments, followed by a section on skin retouching, then color grading, then a tool kit when you need to make local adjustments like dodging and burning or sharpening and tone mapping, and a few artistic options between. This layout is very similar to how I do my own manual layouts, and as a new user, all you have to think of doing is starting from the top, and following the prompts to the next steps, all the way through.
Of course, the more advanced users will tire of this prompting and as such they can be turned off, but the text on the prompts itself act as a mini instruction booklet, which you'll no doubt appreciate.
What is utterly necessary to understand about retouching is that you already have an idea of what you need to do to make the image as you want it; a nip or tuck there, evening out of the skin tone here, a dash of color here, and on and on. It's really the manipulation of the software that gets people confused, and a panel like this does that lifting for you. In your mind, you know your portrait is in want of some smoothing but you don't know how to set it up in Photoshop – the panel requires a hit of the descriptive button to set it up, and you simply manipulate the mouse to apply the effect. That's really the purpose of this panel, to simplify and speed up your workflow.
The Skin Retouch Pro is based on a modified version of frequency separation. Unlike traditional frequency separation, this version provides full control over the blur and texture frequency, even after applying the technique. This results in amazing but natural looking skin, within minutes

What's Included?
As alluded to above, Photoshop's interface is really the primary hindrance for most people who use it. It hasn't changed much since birth, and while incredible, to tap that capability you must know how to navigate through all the various menus and submenus which often use a language that's either non-descriptive, alien, or just not as you'd think it. The StyleMyPic Panel is a direct approach.
Skin Retouch Pro
This is the second section of the panel and where you'll likely get the most use. It's essentially made up of a set of retouching tools and two custom actions for use in either 8 or 16-bit modes. The primary method behind this section is Frequency Separation and to some degree High Pass. The benefit of this panel, though, is the amount of control you have over this method, and how easy it is to set-up: one click.
I think one of the best parts of the panel has got to be the Color Dodge and Burn ability, which essentially allows you to sample, and lightly paint over areas, making skin tone matching and transitions of colors a breeze. Anyone who does this knows how taxing it can be, especially to retain skin texture.
Color Grade Pro
This is something special. If you've ever seen photographs by say, Annie Leibovitz, you'll know how she often has a particular hue to her backgrounds and often (or most famously) that can be a sort of teal color. Well, this sets up your tone selection and then drops in your color grade (which is entirely customizable) to get that very look, or any you desire.
Further on, there are options for black and white that again do all the set-ups for you, photo illustration that gives you HDR landscapes and a grunge look with single clicks. The tool kit is full of what you'll need to finish off an image with sharpening, texture overlay, tone mapping, dodge and burn, and luminosity masks.
Also, if you have actions from sets you've bought or created, 3 of these can be brought into the panel itself for even easier and quicker access, which for me, is brilliant, as I have a specific set up for sharpening and a variant of frequency separation I have made actions for that gets a lot of use.
How Is It In Practice?
It's good. Actually, I'm a relatively advanced Photoshop user when it comes to retouching, and I think if you're a beginner or intermediate, you're going to think it better than good, if not brilliant. Once you keep in mind that it's not going to do all the work for you, and as such, you decide how much of each effect to use and use discretion; this panel could severely up your retouching, and the more adept users will see an improvement of workflow
The Good
The logical layout of the steps I think is a good move and enforces proper methodology, and will be appreciated by most.
Installation is simple, and the panel seems free of glitches.
The results using this are not only very, very good, but can be achieved in record time.
The color dodge and burn and color grading set-up is probably the best and easiest I've seen in a script, and that alone is probably worth the price.
The different options for skin retouch either headshot, 3/4, or full length makes logical sense. It also means that if you're a wedding shooter, you can click a button to cover most every type of image from a session, and that's nice.
Room For Improvement
The skin texture feature button seems to give the same texture all the time
If your subject has moles, I noticed that should you be doing skin smoothing or color dodge & burn, the moles had a habit of becoming the color you are using in the center, and then leaving a ring as the remnant of the mole.
I personally would prefer that more accurate terminology be used such as 'frequency separation,' because to those that know it, we understand it well, and each step is an extension of self which means we don't want to learn how this panel 'does it.' Also, as it's a standard method now, I think it'll do well for beginners to become acquainted with it and its steps.
Conclusion
If you're a beginner or middling retoucher and want to reap some of the benefits of professional techniques within minutes of downloading the panel, then this could be what you've been looking for, because that's exactly what you'll be able to do. It will not only introduce you to these processes, but teach you best practice. There isn't much in the way of instruction for use in the panel, and you may want that, but the layout helps, and you can see some of the other videos we've featured here from StyleMyPic where the panel is used to help mimic shots by famous photographers with basic gear, to get a sense of how powerful it really is.
For those in my camp, the more advanced and Pro, this is not going to likely bring any tool that you're not already aware of how to do manually, so there will be no surprise, and actually the button labelling may be a bit annoying. That said, the results can't be argued with; the speed at which you can do a retouch via this panel is truly something impressive. The retouch you see here was done in about 6 minutes, and for most purposes this level of quality (which is high) is going to be just what you'll need. So I can safely recommend this to those looking to up their game, and those who want to play it faster.
See it in use below, and get it here for only $69.
If, by chance you're not a Photoshop person and have all you need in Lightroom, or perhaps you want an accompanying set of tools to get you to master Lightroom, might I suggest the Lightroom Workshop Collection. There's nothing better. There's no substitute.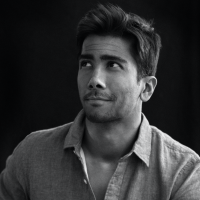 Kishore Sawh
A photographer and writer based in Miami, he can often be found at dog parks, and airports in London and Toronto. He is also a tremendous fan of flossing and the happiest guy around when the company's good.