One of the luxuries of being a full time wedding photographer is being able to work out of the comfort of your own home. Depending on the size of your home, you may have an office with some photos hanging on the wall, or maybe even an entire room converted into a portrait studio, like I do. Washington DC wedding photographer, Sam Hurd, recently decided to give that luxury up. In a bold move to not only impress potential clients but create a distraction free work environment, Sam leased a 1500 square foot building 2 miles from home and turned it into a studio.
In the ever increasingly saturated market that is photography, especially wedding photography, Sam Hurd is always looking for ways to differentiate himself from everyone else. Having established his business through meeting with clients in coffee shops and editing on his couch, he became interested in researching what it would take to open a studio. A consistent and familiar space for him to not only impress potential clients, but immerse them in his work – literally. Also, you have a defined work space free from distraction, as he points out that there is no TV.
For me personally, as my wedding photography business continues to grow, the personal space in my house continues to shrink. I have a spare bedroom that I use as a portrait studio, which is also shrinking in size as I add more to it. With the new year coming, the idea of moving into a larger house has been tossed around, but I hadn't put too much thought into leasing a place like Sam did. There are a lot of benefits to having an office/studio outside of your home, the biggest one being that it helps keep your personal life separate from your professional life. Allowing your professional life to consume your personal life leads to a number of problems, a major one being burnout. Obviously, it will come down to our budget and what we can afford when the time comes.
[REWIND:  Professional Photographers Avoid "Burnout" This Winter!]
When I first saw the photos of Sam's new studio, the first thing that came to mind was price and how much he was paying for it. When I spoke to him about it, he explained to me that it was something he thought that he could never afford or justify, until he started looking at the numbers. Commercial spaces aren't nearly as expensive as he thought, and luckily for him, his girlfriend Nessa (www.nessakphotography.com) is also a wedding photographer that was interested in a space for many of the same reasons. This made it really easy for him to cut the expense of everything in half and collaborate on the design of the space. The two of them ended up with two work areas split – hers being green and colorful (earthy) and his being black and white (moon-y). Between them, they have a client meeting space that showcases both of their work and a functional portrait space with storage for their lighting equipment and backdrops.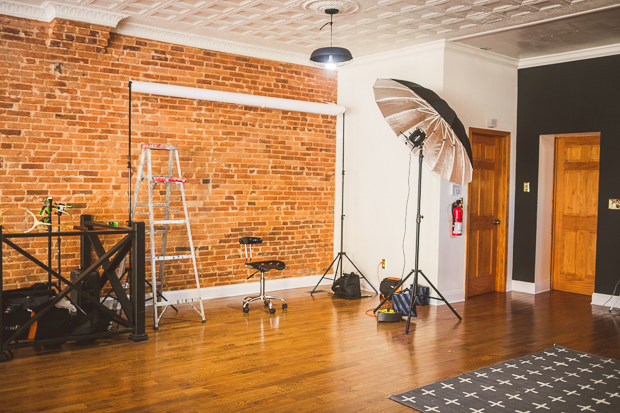 Sam explains that "having the ability to hand clients real prints, albums, and magazine features has made a HUGE difference in the mood and excitement of meetings. It's incredibly rare that people EVER see photos in print anymore and passively forcing it on them has been revolutionary." Both Sam and Nessa have had a huge increase in productivity since moving their work into the studio, which they credit to having a space dedicated to work. It's a place that they drive to with a defined purpose and inspiring atmosphere. Sam says, "I really can't begin to explain how exciting it is to get up and go to work in the morning doing what I love, and that's worth a lot more than we paid for it."
You can see more photos of Sam and Nessa's studio on Sam's website www.samhurdphotography.com, as well his inspirational photography. As always, thanks for reading.
CREDITS: All photographs by Sam Hurd are copyrighted and have been used with permission for SLR Lounge. Do not copy, modify or re-post this article or images without express permission from SLR Lounge and the artist.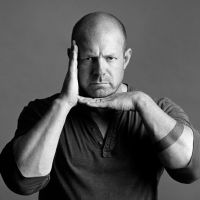 Jay Cassario
Jay Cassario is a fulltime photographer from South Jersey, owner of the multi-photographer wedding and portrait studio
Twisted Oaks, and Brand Ambassador for Leica Camera USA. WEBSITE:
Jay Cassario Personal Facebook:
Jay Cassario Business Facebook:
Twisted Oaks Studio Google Plus:
Jay's Google + Twitter:
@JayCassario