There is something incredible about being able to play with lights and shoot in a studio environment. With access to a lot of gear, it feels like the possibilities can be endless, and the excitement is similar to that of a kid in a candy store. There are so many different combinations that can be used with multiple lights, and as much as I get inspired by the desire to play with a lot of gear, I find that I am every bit as inspired by a minimalist approach. Sometimes, less is more.
'Clean and simple' produces beautiful results time and time again. One of my favorite things to do is play with simple window light. Use it alone, with a v-flat, or a plain wall. Then, choose whether or not to add or subtract light from the image. There are so many different options to experiment with.
Window Light & White Walls
These first two images were taken in the windowsill of a small hair and makeup room in a New York studio on an overcast day. The room itself is only about four feet deep with windows on one side, and white walls running parallel on the other, and they can act as a reflector depending on the position of the subject in relation to the light.
I start by placing the model in front of the window to see how the light falls on them. Once I have decided where I want them positioned in front of the window, I will have the model "find the light" by positioning their face back toward the light. It is during this phase that I will choose to add or subtract light & contrast to fit the mood.
I wanted the focus to be on her natural beauty. I positioned her back toward the light and her face at about a 45-degree angle in relation to the window. The sun was higher up in the sky and I didn't like how her freckles were getting lost in the shadows. I asked her to find the light and angle her chin up into the sunlight. There were very minor tweaks from then on until I was satisfied with the gradation, and how the light subtly emphasized the soft contours of her face.
Gear: Canon 5D Mark III, Canon 85mm 1.2L II
Settings: ISO 640, f/4, 1/160 of a second.
For this second image, the window was used as more of a true backlight. I repositioned the model closer to the door frame in order to use it as a reflector and bounce some light back into the shadows.
Gear: Canon 5D Mark III, Canon 85mm 1.2L II
Settings: ISO 100, f/2.8, 1/80 of a second.
One of the images I receive the most questions on in regard to how the look was achieved is probably one of the simplest images I have  ever produced. It was an overcast day in September and it was the last shot of the day. I had just wrapped up an editorial using only available light. We were packing up in a very dark mahogany room without any other lights on when I saw the faintest light gleaming through the window. I asked the model to look directly out the window, head-on into the light. Satisfied with the contrast and mood, I chose to not modify it in any way. After the image was captured, the last light of the day was gone.
Gear: Canon 5D Mark III, Canon 85mm 1.2L II
Settings: ISO 1000, f/1.8, 1/160 of a second.
In this example below, the sun was peaking out in the middle of winter and producing a gorgeous glow. I started by positioning the model directly perpendicular to the window. I then had her take a step away from the light, creating a near 120-degree angle between her back and the window. She then turned her head back toward the light. I used a black v-flat and positioned it around the model, camera-left, to cut some of the light and provide more shadow to that side of her face. This was a personal choice as I prefer images with variations of highlights and shadow. I find them more visually interesting.
Gear: Canon 5D Mark III, Canon 85mm 1.2L II
Settings: ISO 640, f/1.8, 1/160 of a second.
These were all examples of using slightly diffused light, but what about when the sun is in its full, harsh brilliance? Depending on what you are after, it can be done. This final example was photographed in the late morning of early Spring. One of my favorite challenges is working in less than perfect light and using it to inspire a working image.
For this last image, I started by placing the model facing in the brightest part of the light, as that was the main focus of the image. In these instances, the harsh light behaves similarly to those lights in the studio. The same tools can be used to manipulate it however you see fit, to get the desired result. It really is all about personal preference. Since I prefer the drama in the shadows, I chose to embrace the challenge and to not use any reflectors or v-flats.
Gear: Canon 5D Mark III, Canon 85mm 1.2L II
Settings: ISO 100, f/16, 1/160 of a second.
The Edits: If there were any blemishes, I used a very light-handed approach with frequency separation and then a black and white conversion.
Conclusion
Photography can be like a drug, and spending money on expensive gear can be quite a rush. It is always a blast to play with loads of equipment and have access to an amazing studio space, but that isn't the only way to produce great content. If you have a window and a few feet of space, you have the key to creating something beautiful.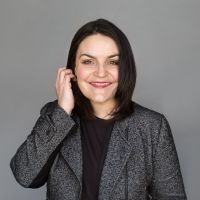 Brittany Smith
Brittany is a fashion and beauty photographer who works between NYC, Montana and LA. She photographs the way she has always wanted to feel and believes in the power of raw simplicity. When not behind a camera she can usually be found at a local coffeeshop, teaching fitness classes at the YMCA, or baking something fabulous in the kitchen. Instagram: @brittanysmithphoto