One of the things you've got to love about Fuji is the company's ambition, and the gamble it's been taking on the X-Series. Not only have they been putting out a veritable full bar of lenses compared to say, Sony's appertif for its A7, but the quality of said lenses is so high. Management could've taken guidance solely from the perspective of a P&L sheet and decided they wanted to provide many options on the cheap, by creating cheap lenses, but instead have gone for the throat of quality. You can almost tell just by looking at them, but once you pick them up, you know. The XF 23mm f/1.4 fits this mold, and is already a staple in their growing list of gorgeous primes.
Other Fuji X-E2 & Lens Reviews:
First Impressions
I know I may seem to be giving away my sentiments about the lens already, but with this one in particular, there's much to consider. Its focal length is about equivalent to that of 35mm on full frame, which makes it ripe for a go-to prime, and a go-to street shooter. Though a 50 is my favorite, I do love a good 35, and this felt good from the moment I picked it up.
It's mostly metal, anodized aluminum, and numbers and markings are laser engraved and paint filled – very Leica-ish. Immediately, it feels better than any 35s from Nikon or Canon. It's got good grip, and the movement of the aperture ring is defined. The only thing hard to like right away is the hood; I'm seeing a trend here. It's mighty, which is great, but it's also substantially large, so I quickly resorted to taking it off, or folding is backwards over the lens.
Ergonomics & Focus
Due to its size (without hood bayonet), it is relatively small, but large enough for someone with large hands like myself, to operate confidently. It's entirely internally focusing and its focusing abilities were surprisingly good. Unlike the 60mm f/2.4 I recently reviewed, this seems to find focus almost instantly. Coming in at a much shorter focal length, this was somewhat to be expected, but the accuracy and speed was still surprising. In low light, there were only minor struggles. As I mentioned in my initial review of the X-E2 (full review days away), when autofocus would hunt in low light, bumping up the ISO to brighten things up seemed to have a noticeably positive effect on focus speed. It's also a closed loop focusing system unlike DSLRs, which helps any mechanical mistake.
Reverting to manual focus isn't something you'll do, given the AF performance, and I found the mechanism a bit annoying. Nevermind that it's not a true manual in the sense it is wired and moving the ring triggers the AF motor, but unlike the Nikon or Canon where you can instantly manually override the AF, the Fuji requires you to push and/or pull a focus ring to switch modes. Sure, this is good in that you don't have to switch in on the camera body, but it's still a bit annoying, and in practice, I found it more a hindrance than anything.
Also worth mentioning, is the rather unremarkable close focusing abilities; close focusing at 1.4 also provided me with the only images I didn't like; very soft.
Image Quality
Sharpness and Bokeh
It's sharp. Even at 1.4, I found it to be exceedingly sharp – as sharp as Nikon's 35mm f/1.4 which costs around $1,600. Stopping down to 2.8 and you'd be hard pressed to find a flaw. This made it really easy to leave the lens at 1.4 most of the time, really adding to its credibility as a street shooter; it's like a fire and forget that you don't have to think about.
The only caveat with shooting it that wide open I did notice, and primarily off reflective surfaces (plastic, metal, oily skin), that there was some minimal color fringing. At only a few pixels wide at worst, It wasn't really a problem the few times it did occur, but something to keep in mind. It should be said that this is somewhat a common trait of shooting such wide lenses
But shooting wide allows this lens to render some really pleasing out of focus areas and bokeh. It's soft, and until about f/2.8, the bokeh balls are round and not notably hexagonal.
Resolution and Vignetting
Shooting a lens like this, on an X-E2, with the X-Trans II, reminds me that Fuji's game isn't limited to little shooters, but that they've been creating major optics for all kinds of uses like for the military. The resolution on this lens is something to speak of. I imagine it is, though I'm no pixel peeper (would never want to be), even limited by this sensor. Detail was really high, and the only issue I noticed was some vignetting.
I looked into this and it seems there is a division between those who swear the lens has no vignetting, and others who do notice it as I did. I believe the camera may correct for it in JPEG, but I shoot in RAW and I noticed it, albeit only a modicum of it. Oh, and I didn't notice any distortion.
Final Opinion
This is surprisingly a difficult decision, and here's why. If you have an X-series interchangeable lens camera like the X-E2, X-Pro1 or X-T1, then I would certainly recommend it. It's all metal (who other than Leica does this now really?), and performs extremely well in all areas matching that of Nikon and Canon's much pricier counterparts.
The only things that are bothersome are the hood, the manual focusing mechanism (preference), and, since it's a street shooter, that it's not weather sealed. Those are hardly reasons to deny yourself the joy of this lens. The real question is this, that if you're the type who really loves the 35mm equiv focal length, and you know you'll keep it on the vast majority of the time, perhaps, you may consider getting an X100s.
It has the same focal length, sure, at f/2 it's a stop slower, and by all accounts the lens performance isn't as spectacular as the dedicated 23mm 1.4, but then again this lens is around 75% of the price of an X100s. And with the X100s, it's an entire camera, with a significantly smaller profile, that's ideal for the streets. It also has a leaf shutter, built-in ND filter, and given how close the lens elements are to the sensor, is likely to give far greater macro capabilities. I suspect, however, you wouldn't go wrong either way.. Get the here.
CREDITS: All photographs shared by Kishore Sawh are copyrighted and have been used with permission for SLR Lounge. Do not copy, modify or re-post this article or images without express permission from SLR Lounge and the artist.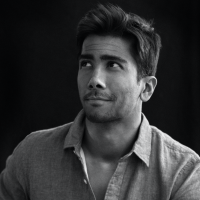 Kishore Sawh
A photographer and writer based in Miami, he can often be found at dog parks, and airports in London and Toronto. He is also a tremendous fan of flossing and the happiest guy around when the company's good.