Any time you say the words Jimmy Choo, my ears perk up. So does this adorable bull terrier, because, well, his name is Jimmy Choo.
After his divorce, all Rafael Mantesso had left was a big, empty, white house and his bull terrier Jimmy Choo. A Brazilian editor for a gastronomy website, Mantesso soon rediscovered his love for drawing and painting and naturally began incorporating his little buddy (and the empty white walls) into his art.
His first image was one with Jimmy and him, hand in paw to symbolize their friendship. That image sparked the now popular Instagram account, where photos of Jimmy in various hilariously adorable scenarios (as well as other of Rafael's illustrations) can be seen.
Jimmy, who simply poses on Rafael's simple command of "stay," and looks utterly precious doing so, loves the time he gets to spend with his owner because, as Rafael tells Huffington Post it's "a part of my day that I devote myself solely and exclusively to him. He loves to be the center of attention. I think this is a feature of every bull terrier."
Rafael also hopes to raise awareness of the so called "bully breed" that bull terriers fall under.
He is definitely my best friend and companion. I hate it when people turn away or cross the street for fear of him – people think bull terriers and pit bull dogs are murderers and bloodthirsty.
Looking at any of these photos, it's clear that Jimmy Choo most dangerous quality is his photogenic adorableness that makes me want to adopt another dog.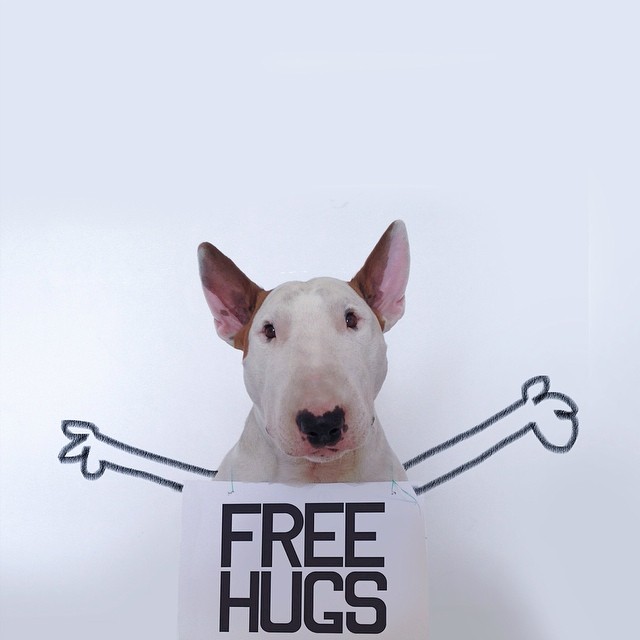 To see more of Rafael Mantesso's illustrations and Jimmy Choo's cuteness, check out Instagram here.
CREDITS: All photographs by Rafael Mantesso are copyrighted and have been used with permission for SLR Lounge. Do not copy, modify or re-post this article or images without express permission from SLR Lounge and the artist.
[Via Bored Panda]
Hanssie
Hanssie is a Southern California-based writer and sometimes portrait and wedding photographer. In her free time, she homeschools, works out, rescues dogs and works in marketing for SLR Lounge. She also blogs about her adventures and about fitness when she's not sick of writing so much. Check out her work and her blog at
www.hanssie.com
. Follow her on
Instagram