Advances in technology have made the possibility of becoming a photographer and/or videographer very tangible for anyone who has a desire to learn. The accessibility factor has become a major point of contention within the community as some still feel it is necessary to pursue a formal education and "pay their dues" while others feel the self-taught route is the best way to go.
Convenience is a double edged sword and as technology becomes more user-friendly and just works without much research, the technical component of why it works often go missing. Regardless of your stance, it is never a bad idea to learn the properties of how gear operates and use the knowledge to make future purchases as well as plan future shoots accordingly. Technical knowledge is also an industry standard for professional film, advertising and some fashion and beauty.
Understanding how something works is a key component of improving one's craft of storytelling as well as keeping the education of the art alive and well. It is the key to unleashing full creative control and using the information to make educated decisions while fully developing and exercising your voice. It makes it easy to choose a lens and applicable gear to properly convey your perspective when bringing a concept to fruition.
The following video from filmmaker John Hess with Filmmaker IQ explains the fundamental features of modern camera lenses for both photography and videography. In a nutshell, it is a crash course of information including focal length and aperture and how it is impacted by sensor size, the features of primes vs zooms as well as specialty features. John clearly enjoys what he does and it shows in the way he presents an exorbitant amount of information in a fun way while making the viewer feel empowered instead of inferior.
In just under 20 minutes John covers what most formal intro college classes take up to half a semester to explain. The video is most definitely worth the watch and you may want to bookmark it as a point of reference later to watch several more times.
You can check out and subscribe to Filmmaker IQ's YouTube channel for many more informative and educational videos.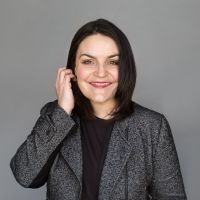 Brittany Smith
Brittany is a fashion and beauty photographer who works between NYC, Montana and LA. She photographs the way she has always wanted to feel and believes in the power of raw simplicity. When not behind a camera she can usually be found at a local coffeeshop, teaching fitness classes at the YMCA, or baking something fabulous in the kitchen. Instagram: @brittanysmithphoto