I don't generally do a lot of photos booths or photograph events anymore unless it's for a really special cause. For the last two years in a row, I have been in charge of the photo booth at our local KiDDS Dental annual Great Candy Buy Back event, which happens the next business day after Halloween. It's a big event in our community where the dentist buys the candy kids collected on Halloween for $1 per pound, and then they donate the candy to an organization called Operation Gratitude.
Operation Gratitude creates and sends care packages to the American troops who are away from their families over the holidays. At the event, kids and parents are encouraged to make hand written cards for the troops. We also print out photos from the photo booth and write messages of encouragement and hope on them. This year, we asked for a $5 donation from those who participated in the photo booth and donated that money to Operation Gratitude.
Last year I used Christmas lights and a sheer curtain to create a nice bokeh background. I wanted to switch it up this year. I've noticed over the years that if I gave kids something to hold in a photo booth they are more likely to sit still and smile for me. We also wanted to have some place to write a greeting on the photo for the troops. So, I decided to create a giant polaroid frame. I wanted to keep it as easy and inexpensive as possible since I was donating my time and resources. Here are the materials I used for the polaroid photo booth:
Backdrop stand
Spring clamps
Black duck cloth
30×40″ foam core board
Xacto knife
24″ metal ruler
Canon 5D Mark III camera body
Canon 24-70mm f/2.8 L lens at 70 mm
Canon 430EXII Speedlite on-camera
To create the Polaroid frame, I simply measured 4″ in from the sides and top and 10″ up from the bottom of the foam core board. Then I cut out the square using an Xacto knife and 24″ metal ruler. Make sure you do this on a surface that you're ok with damaging. If you don't have a self-healing cutting mat, you can use another sheet of foam core board or a piece of plywood. I considered making more than one frame, anticipating it might get ruined during the course of the evening. The frame did get bent half way through the night, but it wasn't noticeable in the photos and held up just fine.
For the backdrop, I used a long piece of 60″ wide duck cloth purchased at my local fabric store. It's inexpensive and with the right lighting, doesn't show wrinkles. I simply clamped this to my portable backdrop stand, and it was easy peasy. I had a small stool handy for taller kids or parents to sit on.
Now, for the lighting set up. I was originally planning on using two Speedlites with umbrella modifiers on stands but ended up going with one on-camera flash. I simply aimed the light slightly behind and above me to bounce off the ceiling. This technique worked very well and created much less of a tripping hazard like I had the year before.
The concept of bouncing an on-camera flash is largely what you'll learn in our Lighting 101 workshop DVD. Bouncing the light off the ceiling, in this case, worked well because 1) the ceiling was white, 2) my subjects were relatively close to me and 3) I wanted a flat light illuminating the entire faces of my subjects.
My camera settings were as follows: ISO 500, 70mm, f/4.0, 1/80th of a second shutter speed with my flash on 1/4 power.
We had some fun props available for the kids to wear, which adds to the fun feeling of the whole thing. The funny 80's slotted glasses are always the most popular. The reindeer headband gets second place (who knew?).
If you would like to learn more about bouncing on-camera flash for as easy, inexpensive way to light your subjects, check out the SLR Lounge Lighting 101 workshop DVD and our new Lighting 201 workshop, which delves into the details of shooting with off-camera flash.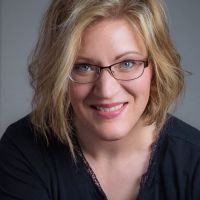 Tanya Goodall Smith
Tanya is the owner of WorkStory Branding Photography in Spokane, WA. Businesses hire her to create story-telling content that sells their high end products and services. She also teachings photographers her unique business model for making serious money as a corporate and personal branding photographer. Find her at
workstoryphotography.com
and
workstoryeducation.com