I'm an old fashioned sort of guy. Well, less old fashioned, more old school. What this means, often for my photography, is that my approach is a bit more 'classic' than I find that of the average modern photographer because I like my education to be on an old art foundation. One of the ways this is evident is that I keep harping on and on about color and color theory. I truly believe that many of your images would be a lot more impactful and beautiful should you understand color theory and put it into use. I am not alone in this thinking.

Not long ago I decided to give you all a primer on color theory with some practical advice on its uses and immediate implementation. You can find that article here. At this time, I'd also like to tell you now that the biggest 'tells' that a retoucher is a poor craftsman – the two things that separate a cream from the crop – both have to do with color. It's lack of understanding and use of color theory, and lack of matching skin tones across parts of the body. As you move to understand and implement these two, you'll probably arrive at a question: "What is the perfect skin tone?" Natalia Taffarel has this to say:
The skin tone that complements the color palette based on color harmony. So whatever that color may be, then that's the perfect skin color for that image. …the one that compliments the rest of the palette.
Natalia Taffarel is a rather accomplished high-end retoucher and educator hailing from Argentina. While her background is from graphic design and advertising, her family lineage is one of printing, and no doubt all of this contributed to her rather specialized understanding of color and its theory. This knowledge is directly transferable to photography given that the tools we use, even in the digital age, are based off older analog methods. She shares this knowledge regularly, and recently for RAWexchange, gave a little insight into color and what makes the perfect skin tone.
It's a short watch, but a good one, and will probably help convince you of color's importance in your imagery. I apologize ahead of time if you haven't paid much attention to color before and now see the light, because you'll probably have the urge to go into your portfolio and alter it all to be more color appropriate.
Whenever I'm tasked with explaining color theory to anyone, I try to think of a particular image that's a good example of color theory in use that's also relatable. I can think of few, if any, more obvious than Steve McCurry's 'Afghan Girl.' It's the famous photo adorning National Geographic of the young girl with the green eyes that see right through to your sins. It is a classic example of complementary colors at work with her emerald green eyes and wall, and the red fabric encasing her face. If you could imagine the material was a different color, like yellow perhaps, it may still be an incredible image, but I think you could agree it just wouldn't have the same impact.
It's quite incredible actually, that color is such a prominent feature in imagery and yet so many pay such little attention to it. More incredible is the moment when you realize and then a whole sort of way of thinking shifts. You become aware of this 'world' that's been all around you, and I'd reckon that once you see it you'll always.
You can find more from Natalia here, and this is the link to the color scheme tool mentioned in her video. As further interest in color theory has been expressed, I'll be bringing more about color in the coming weeks, including a review of the Spyder5Studio color calibration system, and more. (You can win a Spyder5PRO in our current giveaway here).
Source: RAWexchange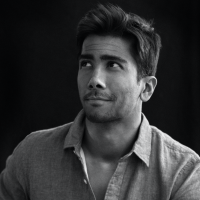 Kishore Sawh
A photographer and writer based in Miami, he can often be found at dog parks, and airports in London and Toronto. He is also a tremendous fan of flossing and the happiest guy around when the company's good.