Inspiration and Brewing the Idea
Almost a year ago, I was wandering around Arundel Castle during a sightseeing tour in South England. Seeing rows after rows of magnificent Victorian portraits gave me an idea; wouldn't it be interesting to make a photograph look like an old painting? I tossed the idea around in my head, even studied the elements and techniques needed to create the look but eventually pushed the idea aside to wait for a more opportune time. It took a year, but again the planets aligned and I got an opportunity to pitch the idea to the main editor of Cardiff Life Magazine, Velimir Ilic. Together, we came up with a concept to create portraits of a selected group of Cardiff-based people in a series of Victorian "paintings."
This project was also a perfect chance to collaborate with another great local artist, Andy Wright, who I had met a few months back. Andy is a really talented digital artist who does amazing drawings of people and environments; exactly what I needed to create the backgrounds in the paintings. It took just one chat over coffee to get him on board, making me feel confident that I had all the necessary pieces to make these images really special!
First See It, Then Do It
As always, I started with collecting a mood board of reference images in Pinterest to explore the style. The mood board was helpful also to Andy, who had to match the style of the handprinted background elements to the painted backdrop feel I was after.
The photo shoot was organized at Cardiff Millennium Centre. I used a green screen to make it faster to isolate people from the background, and the lighting was a simple two light setup. I had done research on the light that Victorian portraits typically had and tried to emulate the same look. I ended up using one big 160 cm umbrella as a main light, giving really soft wrapping light and just a hint of edge light from a 90 x 60 softbox behind the subject.
"Painting" the Photographs
In projects like these, the photo shoot is often the easiest part, and the "real" work begins when you start retouching the images. I needed a painted effect in the images both for the overall feeling and to be able to blend my photographs with the hand printed backdrops done by Andy. So I painted over all the portraits with Photoshop using the smudge tool and tried to use brushes that would give the painted effect I was aiming for.
The key issue with these images was to find the perfect technique to get the certain look I wanted. It took a few tries, but finally, after painting, smudging, dodge and burning and sharpening every image, I got the style down. Then it was all about adding Victorian-styled frames and laying more textures such as cracks and paint marks into images to make them look like old paintings. I finished up the work in Lightroom by adding some heavy directional vignette onto the images to make them look like they were lit up with small lights placed on top of the picture frames.
Watch the behind the scenes video and retouching process below.
Collaboration Takes You To New Heights
It was really cool to work together with Andy Wright and to see what we were able to produce together. We both have our strengths and in this project we were able to use them together to create the feeling of looking at photographs of Victorian paintings with the Ladies and Lords of our time.
I highly recommend that you reach out to other artists and just collaborate. It is always a learning process for everyone involved, and in the end, you will have new skills and tools to apply in your future projects.
Here are few words from Andy:
When I saw Antti's work online, I decided to contact him. We got to chatting and arranged a meet up for a coffee. While chatting, we decided we should do a collaborative set of images together. He mentioned this project and thought my style would be a good fit for the backdrops. My personal work is very heavily influenced by Victorian and Steampunk, and I have a painterly approach to my images, illustrating/painting in Photoshop.

My part of the process was to create the eight backdrops for the various folks Antti was going to shoot. I decided early on to make a little kit of drapes, pillars, and rough backgrounds that I could paint, move about and modify to make 'sets'.

The bespoke parts of the images were added to the images last to help reflect the story of each individual. Cardiff has some amazing buildings, so the Millennium Stadium features in one of the images. I carried the architectural theme across the images where possible, some more imagined than others.
Be sure to check out Andy's website: Real Tidy Design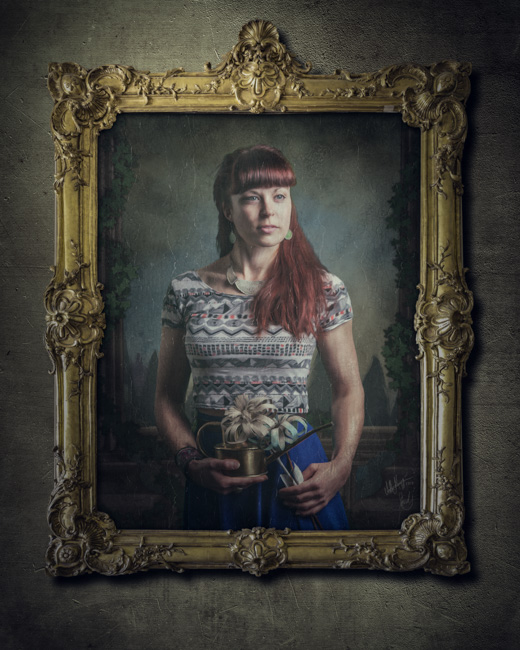 Antti Karppinen
Antti is a digital artist, photographer, and retoucher from Finland. He was awarded the Portrait photographer of Finland in 2013, a bronze medalist in the Photographic World Cup (WPC) and is an internationally awarded commercial photographer. Antti's mission is to build the visual experience, which tells the story of a company in a globally understandable way. He belongs to a new generation of image artisans, to whom all things are possible. He enjoys creating complex and original visual concepts and images with unlimited imagination.