MagMod returns to Kickstarter today to launch its fourth campaign in under five years. After gaining immense popularity amongst portrait and wedding photographers, they are expanding their popular line of magnetic, modular lighting tools with the unveiling of three new groundbreaking products.
After nearly two years of R&D, they're announcing the MagBox™, MagRing™ and MagShoe™ which will represent a major design overhaul of some of the most essential tools in a photographer's arsenal. Together they form the world's easiest, fastest, and most versatile softbox system, ever.
[UPDATE: See Our Magbox Review]
#1: MagBox – you asked, they answered
Many have become accustomed to using the MagSphere as a diffusion tool for flashes and small strobes (Godox AD200) but photographers have been requesting a larger light modifier that still cooperates with the magnetic system – enter the MagBox.
"Unlike any other softbox out there, the new MagBox 24" Octa opens and closes with ease, no assembly required and attaches effortlessly to the new MagRing using magnets. The MagBox 24" Octa stays securely magnetized to the MagRing whether you move it, tilt it, carry it, or shake it. The MagBox is the first softbox ever to feature an integrated gel holder. Since photographers have loved MagMod's rigid polycarbonate gels, the company took that same technology and designed a new gel shape to work with the MagBox. Gels snap easily into place. There is even a built-in side zipper allowing photographers to reach in and swap gels without removing the attached diffuser."
With no internal baffle or bounce, you'll experience less light loss and even coverage giving and similar and often better results than most softboxes on the market.
A New Kind Of Diffuser: The FocusDiffuser
Included with the MagBox comes a brand new and first-of-its-kind innovation called the FocusDiffuser. While it also comes with the standard fabric-style diffuser, the FocusDiffuser offers more light output:
"The MagBox 24" Octa with the FocusDiffuser attached produces 2 to 3 stops more effective light output than its softbox competitors. It gives you the softness you'd expect from a 2-foot softbox with the control and precision of a gridded beauty dish without the loss of light we have grown accustomed to when using a grid on softboxes."
#2: MagRing – Double the Power, Double the Possibilities
Keeping with the theme of "never-before-seen", MagMod doesn't fail to shock fans with a new dual-mounted flash bracket, equipped with side by side locks to securely hold flashes into place. With the MagRing, photographers can:
Shoot with double the flash power – both pocket flashes & small strobes, (yes. that means you AD200 users).
Reduce flash recycle times for better consistency between shots.
Accommodate an additional flash for a second shooter on a different channel without needing to use a second light stand.
Integrate with MagGrids, MagSpheres, & MagGels, all able to easily attach to the MagRing.
#3: MagShoe – Say Goodbye To Dropped Flashes
With the launch of the Magshoe, MagMod has turned a tool photographers have to work with into a tool they want to work with. The MagShoe modernizes and simplifies the typical cold-shoe design, making the process of mounting flashes easier, faster and much more secure than ever before.
"Operating the MagShoe is simple: insert a flash and rotate a switch. There's no need to spend time tightening down a flash's tedious, built-in lock. The MagShoe's durable, custom locking mechanism renders those locks completely unnecessary. The MagShoe's design works perfectly with the new MagRing. In addition, it includes a built-in hole to accommodate modifiers that use an umbrella shaft."
A large, squeezable button allows photographers to adjust the angle of the MagShoe quickly, easily and with precision. You can say goodbye to ever worrying about having your flashes drop to the ground from a loose screw. Additionally, it was designed to be operated with just one hand, so you can attach it, lock it and adjust it without ever putting your camera down. See all three in use in their promotional video demonstrating each product:
Currently, the MagShoe, MagRing, MagBox system and accessories are only available through MagMod's Kickstarter campaign, which launched June 26, 2018. For early backers, there are significant discounts for varying bundles, the minimum is $259 to get access to all three products.
See examples using the three new MagMod modifiers below:
Are you excited to try these out? Let us know in the comments below!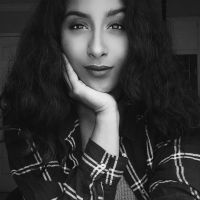 Shivani Reddy
Shivani wants to live in a world where laughter is the cure to pretty much everything. Since she can't claim "Serial Bingewatcher" as an occupation, she'll settle for wedding/portrait photographer at Lin and Jirsa & marketing coordinator here at SLR Lounge. For those rare moments when you won't find a camera in her hand, she will be dancing, eating a donut, or most likely watching Seinfeld. Follow her on Instagram:
@shivalry_inc