The mood and ambience in this image is terrific! Ronnie did a great job in conveying his vision of this woman's life being wasted in smoking and alcohol. The model's pose, the shaping of the light around her, and the texture in the environment all help to enhance the grittiness of this image.
My one critique would be the hard-edged light- to-shadow transition on the lower side of the light shaft on the wall. A more even and organic blending would hide the fact that the light was retouched. Other than that, great job Ronnie!
Ronnie's Background and Vision
The idea to behind this shot (Title: Wasted) is to portray a young lady who wasted her life in heavy smoking and alcoholism. Therefore, I prepped the scene with 2 empty wine bottles and a pack of cigarette to carry the idea of the title. The location I chose was a back street with very little ambient light.
How Ronnie Shot It
Camera: Canon 5D mark III
Lens: Canon 24-70mm F/2.8 L USM
Flash: Canon 580EXII speedlight
Focal length: 32 mm
Shuttle speed: 1/200
Aperture: f/8
ISO: 100
I used a single off-camera Canon 580EXII speedlight attached to a 55cm gridded beauty dish placed camera left and 90 degrees the left of the model and pointed down at a 45 degrees angle. I find that this type of side-lighting with the gridded beauty dish gives a dramatic and mysterious look.
How Ronnie Post-Processed It
The image above is how it looked straight out of camera. The lighting was pretty spot on out of the camera. However, there were some unwanted patterns from the gridded beauty dish on the wall which I removed in Photoshop.
Here is my post-processing sequence in Photoshop and Lightroom:
Dodge and burn
Increase the overall exposure and contrast a little
Add the patch wall
Use content-aware fill
Use a smoke brush
Do some skin softening from Nik software
Add +9 to Clarity in Lightroom
Final Image (courtesy of Ronnie Chan)
You can visit Ronnie Chan's website at: www.ronniechanphoto.com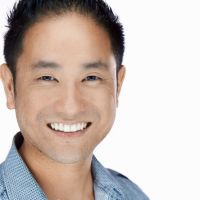 fotosiamo
Joe is a fashion and commercial photographer based in Los Angeles, CA. He blends creativity and edge with a strong style of lighting and emotion in his photographs.