New York City has an unparalleled energy and serves as a beacon of hope for many photographers to one day shoot with the city as a backdrop. Orchestrating and manifesting this dream shoot serves as a precipice for many and doubles as a foreshadowing of events yet to come. As the old adage goes, If you can make it here you can make it anywhere.
Everything in New York, even the simplest of tasks, is often more demanding and requires a great deal of fortitude as well as patience. That being said, pulling off a high caliber shoot in and around the city within a single day is possible no matter how intimidating or nerve racking it may seem.
Here are some pointers to keep in mind.
Find a solid team to create with and plan it out together.
Plan a shot list ahead of time for each look and location.
Rent any necessary equipment and obtain permits if applicable.
Map out the locations to save on time and pack each look sequentially.
Make sure everyone is fed and hydrated – this keeps people happy.
Be willing to improvise.
Gear Used: Canon 5D Mark III and Canon 85mm 1.2L II USM lens.
Tech Specs: ISO 100, F/5.6, 1/640th of a second.
The Team
I first met an incredibly talented hairstylist and makeup artist from Philly by the name of Elle while shooting an editorial in the winter of 2015. We took a chance on each other and the risk paid off tenfold; we had been anxiously awaiting the day we could work side by side again ever since.
Coincidentally, Elle was going to be in the Big Apple during the same time that both Michala and I were already planning to update her portfolio prior to meeting with modeling agencies (she signed with Major Models the day after our shoot). Not only did Elle want to help, she also had a friend named Christie who was willing to style the shoot.
A solid recommendation of a friend in the industry is worth their weight in gold and should be cast for the shoot faster than a New York minute. Michala's mom was also planning on joining us and was happy to step in and help wherever she may be needed.
Gear Used: Canon 5D Mark III and Canon 85mm 1.2L II USM lens.
Tech Specs: ISO 800, F/1.8, 1/200th of a second.
The Preparation
The simple idea of a young woman in the city quickly transpired from a simple test shoot into attempting a full blown editorial. A shoot of this nature under normal circumstances is already an enormous undertaking. Add to those parameters the notion of traveling with a full team around different neighborhoods of the unpredictable city in the extreme summer heat and it only ups the ante.
The two days leading up to the scheduled shoot were a frenzied whirlwind of location scouting, wardrobe pulling, finalizing the equipment list and retrieving the rented gear from ARC (Adorama Rental Co). The team gathered for a fitting the night before the shoot and made final preparations. Knowing that an average of 4-5 looks are required to make the cut for an editorial we decided to throw caution to the wind and go for a total of seven. Go big or go home, right?
The shooting locations and necessary transit routes were mapped out courtesy of Google Maps and padded with extra time in tandem with creating a shot list that comprised of the corresponding outfit, hairstyle and makeup look, desired crop and required equipment. The call time was scheduled for 8:00am at Michala's hotel the following morning which allotted just enough time to find the ideal Central Park location within walking distance from the hotel during a 5:00am morning run.
The Gear
Canon 5D Mark III
Canon EF 85mm 1.2L II USM lens
Canon EF 50mm 1.2L USM lens
Canon 35mm 1.4L II USM lens
5-in-1 Reflector
Profoto B1 location kit with air remote
**Pro Tip – If traveling to the city from out of town it may be more cost effective to pack the bare minimum and rent everything else. 
The Shoot
An amazing thing happens when a group of like minded individuals who share common aspirations gather and implicitly trust one another; everyone shows up on time and is eager to get started. The schedule allotted for up to two hours to complete hair, makeup and initial styling. It is a good idea to start with a simpler look that can easily be built upon throughout the day.
The first two looks were planned for Central Park and in a town car that was guaranteed to be outside of the hotel lobby. After their successful capture the team made one more trip to the hotel room to regroup and pack the five remaining looks along with the gear, rehydrate and replenish before commencing the rest of the photoshoot for the remainder of the day.
The third look was to be captured at a subway platform that was stumbled upon on the way to an interview earlier in the week and also served as a convenient transfer point for boarding the R Train on the way downtown. One of the shots required a collaboration of timing with the oncoming train, fanning of the hair and freezing the moment with the monolight.
Gear: Canon 5D Mark III, Canon 35mm 1.4L II USM lens and Profoto B1 with air remote.
Tech Specs: ISO 640, F/5, 1/80th of a second.
It was soon learned that tripod use and shooting without a proper permit, aka guerrilla style shooting, can come with a hefty fine if you get caught. Most photographers will apply for a permit and either utilize a monopod with a tennis ball on the bottom or handhold the light, which is what we opted for. The other desired image was a soft portrait using only the available fluorescent lights of the platform.
Michala was able to change her clothing without the need of privacy and the Team huddled onto the train. We had less than ten minutes to capture the next look and make the appropriate exit at City Hall. It is in moments such as these that New Yorkers really shine and quickly offered up their seat without the blink of an eye after they realized what was happening.
Gear: Canon 5D Mark III and Canon EF 50mm 1.2L USM lens.
Tech Spec: ISO 500, F/1.8, 1/125th of a second.
At approximately 4:00 in the afternoon the team hauled all of the luggage up the stairs and out onto the streets near City Hall Park. After 8 hours of work in the July heat everyone had naturally hit a wall and required an hour coffee and sustenance break.
The original plan of shooting on the Brooklyn Bridge appeared to be an impossibility as it was the height of tourist season and packed with pedestrians. Rather than scrapping this idea entirely, we improvised and chose to work in the less populated area of the park. The low hanging sun was blanketing the city with a sense of warmth and the most beautiful golden glow. The only changes necessary were a subtle update to hair and styling in an effort to better accompany the scene.
Gear Used: Canon 5D Mark III, Canon EF 50mm 1.2L USM lens and 5-in-1 Reflector.
Tech Specs:  ISO 500, F/5.6, 1/160th of a second.
The sun was setting fast and we were racing against the clock in hopes of utilizing the remaining light in SoHo for a very Carrie Bradshaw inspired look. In an effort to save time we stayed on Broadway and remained within a block of the Prince Street Subway Station. Embracing the hustle and bustle of the city made for a happy surprise and the image turned out better than we anticipated.
It was now almost 7:30 as we boarded the R Train after the last outfit change one final time prior to heading back uptown and exiting at Times Square. Elle and Christie headed back to the hotel room to begin wrapping up while Lynette, Michala and I stayed behind. As tempting as it was to call it a day, we chose to unpack the strobe and gave ourselves a five minute time limit to try and achieve the image in Times Square. Lynette worked double duty while manning the strobe and watching the camera cases as the final seconds ticked away.
It must be noted that shooting with an abundance of expensive gear as in this scenario is only recommended if there are enough helping hands to do so in a safe manner.
Gear Used: Canon 5D Mark III, Canon EF 50mm 1.2L USM lens, and Profoto B1 with air remote.
Tech Specs: ISO 640, F/2.8, 1/160th of a second.
Final Thoughts
There are no words to adequately describe the endorphin fueled adrenaline rush felt when walking through the hotel room nearly 18 hours after the journey began. It is a good idea to split such an onerous workload into two separate days whenever possible.  The shoot was exhausting to say the least and the feeling of accomplishment felt by all was intoxicating.
Aligning yourself with people who share common career goals is essential for a collaborative stylized shoot of this magnitude. Teamwork is of the utmost importance and must be set as the precedence at the very beginning because it will not manifest without a proper team – there is no room for ego.
A well thought out plan with room for improvisation and an incredible team are the key components of a successful shoot. The hard work ultimately pays off as these connections transform into long lasting friendships and/or professional business acquaintances. These relationships are everything and are the keys that often open the doors to future possibilities.
Below is the final spread that made its debut in the Fall 2016 edition of Dreamingless Magazine. You can also drop by my website for more ideas on styling, posing and lighting for your upcoming editorials.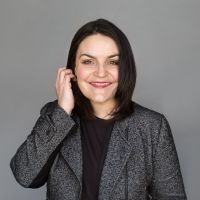 Brittany Smith
Brittany is a fashion and beauty photographer who works between NYC, Montana and LA. She photographs the way she has always wanted to feel and believes in the power of raw simplicity. When not behind a camera she can usually be found at a local coffeeshop, teaching fitness classes at the YMCA, or baking something fabulous in the kitchen. Instagram: @brittanysmithphoto