A picture can be worth a thousand words and in some cases it can change lives in a moment's notice. That is precisely the situation that a Royal enthusiast found herself in after capturing an iconic moment of the Royal family on Christmas Day.
Upon learning the news that Meghan Markle would be joining the Royal family for a church service in Sandringham, Karen Anvil made the trek down to St. Mary Magdalene Church with her daughter in hopes of catching a glimpse. She said she got their attention as they approached by yelling "Merry Christmas!" and then proceeded to upload the capture to Twitter.
— Karen Anvil (@Anvilius) December 31, 2017
Little did she know that her once-in-a-lifetime iPhone snap would quickly escalate to a newly acquired fame and appear on the front cover of major publications such as the Sun, The Telegraph, Daily Mail and January edition of Hello magazine in the UK. It has also been displayed by more than 50 publications worldwide.
"I've had some offers to do work but they're just too cringe, to be honest. Some friends have told me I should do Gogglebox […] It's not really for me though." – Karen Anvil
Anvil tells the BBC that she had no intentions of selling the image in the beginning, that is until the onset of the roaring media attention. She now has an agent to help streamline with the licensing of the image in various news outlets as it continues to circulate around the globe. Anvil has since been approached for other commissioned work and has turned it down, indicating that aspiring to be a professional photographer isn't for her.
"There's a picture of me and Rachel in Hello too – that's the one I was happiest about. It couldn't get any better than that."  -Karen Anvil
Had a lovely morning at Sandringham with my daughter! pic.twitter.com/XceMtXDlBM

— Karen Anvil (@Anvilius) December 25, 2017
Karen is a single mother and has been working two jobs in an effort to support her daughter Rachel as she attends nursing school. She is now hopeful that the unexpected money she has received for the picture will help cover the expenses of her daughter's education.
This goes to show that it can really pay off to be in the right place at the right time.
via: the BBC.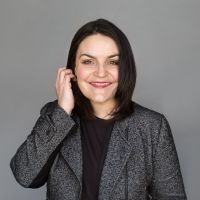 Brittany Smith
Brittany is a fashion and beauty photographer who works between NYC, Montana and LA. She photographs the way she has always wanted to feel and believes in the power of raw simplicity. When not behind a camera she can usually be found at a local coffeeshop, teaching fitness classes at the YMCA, or baking something fabulous in the kitchen. Instagram: @brittanysmithphoto