Welcome to the second part of our two-part look at lighting fundamentals. In part one of this series, we showed you how to use MagMod modifiers like MagGrids to control light so that it doesn't spill into the light from another flash. We also covered diffused light vs specular light and noted how we often confuse diffused light with soft light. This time around, we'll continue with the fundamentals to help you understand soft vs hard light quality. Then, we'll dive a bit deeper and show you how to stack and layer hard vs soft light sources to create images with more depth.
Let's get started.
Video Tutorial
Gear Used
You need at least two off-camera flashes (up to three when we get to the layering portion of the tutorial). Like usual, we're using Profoto gear (including two Profoto B10s and a Profoto A10), but any flash you have will work. In terms of MagMod gear, we're using a MagBox, MagSphere 2, and MagGrid 2.
New Concept 1: Hard Light Vs. Soft Light
Hard light is created from lights that are small in relation to the subject. This light quality becomes apparent when the shadow to highlight transition is pretty harsh. It's not a gradual transition, but rather a hard transition. Soft light, on the other hand, is created when we use a larger light source. For example, if we only use a MagSphere, we'll get a harder light than we'd get if we use a MagBox. The MagBox creates a larger light source compared to the MagSphere, and the resulting shadow transition is softer.
This is "Hard" vs "Soft" light.
Simple Rule for Soft Light
Here's a simple rule to remember for getting a soft light: The distance from your subject should be roughly the same size as your light source. In other words, if you have a 2-3 foot soft box, place your subject 2-3 feet away from the light source.
New Concept 2: Light Stacking for Depth
If you've ever worked in the studio or a controlled environment, you probably noticed that it's hard to get the same "depth" in your images as you'd get outside. This is because outside, you've got a lot of reflective light. Direct sunlight often serves as a hard and direct light, unless the clouds or another light modifier diffuses that light. Either way, sunlight also bounces around objects in the scene, which creates depth, and you don't typically have that in the studio. To create depth in such a scenario, we'll use three lights. We'll use one for the background, one as a key light for our subject, and a third as a rim light on our subject.
Final Images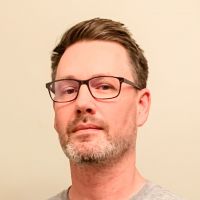 Sean Lewis
Sean fell into photography while teaching for a non-profit. What started as a minor task - documenting guest speakers and classroom activities - grew into a major obsession, and eventually led to a position shooting with Lin & Jirsa. Nowadays, at SLR Lounge, Sean's work as a marketing associate merges his interest in the fields of photography and education.