Absolutely and without a doubt, we could get into a pretty good discussion (and eventual debate) about the merits of printing your own images. In fact, we have done just that over the past few months as friends and colleagues have heard us go on and on about how we love Epson and their SureColor printers.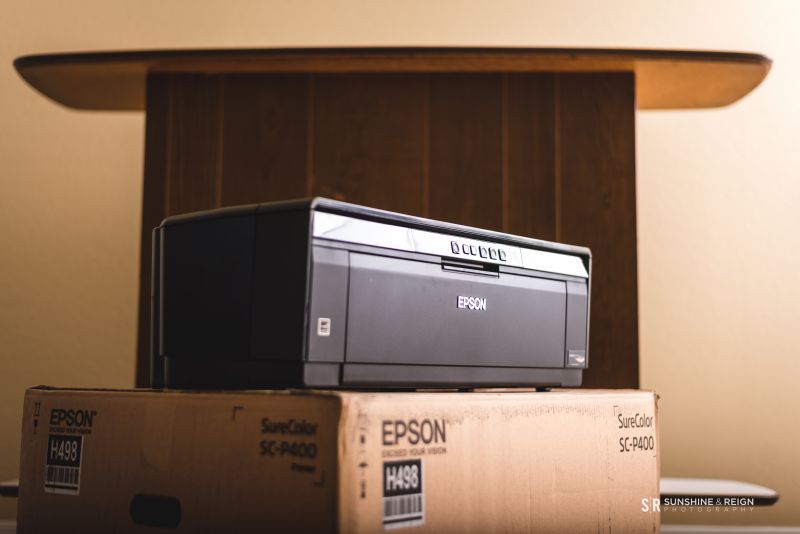 We had the opportunity to hang with the good folks at Epson at WPPI 2016, and we were stunned by the quality of their printers and paper, but maybe more so by the passion that they all had for what they do. In fact, out of all the companies and reps we spoke with, they stood out as having that rarest of passion, i.e. you can tell they love their jobs. They took a genuine interest in explaining to us what they were talking about and why we needed to try out their printers and paper.
Led by Katelyn & Eddie, the Epson crew impressed like no other. And that was the first win for us because when it comes to dropping cash, we want our money to go to quality products and quality people, and we know our readers feel the same!
We gave the SureColor P400 Inkjet Printer 5 starts for performance because it did everything we asked it to do, and because it really proved to be an easy-to-use printer that not only houses many of Epson's high-end printer technologies, but also produces prints that rival our favorite online printing lab.
The P400 utilizes an advanced MicroPiezo AMC 8-channel, 1-inch-wide print head that produces a 1.5 pl minimum droplet size, with ink-repellent coating. It produces images with a maximum resolution of 5760 x 1440 dpi, has an 8-cartridge UltraChrome HG2 pigment-based ink set (14 mil capacity), and AccuPhoto HG Imaging Technology.
It also has tech that allows the printer to auto-select black ink, meaning it will move between matte and photo black ink channels – that means you'll get optimal results regardless of what paper you're printing with: matte, fine art, glossy, and so on.
(8″ x 10″ prints: Metallic Photo Paper Luster & Exhibition Watercolor Paper Textured; images sent to us for testing purposes by Justin Haugen of Justin Haugen Photography)
Print speeds are legit. We didn't print any 11″ x 14″ prints, but Epson claims they print out in 1 minute and 42 seconds. That is believable because we printed countless 8″ x 10″s; Epson reports those print out at 1 minute and 8 seconds, and ours averaged about that.
Connectivity is flawless as well. Its interfaces are USB 2.0, 100Base-T Ethernet, and 802.11n Wi-Fi, and it's compatible with Windows 10, 8.1, 8, & 7 (32/64-bit) and Mac OS X 10.7-10.11. That basically resulted in the ability for the printer to be on our second floor while our iMac is on the first. Good times for sure: "Hey, Babe! Is that 35″ panoramic canvas done yet?"
Oh! It's also really quiet and fun to watch (52.8 db[A]):
(Justin Haugen of Justin Haugen Photography sent us an image for one of our panoramic test prints: the above video features his gorgeous  12″ x 35″ canvas print!)
Okay, so you're new to the printer game and not certain what all that means? It means that this printer slays (feel free to borrow that term). You get an accessible, easy-to-use printer that rivals Epson's own high-end printers. Period. Professional printing lab quality performance.

The P400 get's this rating for features because, well, we're picky. It has some solid features, but it lacks just a few things we'd like to see on the unit and in the box. Thus, the 4 stars.
The P400 has a top-loading feeder (that takes up to 120 plain sheets of paper and 30 sheets of standard photo paper with sizes from 3.5″ x 5″ up to 13″ x 19″); a roll holder that accepts 8.3″ or 13″ wide rolls (on a 2″ core) and allows for the production of panoramic prints up to 13″ x 129″; a rear fine art path; and a front media path. It will also do borderless prints from 3.5″ x 5″ up to 13″ x 19″. And, finally, it comes with a CD/DVD tray so you can produce your own pro-level CDs/DVDs in your own studio or home.
And we should mention that one of Amii's favorite features is that it's only 27 pounds (12.3 kg) so it's easy to move from room-to-room.
Back to the 4 stars. The control panel is just buttons and LED lights, and that kinda bummed us out. Okay, to be fair, it's Epson's introductory printer in their SureColor line, but the P600 printer's "3.5" tilting color LCD touchscreen" kinda made us hate the front panel on the P400.
And while the printer allows for USB 2.0 connectivity, it doesn't actually come with a cable. And for some unknown reason, despite it being 2016 and despite the fact that we own an iMac, we needed a cable to set up the printer. So when you buy one, get a cable just in case you need it. (And when you think about it, if the Wi-Fi goes down, you'll be kinda screwed without one, friends).
The P400 is all-black and has a modern, sleek design. Despite being a 13″ printer, which you'd think would take up tons of room, it's as compact as we could possibly imagine. It's 24″ wide, 8″ high, and 13″ deep.
The roller attachments attach easily, the various trays pull out and go back easily, and, overall, it's a really nice looking unit.
Not much else to say here other than Epson designed a rad looking printer. You won't have any issues displaying it in your home or in a professional studio.

Other than cost of the unit and cost/print, our main concern was quality. In other words, do the prints look like our images, and do the prints compare to our online printing lab that we use in the day-to-day operation of our business? Yep. Absolutely. No question.
Does the quality of the prints have a lot to do with Epson's paper? No doubt. And Epson hooked us up with Legacy Paper, Premium Glossy Photo Paper, Ultra Premium Photo Paper Luster, Metallic Photo Paper Luster, Exhibition Watercolor Paper Textured, and a 13″ x 20′ roll of Exhibition Canvas Natural Matte. (Epson's paper is of the highest quality, and as soon as you feel it, you'll get it.)
But we were shocked that a $500-range printer could produce the quality of prints it delivered. We printed over 30 8″ x 10″ prints, over 20 4″ x 6″ prints, and several canvases (from an 8″ x 10″ to a 12″ x 12″ and even a 12″ x 35″) from the cartridges that came in the box (before we even had to change a cartridge). All the prints more than stood up to the prints that we regularly show our clients.
(Pictured above are photographs printed from images sent to us for testing purposes by Justin Haugen of Justin Haugen Photography.)
We even had the opportunity to blow some of our colleagues' minds when we attended the recent Arizona Weddings Magazine "first look party" for their 2016/2017 edition and covers. We brought prints from our featured shoot and gave them to vendors who rocked out the shoot with us. Color them impressed.

5 out of 5 stars. Easy. We crunched a bunch of numbers here, and can barely justify using our online lab for anything that we can now print on the P400, esp. 4″ x 6″ and 8″ x 10″ prints. We estimate that even if you bought an entire set of cartridges, which can reportedly knock out 70 8″ x 10″ prints, you'll average  (at most) around $3.00-$5.00/print (depending upon what type of paper you use). There are numerous in the Epson Paper line.
You can currently get your hands on the P400 at B & H for $536.99.
Our only gripe price-wise? There is a $200 mail-in rebate on the P600 right now. That means you can head over to B & H right now and upgrade for a mere $50. And if you're concerned about cartridges costing more for the P600, it's fairly negligible because the cartridges for the P400 (14 mil capacity) are $17.99 while the cartridges for the P600 are $31.99 at a capacity of 25 mil.
And did we mention it's Energy Star rated?
Overall, 5 out of 5 stars. Here's the skinny: as wedding photographers who sell a fair amount of volume when it comes to prints, we never thought it would make "economical sense" to print anything ourselves. Well, Epson has clearly been working hard to change our minds. And when it comes to an accessible, introductory, but high quality printer, the SureColor P400 Inkjet Printer is the way to go! It definitely "exceeded our vision" (to borrow Epson's own tagline).
We peppered the article with links to the printer, but you can head over to B & H to get the printer, cartridges, and paper (we definitely recommend getting the Epson Legacy Paper Sample Pack to try out some seriously quality paper!) here:
SureColor P600 (The current $200 mail-in rebate makes this . . . just . . . wow!)
Oh, how we love you Epson Paper!
Btw, all images are by Sunshine & Reign Photography. Where noted, we were assisted by the impeccable Justin Haugen of Justin Haugen  Photography. Justin sent us some images to print as we were testing and also kicks major ass! He's based out of Tuscon, AZ, but will rock a wedding anywhere in AZ (and anywhere else because he's always down to travel)! Images (and photographs in the images) are copyrighted and have been used with permission for SLR Lounge. Do not copy, modify, or re-post this article or images without express permission from SLR Lounge and the artist.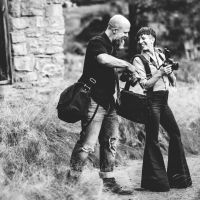 Amii & Andy Kauth
Amii & Andy are a wife and husband team of rad portrait and wedding photographers (Sunshine & Reign Photography) who absolutely love life and are generally just stoked! Yeah! When they aren't photographing or writing and teaching about photography, you'll find them off on a seriously legit adventure with their little ones, lifting weights in their garage, training jiu-jitsu, refining their archery skills, or surfing every chance they get. And on the rare chance they escape off on a "date night"? Yep! They'll find a wedding to crash (true fact). Website:
Sunshine & Reign Photography
Instagram:
@sunshineandreign