The camera industry has come a long way in creating convenient technology, both in terms of usage and actual manufacturing. A road that first began with point-and-shoot cameras paved the way for GoPros and mobile phone camera technology that made it simple and efficient to capture moments on-the-go.
DJI is no stranger to releasing cutting edge tech when it comes to compact, innovative cameras – just look at their all-star lineup of drones that have conquered the market, with products ranging from beginner to advanced levels of operation. Their newest product brings no shortage of revolutionary tech – introducing the Osmo Pocket, the world's smallest 3-axis stabilized 4K camera:
The idea was derived from it's larger predecessor, the DJI Osmo, which gave us 120 fps and 4K Video at 24 or 25p. Take a look at the specs for the Osmo Pocket to see how it compares:
Specs
Gimbal Camera with 1/2.3″ CMOS Sensor
Compact 4.1 oz, 4.8″ High Design
Up to 4K Video at 60 fps, up to 100 Mb/s
12MP JPEG or DNG Raw Still Photos
Includes Lightning & USB Type-C Adapters
Connects to Smartphone as Larger Display
Design & Features
The Size of a Candy Bar  (121.9×36.9×28.6 mm) 116 g
Noiseless Cooling System
Operating Time: 140 mins.
Charging Time: 73 mins.
Single Hand Operation
Universal Port
Optional Wi-Fi & Bluetooth Monitoring
POV, ActiveTrack & FaceTrack Modes
Standard Time-Lapse & Motionlapse
NightShot & Panoramic Modes
world's smallest 3-axis Stabilized 4k camera
Take a look at this comparison with the Osmo Pocket on the far left, an electronic stabilized camera in the middle, and handheld on the far right. It is without a doubt their is true fluidity in this product. The Osmo Pocket uses DJI's smallest 3-axis mechanical handheld gimbal. It "precisely adjusts for your movements, turning your handheld video of a golden sunset or your child's first steps into a movie-like scene".
"Osmo Pocket doesn't just let you shoot smooth, cinematic footage. With access to several intelligent functions like ActiveTrack, Motionlapse, and 3×3 Panorama, Osmo Pocket unleashes your creativity with impressive effects that are impossible with smartphones."
DJI Mimo – An App To Tell Your Story
With the release of this pocket size camera comes DJI's Mimo App
"DJI Mimo is a comprehensive app that offers intuitive, powerful editing tools for users to enhance their photos and videos. With tools like HD live view during recording, intelligent modes, and a content sharing platform, DJI Mimo is an all-in-one solution that lets you capture, edit, and share the best of your moments, right from your fingertips." 
This gives users endless possibilities to create editing videos straight from footage to phone. It also unlocks the full potential of the Osmo Pocket "by granting users total control of gimbal movements and camera parameters while enjoying an HD live view of the camera."
Looking for a review to weigh out the pros & cons? Check out B&H's concise thoughts on DJI's latest:
Pre-order the Osmo Pocket now for $349, shipping will begin December 15th, 2018.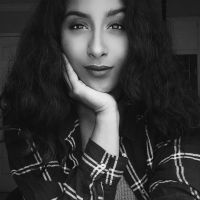 Shivani Reddy
Shivani wants to live in a world where laughter is the cure to pretty much everything. Since she can't claim "Serial Bingewatcher" as an occupation, she'll settle for wedding/portrait photographer at Lin and Jirsa & marketing coordinator here at SLR Lounge. For those rare moments when you won't find a camera in her hand, she will be dancing, eating a donut, or most likely watching Seinfeld. Follow her on Instagram:
@shivalry_inc