Have you ever fancied the idea of being a brand ambassador? Broncolor's Gen NEXT contest is back and begins on March 28th.
Broncolor is looking for talented young photographers with an individual and outstanding portfolio. The Broncolor Gen NEXT ambassadors are a select group of young professional photographers that stand out due to their exceptional talent, skills and creative visions. They are active pioneers in what they do, they like to break new ground, push their industry forward and inspire others along the way.
Being a member of Gen NEXT is one of the most highly coveted and sought after brand ambassadorships there is. Celebrating their 5th year, Broncolor has teamed up with SanDisk and G-Technology to outfit the newest ambassadors with over $22,000 worth of lighting gear.
Gen NEXT ambassadors have gone on to become some of the industry's biggest success stories. The esteemed contest is open to photographers worldwide between the ages of 18-30 and there is no entry fee to be considered. A maximum of three images from any genre can be submitted and it is strongly considered to submit images that were captured using studio lighting as the focus of the ambassadorship is centered around it.

Winners of Gen NEXT will:
be crowned the title of Gen NEXT brand ambassador for two years.
receive $22,000 of esteemed Broncolor lighting gear and top of the line memory solutions.
have their work showcased on the Gen NEXT website.
receive valuable guidance throughout the two-year program.
Head over to the Gen NEXT contest page for additional information and be sure to check out the past winners for some incredible inspiration. Winners will be announced in June 2018.
You can view our Broncolor reviews and gear related articles below.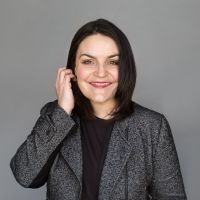 Brittany Smith
Brittany is a fashion and beauty photographer who works between NYC, Montana and LA. She photographs the way she has always wanted to feel and believes in the power of raw simplicity. When not behind a camera she can usually be found at a local coffeeshop, teaching fitness classes at the YMCA, or baking something fabulous in the kitchen. Instagram: @brittanysmithphoto