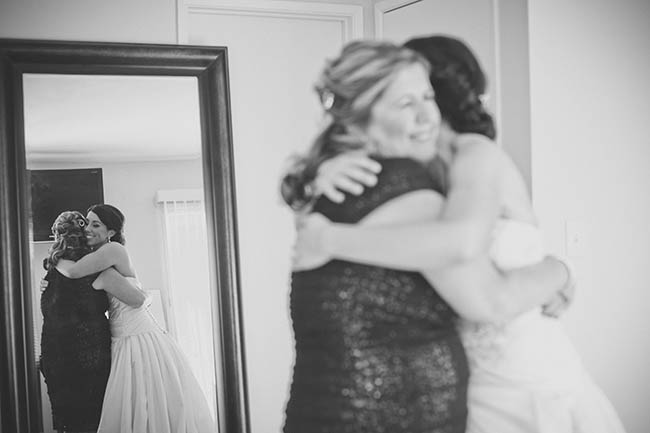 Family wedding photos. Some like them, many hate them. Why? Because it can be pretty difficult to wrangle up a (sometimes massive) group of people, get them to all pay attention, and get them looking good; all while the church or venue is breathing down your neck to hurry up.  Capturing family wedding photos, especially portraits can prove to be quite difficult when you're unprepared. In this article, we'll show you how to get the best family wedding photos for any wedding.
Get Your Family Formals Done Fast

Build Up & Break Down through your Family Wedding Photos
The best way to deal with a group of people that are in various break-ups of photos are to take the photos in a strategic order. With weddings, most photographers know to do the bride's side and then the groom's side. However, adding the build-up and break-down method will make the session run even more smoothly.
First, always start with the couple. They're static and you simply move people in and out around them. Start with the smallest picture first (like bride, groom, mom and dad), then add and snap from there. Add and snap.  Add siblings – snap a pic. Add siblings' spouses, snap a pic, and so on. Then, since most couples want some family shots without their new spouse, remove the spouse. Snap a pic of the big family group that's left standing. Remove extended family – snap. Remove siblings – snap.
Pre-organize your family lists like this and you'll have almost any family list done in under 10 minutes. If you'd like an example of what a family photo list like this looks like, click here for a nice starting point.
Communicate with a Confident Tone Voice
Family photo sessions are usually high energy, especially if you're at a wedding. Typically, these family members haven't seen each other in a while so naturally they're excited, and a little rowdy.
Directing group photos with a loud group isn't so easy, and speaking with a meekly polite voice will get a response from no one. Yet, start yelling and you'll ruin that chance of the good first impression you were hoping for. Learning to elevate your voice and command authority is a skill every photographer should work on.
Smile and Stay Positive
It's very easy to let the stress of family photos get you down and make an appearance in your facial expression. You may not even notice that you're wearing a scowl! Instead, pretend you're one of the family!
My best family photos sessions (and weddings) are always the ones with the families that I have the best relationships with, and this is because the more I get to know my couples, the more I'm a part of their lives and am genuinely excited to be a part of their day. When you do this with your clients you'll shape-shift from being an outsider trying to break up the fun, to an insider having fun with them instead.
Ask Questions Regarding Family Dynamics
Our studio sends out a questionnaire to the bride and groom to find out if there are any relationships that are sensitive in nature we need to be aware of. There may be separated relationships, divorces, step families, or just bitter relationships involved. This conversation is important to have with your clients because you don't want to create tension the day of. You don't want to step on toes when you're shooting intimate moments.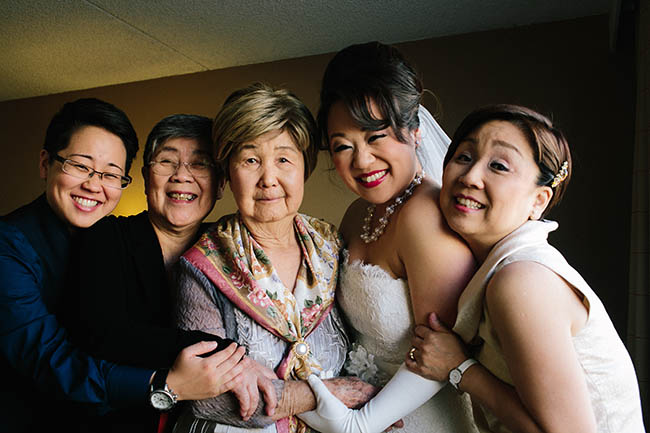 Gather the Important People in the Getting Ready Room
During the getting ready portion of the day, I like to have the parents, grandparents, siblings, and best friends there. This opens up many photographic opportunities of uninterrupted intimate moments.
Get Individual Portraits Before the Formal Portrait Session
Even though there's usually a set time to capture formal portraits, I still make an effort to get individual portraits beforehand. During these individual photo sessions, I'll ask mom or dad to give the bride a hug or a kiss and I can capture the beautiful moments that unfold. In my experience, these are the photos the moms love the most.
Capture Intimate Family Wedding Photo Moments During the Reception
The reception is a great place to capture great candid moments. By this time, everyone is relaxed, having fun, and used to having the camera around.
Don't Forget the Grandparents in the Family Wedding Photos
A lot of times these formal affairs are few and far between, and it's a special time where these families are gathered in one place. Be sure to make an effort in capturing special moments of your clients and their grandparents.
Always Be Diligent
All the previous tips require you to always be diligent. In my experience, what separates great photographers from good ones is diligence. You may have some downtime in a day and relax for a bit, but a great photographer will make the most out of the free time and go out and seek or create great family wedding photos.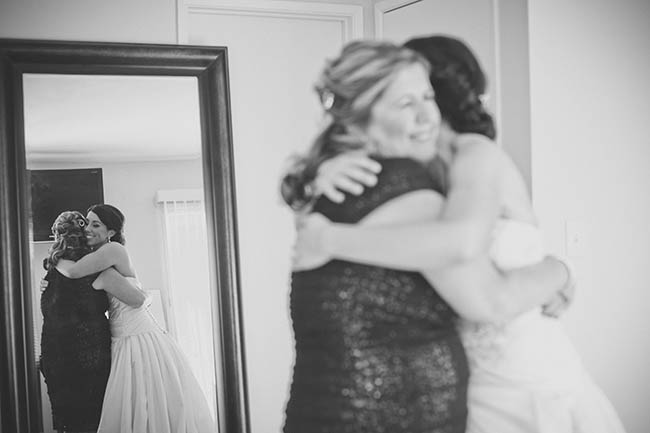 Use Shots Lists
As we mention in our Group Portraits Article, Have your couple list specifically the important people they want photos with, not including the obvious immediate family. The document also asks if there are specific issues between family members that I need to be aware of (divorced parents, etc). This document is then used when I compile my wedding day photography timeline (which I provide no matter if there is a wedding coordinator or not).
My wedding day photography timeline (which I coordinate with the wedding coordinator if there is one), lists pretty much everyone that needs to be in the photos, where (if possible) and at what time. I ask my brides and grooms to email the timeline to everyone on the list and I carry a copy with me on the wedding day. If possible, I ask that they include a little note in the wedding invite requesting the presence of certain family members in the family formals and to stay put after the ceremony.
Educate your couple about the importance of letting their friends and family know where they need to be, so that we have plenty of time to get all the formal shots, and have plenty of time to move on to the ever important romantic portraits.
Communication Is The Key to Keeping Your Sanity
Communication is the key to a successful, well, anything – be it a business relationship or a marriage, but it is also the secret to keeping your own sanity during a wedding day. Aside from making sure you've communicated with your bride and groom about where, when, who and how, you need to make sure the following people know where the family wedding photos will be, who needs to be there and when they need to be there.
The Wedding Coordinator: The coordinator is your best friend. I always email him/her before the big day and introduce myself if I've never worked with them. I also request their schedule and tell them that for myself, I'll make a wedding day photography timeline based off of their master schedule. Then I make sure I send them a copy before the big day. Right after the ceremony ends, I ask him/her how much time I have before the grand entrance, and try my best to keep within their timeframe. After all, we all have jobs to do, so why not work together?
The Mothers of the Bride and Groom: These two powerhouses know exactly who needs to be in which photos and as a bonus, they probably have lots of experience wrangling kids, animals and people, so it is beneficial to have them be there to help direct.
The Maid of Honor and The Best Man: Make these two the allies to help you keep the wedding party at the right place, at the right time.
The Officiant: Before the ceremony, I talk to the officiant and ask him to remind everyone that needs to be in the family formals to stick around (or send them to the place where I've previously designated for portraits).
Give Assignments and Ask For Help
Before the wedding day, I always ask the bride if there is someone she can assign, who knows the family members and who knows the people that need to be in the family wedding photos, to not only wrangle, but to make sure that the family members stay in the area where you are taking the family family wedding photos. I make sure that my assistant pairs up with the assigned person and they can help each other direct the line of traffic.
The people that you've hopefully have communicated to in #2 will be your helpers. And remember that list from #1? I hand my assistant that list and have her call out the group I will be shooting and the next ones on the list that need to be "on deck."
Choose the Right Location
You need to know exactly where you are going to take the family wedding photos as early in the day as possible. This is why I always arrive early to a venue, even if I've shot there before. Keep in mind that the light will change in the spot you choose or if you are photographing the family formals inside, make sure you know what lighting you will be using, so that as soon as the ceremony is over and you've photographed the recessional, you can round back and be ready to go.
Once I know where I will be shooting the family formals, I make sure I communicate to my helpers so that they know and can direct the appropriate people to the correct location.
Conclusion
The most important thing for you as the photographer is not to appear stressed or frustrated, though you might be. There will always be that errant aunt that didn't listen and made her way to the bar after the ceremony instead of sticking around for photos. So, just relax and breathe. If you make it look like you're having fun, then your bride and groom will most likely also relax and trust you to do your job. And if that doesn't work, remember the video above that you watched and hopefully, it will give you a chuckle. For more information on photographing weddings, see the wedding photography training system in SLR Lounge Premium.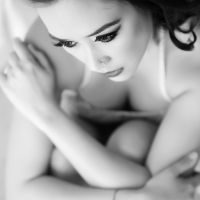 Michelle Ford
Michelle is a Southern California Portrait and Wedding Photographer. When she's not geeking out with a camera she's nerding out in her IT world. All other moments in the day are spent with her two wonderful children. See her work on
The COCO Gallery
check out her blog at
frexNgrin