Let's get one thing clear right off the bat; I was skeptical, bordering cynical, of the Mavic 2 Zoom. It felt, by my initial take, like too much a single-schtick-feature hobby drone. I couldn't imagine why anyone serious would choose the Zoom over the Pro. Now I can imagine it, and I think I know the exact type of person who would get much more use out of the Zoom than the Pro.
Here is a chart comparing some of the basic features if you are looking for some comparisons as you shop. (hint: you can see the full layout on the DJI website if you want to compare any of their drones)
Features I Care About
DJI Mavic Pro Platinum
DJI Mavic 2Zoom 
DJI Phantom 4 Pro V.2
Camera
 1/2.3" (CMOS)
Effective pixels:12.35 M
 1/2.3" CMOS
Effective Pixels: 20M
 1'' CMOS
Effective pixels: 20M
Video Bit Rate
 60Mbps
 100Mbps
 100Mbps
Flight Time/Battery Life
 30 minutes
 31 minutes
 30 minutes
Obstacle Sensing
 front facing
omnidirectional
front facing
Transmission Distance
 4 mi
 4.3mi (7km)
 4.3mi (7km)
Flight Speed
 40 mph
 44.7 mph (72 km/h)
 45 mph (72 km/h)
Operating Temp
 0° to 40° C
 -10°C – 40°C
 0° to 40°C
Internal Storage
 N/A
8gb
N/A
Stabilization
 tied
tied
tied
Weight
734g
907g
1,375g

the Pro and the Zoom side by side

Now… about the zoom.
No, I don't really care much about or for the dolly zoom feature. I get that it's interesting but far too disorienting an effect to use regularly, or you could use it too often and ensure your footage sends people into vertigo and look like a creatively desperate amateur. Ok, maybe I dislike the dolly zoom effect. Regardless I did test it on some footage below and found that yes it can do a good job at this, if that's your thing. But I found a much, much, better use of the zoom in this camera – cinematic reveals and pans.
Back when I first got my hands on the Inspire 2 and Zenmuse X7 that was easily the defining feature for cinematographers that I could imagine, that beautiful lens compression that allowed for a much more dramatic moving shot. It allows for even this basic pan of the Seal Beach pier look like it could easily be used in a film.
With all of the benefits of the Mavic 2 Pro – which I go into excessive detail here – the Zoom has the benefit that if you are primarily doing video it has more creative flexibility than the Pro and you sacrifice no video quality.
So, would I gladly accept a Zoom if DJI sent me one and put it to use for the videos I create? Absolutely. If I were primarily a video content creator would this be an easy upgrade from the previous Mavic and Phantom series drones? Of course.  With photography as my primary goal is it worth picking up a Zoom to add to my arsenal? Depends.
100% crop
Full zoom from static position
The zoom has the ability to get closer shots from further away (obviously) but that also limits the amount of noise you need to put into a scene to get your shot and it allows you to bother whatever subject your shooting less, which is a nice addition. It gives the ability to get more compression in your images and videos which unless you are upgrading to the modular Inspire system, you wont have, which is also awesome. I still think if you are needing to create high resolution still content the Pro wins, and if you are a videographer the Zoom would win.
So, you can say that against my own preconceived notions I was proven wrong. Maybe it was how much attention I saw the dolly zoom effect getting and not enough beautiful cinematic video shots being highlighted. Regardless, both options on the Mavic 2 are serious upgrades and if you've been looking to get into the drone game, now's a great time to do it.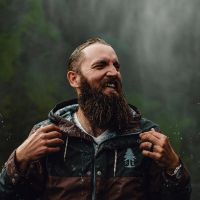 Ryan Longnecker
I grew up in the Eastern Sierras and since I was a kid I loved being outdoors and art. I went to school for music and theology and think both of those weave their way into my photography. I have a passion to change people from being cynical about people and this planet to being hopeful and seeing the beauty in it. I have a wife and two daughters and they could care less how successful I am at taking pictures, and that's great, because it's a constant anchor to what is best.