It's barely been two weeks since Instagram announced their new Multiple Photo Upload feature which acts as an album/portfolio for photographers using the platform for marketing & advertising. Some saw the update as a downgrade that ruins the aesthetic of your overall feed, cluttering your image with an icon, but others looked past the small blemish for the more promising value it holds.
Join Premium
We have created an incredible resource for photographers looking for Instagram marketing tips on how to grow their business in our Photography SEO & Web Marketing Book in SLRL Premium, but since this is a new feature we wanted to see how top photographers in the industry are utilizing it in their own ways. Here are some tips & tricks that might inspire you to do the same and get more client referrals from putting skilled efforts into this specific social media platform.
For those of you that have tried it and have seen lower engagement on posts, this is because not all users have the updated version of the App and therefore aren't seeing our post.
Swipe through these examples by hovering over the image and clicking through to the next time.
1. a storytelling device
Sam Hurd posted a set of images from his Leica M10, showcasing the varied range and performance of the camera. Playing along the same lines, try and give viewers an understanding of your storytelling capabilities, even if the images don't originally stem from a paid shoot, this is a great way to engage with your audience and provide them with samples of your work and an inside look at how your artistic brain works.
2. a wedding blog post

Wedding Photographers wouldn't have the same organic reach without creating blog posts, but this new Instagram multiple-upload feature does bring new opportunities to sell your business on social media. Lin & Jirsa does a great job of telling the story of the wedding day from start to finish to ensure that clients are secure that their photographers know exactly what needs to be covered. Use this as an opportunity to showcase more than just the best portrait of the day, but more so as a means of communicating directly to your client via emotional candid imagery or hilarious wedding day shenanigans.
3. showcase your product
Whether it's a workshop you are a part of or maybe even a new blog post you want people to see, use the multiple upload feature to allow clients the option to see what you are selling. Chris Burkard promotes his new film release, "Under An Arctic Sky" in this post, showcasing behind-the-scenes images and what consumers can expect. Over the course of the past 3 years, Instagram has become a marketplace for clients to surf for their next photographer, no matter the industry really. Fashion, commercial, wedding, portrait, you name it, Instagram has it. So what do you have to lose by doing a bit of mild advertising?
4. asking questions
Ryan Longnecker does an incredible job with audience interaction, always engaging his followers by asking questions or their opinions in his captions and then responding to their answers in the comments. This is best practice for Instagram engagement in order to get users coming back for more and making them feel that their voices are heard. He created these shots on his Canon 5D Mark IV and LensBaby Composer Pro.
5. behind the scenes
Julia Kuzmenko always does a fantastic job at crediting the entire team involved which increases the likelihood that people involved will share, comment, and tag. This specific collection shows outtakes from a shoot she worked on which gives users a look at the creative process behind culling and selecting the right images.
6. education & tutorials
Piggybacking off of #5, have your assistant take a BTS shot of you or your team on location and use it to explain how you got the shot. Showing a transformation, especially a drastic one, piques the interest of clients and fellow photographers that follow you. This is also a great indication of your creativity and ingenuity on site which again reassures the client that they are in good hands. Follow SLR Lounge on Instagram to see more BTS education!
Join Premium
Find more useful Instagram marketing tips for photographers in SLRL Premium!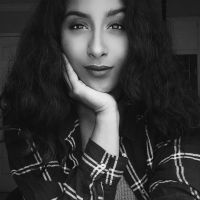 Shivani Reddy
Shivani wants to live in a world where laughter is the cure to pretty much everything. Since she can't claim "Serial Bingewatcher" as an occupation, she'll settle for wedding/portrait photographer at Lin and Jirsa & marketing coordinator here at SLR Lounge. For those rare moments when you won't find a camera in her hand, she will be dancing, eating a donut, or most likely watching Seinfeld. Follow her on Instagram:
@shivalry_inc