I've always been a fan of and admired the beauty of macro photography, but honestly, I have never truly known what was involved in the creation process or nor did I think I had access to the gear to do it. So watching this tutorial from Fstoppers opened my eyes big time! There's so much you can do even from the comfort of your own home (which is especially good given the current circumstances going on).
In this tutorial from Fstoppers, Andres Moline will show you everything from the basics on how to get started with creating product images at home, all the way to shooting wildlife & insects in the rainforests of Costa Rica! Along with all of this, Andres will also show you the retouching involved with each section and capture. This includes showing you how to go from the bland backdrop and painters taped ring to the beautiful product shot below.
"It's amazing how when you get really close to a subject with a macro lens, you start finding all these different details and angles of things you have never imagined"
Check out the video below to get a full feel of what you'll learn and see throughout the tutorial.
What Is Covered in This Tutorial:
Photography basics (ISO, shutter speed, aperture, etc.)
Overview of best lenses and gear for macro photography
Tips for better composition
Flowers
Oil and water
Jewelry (product)
Live insects (crawling and flying)
Lighting techniques
Backgrounds
Shooting during the day and night
Focus stacking and maximizing depth of field
Finding subjects
Handling and manipulating subjects
Building panoramic images
Raw processing and editing workflow
Color correction and image adjustment
Basic object removal, painting, and cloning
Masking and layering techniques
Compositing and digital recreation
[Related Reading: Macro Lenses | Why Everyone Needs One In Their Collection]
What You Get With This Tutorial:
12+ Hours of Video Content
22 Studio and On-Location Lessons With Post-Processing
Image Files Included for Every Lesson
Gear Lesson With Downloadable PDF
Access to Andres' Secret Facebook Group
5 Things I Learned From This Macro Tutorial
Clearly, not being a Macro Photographer, there was a LOT of great information in each and every segment of this video series, however, some things that stuck out to me were surprising. Some, I can't believe I didn't already know, and others were so simple that they were mind blowing! So here's some things I learned from the Mastering Macro Photography Tutorial
First up, something as simple as holding the OPTION key while adjusting the whites/blacks slider in Adobe Lightroom Classic will show when details are blown/lost completely. While a handy feature in general, it's a massive asset to have in your toolkit when retouching Macro images!
Even at f/16, when shooting macro you'll often have to use Focus Stacking to properly capture the details of your image. (chapter 4 refraction)

Additionally, since focus stacking is resource heavy, so using an app dedicated to it like Zerene will make things much easier and faster for your workflow.
Lastly, there's a whole chunk of time dedicated to lens-hacks and adapters that'll let you get insanely creative with your macro work!

You have much more flexibility in your images than you think. not everything needs to be at 100 ISO. Sometimes when working with macro you're forced to shoot in lower lighting situations and thus you should bump your ISO and shutter speeds up to avoid motion blur/shake.
Gradient Maps can be used to enhance specific zones in your images to bring clarity, color, and brightness on the zones you want focus to be on.
Shooting macro affords you a different level of freedom to experiment and create. What I mean here, is you can quite literally bring multiple "backgrounds" with you in your pocket when shooting macro as opposed to the 5-10 foot paper rolls you'd bring to shoot a person. As you'll see in this tutorial, sometimes when shooting in the wild, your subject may be perfect but the setting will not, so having some props and color/texture cards in your bag will let you change the entire tone and focus of your image.
There is _SO_ much more to pick up from this tutorial but if I'd be spoiling it if I wrote them all out here. Be sure to do yourself a favor and check out the tutorial to learn everything, including all the incredibly detailed retouching sessions that even show you some elements of compositing to create the perfect macro shot!
One of the things I truly liked about this tutorial was how the sections were broken up. Starting at home / in studio sections, then to Costa Rica Rain Forest in the Day Time, followed by the same locations at night. Each video section focuses on how to properly find, care for, and capture your subjects (being a plant or animal/insect) and then back to the retouching and compositing for that particular shot. It felt nice to follow along with Andres as he worked on each photo, detailing the steps he takes and why to arrive at the final image. As mentioned above, this tutorial comes packed with images including some with all the layers and details that Andres has worked on so you can full grasp all the work that goes into these images and why each layer was created.
Having been in the retouching world for a while, I already knew a lot of the "how" but re-learning the "why" when it applies to Macro Photography was refreshing and exciting again. I got to pull out a lot of old tricks I had forgotten about which I'm sure I'll be applying to my portrait and other genres of work moving forward. What's even better is regardless of how advanced some of the techniques Andres uses in his retouching, his explanation of how and why will make you feel like it's second nature in no time at all.
Additionally, the team at Fstoppers have launched a discount on every one of their videos! You can now save 30%-60% on all the Fstoppers tutorials until April 10, 2020! So if you're interested in this Macro tutorial, you can save big on it by grabbing now and bundling it with one or more additional videos.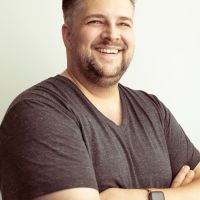 David J. Crewe
David J. Crewe is a full-time commercial photographer and Senior Editor with SLR Lounge. Based out of both Southern California & Las Vegas, Nevada. View his work and blog:
DavidJCrewe.com
Follow his Instagram:
@DavidJCrewe