Photography challenges online are packed full of inspiration and are incredibly entertaining to watch; it's no wonder they continue to surge in popularity. From shooting in ugly locations to joining forces with multiple photographers with a set of obstacles, each new challenge unearths new possibilities.
Jessica Kobeissi is back with the 7th installment of her popular YouTube series 'Photographers shoot the Same Model' and continues to produce content that is fresh, fun and upbeat. The latest episode highlights Jessica alongside photographers Irene Rudnyk, Jerry Maestas and Derrick Freske as they capture images of model Sophia Esperanza of Ford Models with natural light.
Gear Used:
Jessica
Irene
Jerry
Derrick
Each photographer gets to choose their outfit, location and then draws a random prop such as a toy dinosaur or prism glass that is to accompany the overall look. Using these parameters, they are allotted three minutes to adapt to the situation and use their style to get the shot.
Not only do these challenges showcase how each photographer develops their vision and brings it to fruition, you also get to see how each photographer works with and interacts with the model. It is interesting to see how each photographer interprets the look and mood established by another.
These videos exemplify the importance of community within the creative world by observing the way each person approaches the creative process and draws inspiration from others. Sophia is a fantastic model and watching her work serves as an aspirational goal of what possibly lies ahead.
Be sure to check out and subscribe to Jessica's YouTube Channel if you haven't already and enjoy the latest challenge.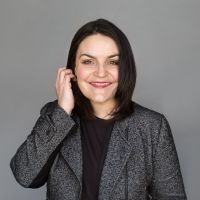 Brittany Smith
Brittany is a fashion and beauty photographer who works between NYC, Montana and LA. She photographs the way she has always wanted to feel and believes in the power of raw simplicity. When not behind a camera she can usually be found at a local coffeeshop, teaching fitness classes at the YMCA, or baking something fabulous in the kitchen. Instagram: @brittanysmithphoto