It's that time of the year when we're on the hunt for the best deals and savings on gear for the creatives on our holiday shopping lists. The team at SLR Lounge has had a look at, tested, played with, and researched a LOT of the best (and worst) photography products out there, and we've filtered them down to make your search a little easier.
Be sure to bookmark this page and keep checking back as we'll be continually updating these lists as more and better products and deals surface for the season.
SLR Lounge education (30% off)
We created SLR Lounge products to help the photography community learn and do it with speed and great understanding, and we brought SLR Lounge Premium to pull all of our materials into one spot, able to be streamed anywhere, without the need to lay out the initial investment it would take to buy all the courses you want. Premium gives you the best of both worlds and covers everything from portraiture, wedding photography, engagements, post processing with Lightroom, fashion photography, lighting, and more.
Datacolor Spyder5CAPTURE PRO System $369
We've said it before that Datacolor is about the best there is for screen calibration, but their attention to detail and understanding of camera physics and workflow make them great creators of products that help throughout the entire photographic process. The Spyder5Capture Pro is a suite of tools that help manage correct calibration of lenses and color all the way from capture to edit and ready for print.
Designed to provide control of camera accuracy and color workflow, the Spyder5CAPTURE PRO from Datacolor includes the SpyderLENSCAL, the SpyderCHECKR case with target color cards, the SpyderCUBE with a protective pouch, and the Spyder5ELITE colorimeter with USB connectivity. Coming as a complete package its the kind of set that a meticulous and sagacious photographer will appreciate, and help maintain professional results. It's the kind of thing pros wish they had earlier in their career.
Canon PowerShot SX740 HS $379
The PowerShot SX740 HS has a 40x zoom (24-960mm), a 20.3MP CMOS sensor, and is the first PowerShot to have 4K video capabilities. Every photographer should have some sort of "pocket" camera to take with them everywhere to scout or to capture those random unplanned moments, and this deal from B&H is too great to pass up! Normally a $399 camera on its own, it's now bundled with a 16 gig SD card and carrying case for just $379 and it comes in two color options in case you'd like to go for that retro feel.
Think Tank Retrospective V2.0 Shoulder Bag $150-$200
No photographer's gear collection is complete without a messenger bag that meets both fashion and function demands. The Retrospective 10 V2.0 from Think Tank meets that demand a few times over! Available in multiple sizes and the large size able to hold 2 gripped DSLRs, 3 lenses, a 15″ laptop, a water bottle, and more?!  This bag is pretty incredible and fashion friendly for both male and female photographers on your shopping list.
Tiffen Digital Neutral Density Filter Kit $118
The Tiffen 77mm Digital Neutral Density Filter Kit is a complete set of filters to help you get better shots in bright light and assist you with some special effect images.
Neutral Density filters have several uses and offer the possibility to achieve otherwise unachievable results. They enable the shooter to adjust exposure without affecting color balance, and this set from Tiffen has 2, 3, and 4-stop filters in a nice, tidy package.
This kit will be a great start to your long exposure landscape photography, not to mention brightly lit day time portraits. Also available in nearly every other thread size from 49mm to 82mm.
Tutorials From Working Professionals $49-$499
In the creative world, there's nothing more important that education and training. It's our opinion that at least once a year, a working professional should improve their existing knowledge or learn something new! With an abundance of classes available focused on photography, learning something different could also help. We've compiled a list of some great resources for tutorial, tools, and master classes for everything from photography to singing.
Leica Sofort Instant Film Camera $299
Leave it to Leica to introduce an instant film camera that looks like it was part of an art installation at Art Basel, and functions just that much sweeter than most other instant offerings out there. The camera looks and feels like a conversation piece. It accepts Leica's new line of instant film but also Fuji's Instax, and its digital controls on the rear are basic, easy, and fast. Yes, it costs more than anything Fuji has to offer but then when you pick it up and use it, you realize it is a bit 'more' than anything Fuji has on tap, and it's a special gift piece to be sure.
There are few things more practical for a photographer than a B&H Gift Card.  With free shipping to many of the U.S States, friendly return policies, and free shipping with orders over $100, this is an easy stocking stuffer.
Capture One Pro $299
There is a lot that can be said about the editing software on the market; perhaps it's bold to say, but we can confidently state that Capture One is the best raw processor on the market, bar none; there's a reason you'll see, almost exclusively, Capture One being used in professional fashion and portrait photography studios the world over. Nothing compares for tethered capture nor color grading within a raw processor, and the new layers abilities and PSD integration makes Capture One more compelling today than ever. If you want to see your files 'sing,' this is the software to use, especially since Version 12 was just released.
Adobe Creative Cloud Photography Subscription $120
It used to be prohibitive to breach the barrier of entry into professional photography photo editing and retouching simply because the initial buy of the software required was significant, but Adobe's Creative Cloud plans does away with all of that. With the Creative Cloud Photography plan both Lightroom and Photoshop and a host of powerful Adobe Mobile apps are at your disposal for only $10 a month, and for creative professionals, it's an undeniably great deal. You can gift a year's subscription to the plan for $120, and it'll be transformative for any creative as these are required tools.
Tether Tools ONsite Pro Bundle $350
Tether Tools is no stranger to creating unique and incredibly useful tools for the working photographer, and this time they upped the game with the ONsite Pro Bundle. It's a small, discreet, and mobile tether station that's now able to fully power your computer and accessories without the need of "onsite" outlets.
The system adds a V-mount battery underneath the table (that are pretty commonly used in the video world), which then connects to an outlet system, giving you multiple AC and USB plugs to run your photoshoot from.
At Home Film Processing Kit $230
If there's one thing that tends to re-energize creative minds, it's shooting and processing film. There's just something about shooting analog that makes you focus on "why" you're shooting, not just "what." While there are plenty of services out there to process the film for you, there's something about mixing the chemicals and setting all the timers for yourself that's overly gratifying and gets the creative juices flowing. This starter kit from from Jobo is a great place to start your at-home film processing creativity.
Canon Pixma Pro-100 Wireless Inkjet Printer $349
There's no better way to say this: "Your work deserves to be printed!" Speaking from experience, seeing your work on paper is an inspiring and uplifting thing. If you're not ready to make that leap into the super high-end and expensive printers, the Pro-100 is an absolutely fantastic entry-level model that will still give you professional level prints. While we say it's "entry-level," it doesn't skimp on quality whatsoever. With a maximum print size of 13″x19″, it has a great photo print quality and a wide array of features that appeal to pros and amateurs alike.
Need more gift ideas? B&H has a full list of holiday recommendations under $500!
Again, be sure to bookmark this page and keep checking back as we'll be continually updating these lists as more and better products and deals surface for the season.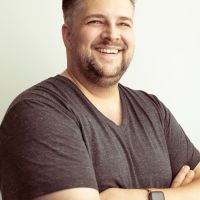 David J. Crewe
David J. Crewe is a full-time commercial photographer and Senior Editor with SLR Lounge. Based out of both Southern California & Las Vegas, Nevada. View his work and blog:
DavidJCrewe.com
Follow his Instagram:
@DavidJCrewe