Let's face it, Photography is a hobby/career that demands loads of storage, and the amount we all need keeps getting higher as the megapixels increase year after year. As your own storage needs increase, chances are you will run out of places to put hard drives inside your computer, meaning you will need an external location to place your drives.
One such option is an external RAID enclosure, like the Xcellon 4-Bay DRD-401 that I will be talking about today. These devices can be utilized in a number of ways, both for image storage and backup, and thanks to fast USB 3.0, Firewire, and eSata connections, you don't miss out on much speed transferring files.
I was incredibly excited to get a chance to take a look at this device. I had been thinking about getting a Drobo, but with all the bad things I hear about their proprietary software setup, I decided I would rather stick to a generic RAID enclosure with a raid setup that I am familiar with.
This Xcellon DRD-401 fit the bill perfectly, and now after a couple months of use I think I am ready to give you all my thoughts on the unit.
The performance on the DRD-401 is exactly what you would expect. I connect the device to my desktop via a USB 3 connection and the speeds that I have experienced are about what one would expect from any USB 3.0 external drive. I actually have two 'slow' 5200 RPM drives in mine, so I am sure if I used faster 7200 RPM drives, my data transfer speeds may increase a little, too.
When the unit sits for a long period of time without being accessed it turns itself off, which is alright, except that it can take a few seconds to boot back up when you do need to use it. Overall, it's not a huge deal, but can be annoying if you are in a hurry and the enclosure needs to boot before you can access your files.
The software that comes with the DRD-401 is fairly basic, but it does what it needs to do. It allows you to configure your RAID setup however you like and shows you how the drives are combined. In my case, I am using two 3TB Western Digital Green drives which I have mirrored.
Overall, this device performed pretty much how I expected it to, but it didn't exceed my expectations or blow me away, so three stars it is.

As for features, this unit has everything that I wanted in an external raid enclosure. There were other units that I was interested in that limited what RAID options you could use, or had other odd limitations. This unit allowed me to setup any RAID configuration that I wanted, and that was a big selling point for me.
I also liked that I could control the RAID setup via some pins on the back of the unit, or via the software that comes with it. This way if I needed to take the enclosure with me somewhere that I did not have the software, I could still setup/make changes to the RAID configuration.
Another feature that I liked is the locking doors. I have kids that love to get into things, and if there is one thing that would scare the crap out of me, it would be one of my kids opening a drive door and taking a drive out when  I am not around. But, luckily I don't have to worry about that with this unit thanks to the locking doors.
Finally, the many connection options for this device makes it really easy to connect this to virtually any system. You have USB 3.0, Firewire, and eSata – so you should be able to connect this to any machine from the last decade or so.
If there is one thing about this unit that I wish was different it would be the styling. If you primarily use Apple products, this will fit right in with your existing hardware with an all metal exterior with a silver finish. Unfortunately, next to my black and red custom PC, the unit feels extremely out of place.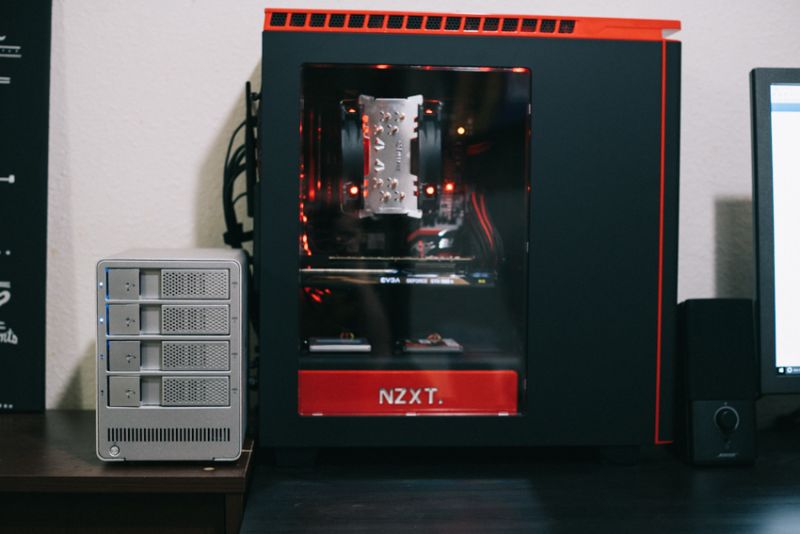 I have honestly almost spray painted the thing matte black so many times but worry what that might do to the thermals, so I have left it alone. The finish also shows a lot of handling marks, despite what you might think, so keeping the unit clean can be a hassle.
But really, there is not much to complain about here. It is a very clean, minimal design, and in most cases, I would like that. Just in this case, with my current system, it doesn't fit MY style. That said, it doesn't have some revolutionary design either, so I'm giving it a solid three stars.
The quality here so far has been good. I have not experienced any issues with the unit except for a loose screw when I first opened the box. It was rolling around inside the unit so when I would pick up the exclosure I could hear it rattling around. I was able to open one of the hard drive bay doors and get the loose screw out that way.
Other than that, I have not had any issues whatsoever with the DRD-401. It has worked well and has done exactly what I needed it to do. But, given the loose screw, one has to wonder about the quality control with these units, so again, 3 stars.

The value here is great. You get a four-bay RAID enclosure, that is hot swappable, for less than $250. Obviously, you still have to buy the drives to populate it, but you would have to do that with any enclosure.
There are more expensive options out there, and there are some cheaper two bay options out there as well. But for the price of $229, I have a hard time saying you will find a much better deal than that.
Overall, as I have said earlier, I am very happy with the results that I have had with the Xcellon DRD-401 4-Bay RAID Enclosure. It has allowed me to move my backup drives out of my PC case and to a place where I can easily grab them if I needed to get out of the house quickly. It has also allowed me the piece of mind knowing that I have my files stored in a safe manner.
There are faster, more expensive units out there, but for my purposes, I am happy as can be with this. Take that as you may. If you are interested in grabbing one of these units yourself, you can find them over on B&H here for just $229. They also have 2-bay and 5-bay variants, which you can find here.