RØDE is one of the most identifiable brands in microphones, having made great audio accessible to the masses for years now. Their products, like the VideoMic with its Beats-esque red cabling, can be found in camera bags everywhere for good reason. At the IBC show in Amsterdam recently, RØDE announced 6 new products including 2 new microphones and that's reason to get excited.
So what was added to the world's favorite on-camera microphone family? The VideoMicro and the VideoMic Me.
At only 80mm in length, the VideoMicro doesn't have a big footprint, but what it lacks in size, it should make up for in capability as it has a high-quality cardioid condenser mic capsule. It's a directional mic aimed to reduce distracting peripheral sounds and only take in clear audio from where your camera is pointing. It should be more forgiving than the other microphones in the RØDE on-camera line-up for more natural sound, especially inside.
With the VideoMicro, you're treated to a Rycote Lyre shock mount made of thermoplastic, which makes it much more composed and more effective at cutting out undesirable vibrations and noise from cable movement. Apparently, it won't ever sag or wear out or require rethreading to remain effective, and the body is aluminum in build (which married it to a high degree of RF rejection) so not only is it good for sound, but built soundly. Coming in at only $59, I can see this flying into bags, like my own.
The VideoMic Me is yet another high quality directional mic, but designed specifically for Apple's iPhone and iPad, though it has a TRRS connector and adjustable mount which should make it compatible with various Apple designs, even with cases. It's tiny but functional, and has a headphone jack located aft which allows for easy access for monitoring and playback. This is sure to take your Snapchat, Periscope, or vacation video to new heights of quality.
Both of the new mics announced are finished in RØDE's high-grade ceramic anti-glare black coating, and cine with a deluxe furry windshield. The VideoMicro is available to buy now, with the VideoMic Me said to be shipping later this year. With the popularity and demand for video growing, there's more reason than ever to get good at it and give your imagery great accompanying audio. With these new releases, there's no reason not to.
You can get the VideoMicro now here.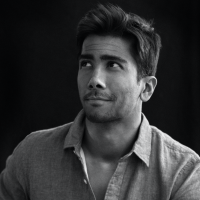 Kishore Sawh
A photographer and writer based in Miami, he can often be found at dog parks, and airports in London and Toronto. He is also a tremendous fan of flossing and the happiest guy around when the company's good.