The WD My Passport Wireless 1TB
We recently had the opportunity to test and review the new Western Digital My Passport Wireless – the 1TB version (there is also a 2TB version). This is a new external hard drive from Western Digital that comes with wireless access, a built in battery and SD card slot.
When we first heard it was announced, we instantly saw this as an ideal product for photographers out on location. We shared our initial thoughts on the drive last week, and today, we are here with our full review.


The WD My Passport Wireless 1TB performs great which is why we gave it 4 out of 5 stars. Overall, the performance of this drive is what you would expect from any external hard drive – it's quick and snappy thanks to its USB 3.0 connection, and the wireless is a breeze as well. As far as we are concerned, the only thing keeping the My Passport Wireless 1TB from being a full 5 out of 5 for performance is the speed of transfer of the built in SD slot.
In our testing, a 16GB Sandisk Extreme (45MB/s) full of 18mp Canon Raw files (also tried this with a budget Amazon branded 16GB SD card) took between 22 and 25 minutes to transfer from the SD slot to the drive. By comparison, moving that same exact data via the USB 3.0 connection onto the drive only took roughly 3 minutes. While transferring that same data off the SD onto my computer, using my PC's built in SD slot (which uses a USB 2 Motherboard connection), only took roughly 13 minutes.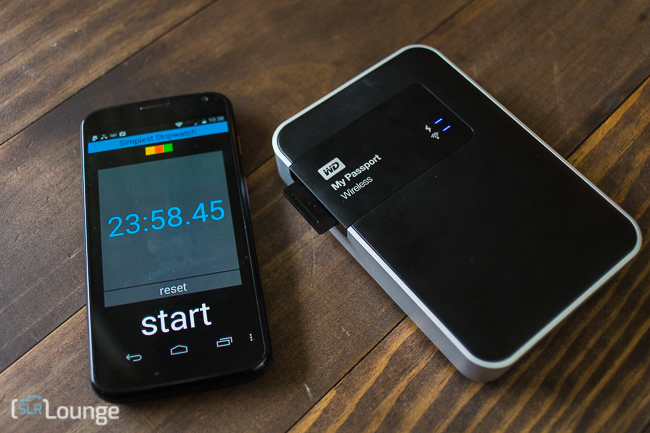 So, while not as fast as we would like the SD transfer to be, it's certainly not the end of the world. But if you are looking for a lightning fast transfer speed from the SD, this is not going to work for you. Though, if the speed of the SD is not super important to you, then this drive will likely meet all your other expectations, maybe even exceed them.
Finally, in regards to performance, our only other real gripe – besides the somewhat slow startup time – is that the mobile apps don't have the ability to preview RAW files (not Canon CR2 anyways). So unless you shoot in Jpg, or RAW+Jpg, you are not going to be able to see the images on your tablet or mobile device. We are very confident in our 4 out of 5 stars rating for performance on this unit.

The features of the WD My Passport Wireless are, simply put, innovative. The combination of having a built in battery, wireless access, and SD card slot are nothing short of brilliant. It is almost tailor made to the needs of a photographer. Taking that a step further, Western Digital doesn't overcomplicate things. The drive is just as easy to use and access as any other external drive, making this unit particularly exciting. Taking all of that into account, the full 5 out of 5 stars should not be a surprise.

The WD My Passport Wireless 1TB is well made and feels great when you hold it. The buttons feel solid and the overall design is very sleek and borders upon being too simple (if that is possible). Basically, there is not much of anything about the design itself that we would change, so a full 5 out 5 stars here.

We didn't quite feel comfortable giving this unit a full 5 out of 5 for the quality, based simply on the fact that it is plastic and doesn't feel like it could take much – if any – abuse. That is not to say it feels cheap, or that it will fall apart on you. But for a drive that is meant to be taken out and about, we would have liked to see a slightly more robust and rugged build quality.
That said, as far as normal consumer external drives go, the build quality is right up there with the best of them. This is a quality drive that will work well and should hold up well. We would have just liked to see something a little more rugged. Otherwise, we are thoroughly impressed and happy with the build and quality of this Western Digital My Passport Wireless 1TB drive and think a solid 4 out of 5 stars is fair.

On the surface, the price on the Western Digital My Passport Wireless 1TB seems a little high, at $179 it is about $100 more than a standard 1TB external USB 3.0 drive. But when you factor in the innovative built in battery, wireless access and SD slot, the price isn't all that high.. in fact, we think it is quite fair for what you are getting.
That said, it is pricey enough that it's hard to recommend it over a standard drive unless you specifically need the Wifi/Battery/SD features. For that reason, we gave the unit a 4 out of 5 stars on value.

Overall, we thoroughly enjoyed using the Western Digital My Passport Wireless 1TB and we give it 4.5 out of 5 stars, which is a great rating. It is great to see Western Digital come out with a drive that has so many great uses for photographers, from instant on location backup to in home client meetings.
If you are interested, you can pre-order this same 1TB Western Digital My Passport Drive right now over on B&H for just $179, or if you think that 2TB is more your style, that model is available for $219. The drives are expected to start shipping/availability October 6th.