Storage is steadfastly increasing in demand both among the clouds and in a tangible backup hard drive as dictated by larger file sizes and a digital world that revolves around convenience. And as such, these portable devices have been evolving into something much more than an electronic filing cabinet. Portable hard drives now serve as a centralized hub with mobility in mind.
Western Digital recently upgraded their My Passport line to include a wireless option with a solid state drive, essentially the best of both worlds. We have almost all been a victim of conventional hard drive failures, and many (like myself) have had multiple within a short span, so the idea of a 1 TB SSD (SSD's being typically more stable) naturally piques the interest as something that was as durable as it was reliable; convenience would be merely a bonus.
The My Passport Wireless SSD offers a built-in SD card reader, long battery life, wireless access and 4k streaming for up to 8 devices, and device charging courtesy of a USB 2.0 port. It is available in the following storage capacities:
250GB – $229.99
500GB – $299.99
1TB – $499.99
2TB – $799.99
Tech Specs
1TB SSD
Built-in SD Card Slot at USB 3.0 speeds (up to 390 MB/second)
USB 3.0 Interface
USB 2.0 Port (card readers up to 65 MB/s and external device charging)
Built-in 802.11ac Wi-Fi Connectivity
Dual-Band Wireless Support
Up to 10 Hour Battery Life
Raw File Preview Support
Built-In Media Streaming
Rugged Build (built to withstand falls up to 1 meter)
Dimensions: 5.31" x 5.31" x 1.18"
Weight: 1 lb
2 year Warranty
Design
The My Passport Wireless SSD is aesthetically similar to that of the My Passport Pro sans the sleek black. It is dark grey in color with a dark grey and orange bumper that is reminiscent of LaCie's orange and could easily blend in with a hunter's travel pack, although that isn't necessarily a compliment. While the rubber bumper increases the device's durability with falls up to 1 meter it is a magnet for debris and hair.
There are two sets of blue LED lights located near the branding and on the top left corner of the drive. The two primary LED lights indicate the wireless status as well as the status of the SSD itself while the second set indicates the remaining battery life (25% intervals) when the SD/Battery button is pressed. These lights also illuminate when the drive is charging.
The SD card slot is located on the left side of the My Passport Wireless SSD and it is easy to insert and eject the card. The top of the unit is home to the SD/Battery button, micro-B USB 3.0 port, USB 2.0 port and power button. The primary USB port is used for charging the unit and can transfer data to a computer at USB 3.0 speeds. The secondary port can be used to transfer data from a card reader or other device at USB 2.0 speeds as well as charge your smartphone or other mobile device.
The unit ships with a USB Power Adapter only, which is surprising given the price point and the recent tech giants' move to USB-C and Thunderbolt. Although the drive is wireless, this may be a limiting factor for Apple fans looking to upgrade to the newest computer but don't want to have to purchase an additional HyperDrive.
Setup
Setting up the My Passport Wireless SSD is as easy as downloading the My Cloud app and following the instructions. Once the download is complete, power on the unit and connect your phone or computer to the device via WiFi. The WiFi password is located on a sticker that can be found on the unit upon opening the box as well as on an instruction card that is located under the unit.
The My Cloud app is very straightforward and indicates the amount of free space on the device, provides access to media and allows the user to manage settings for the drive such as security, Dropbox, etc.
Back-up On The Go
The wireless drive makes backing up on the go a breeze; it is as easy as pushing the SD/Battery button and fully inserting the SD Card to create a quick backup on the way home from a photoshoot. The raw file preview via the mobile app is a nice feature for anyone wanting to do a quick review of their work without having to be near a computer.
The SSD offers rapid SD card upload speeds of up to 390MB/s for smaller amounts of data while larger amounts of data did slow the unit down by approximately 25% when connected directly to a computer. Meanwhile, the external card reader averaged approximately 63MB/s and the 5GHz Wi-Fi to computer connection averaged about 6.75MB/s. Additionally, the drive includes a drive lock which prevents USB access if it is ever lost and stolen.
I did experience specific errors such as incorrect WiFi password, incorrect password for the hard drive, and inability to connect to either the 5GHz or 2.5GHz network upon near depletion of the battery. 
Functionality, Streaming & More
The speed of the SSD is perfectly sufficient for those wanting to run CaptureOne, Lightroom or any other apps from the unit. 3rd party video editing apps such as FiLMiC and LumaTouch add to the overall functionality to the mobile workflow and will be a benefit to anyone who enjoys editing on their smartphone or tablet.
The My Passport Wireless SSD makes streaming 4K video a breeze and frees up precious cargo room from other devices. You can skip importing to iTunes and simply import the media to the drive and go, thanks to the VLC app. Anyone with the WiFi password (up to 8 devices) can access the media on their device and the unit can be connected directly to a computer or monitor if you prefer to watch on a larger screen.
I cannot stress how beneficial it is to also be able to charge my iPhone and iPad. This means you can backup a card immediately after a photoshoot and recharge your phone at the same time. The battery life will fully charge a nearly depleted phone with room to spare.
Being on the go and traveling doesn't always dictate the ability to sit down and plug in. New York City is notorious for draining battery life and the number of available places to plug in and charge are nearly extinct. This is very advantageous for traveling the city either by subway or on foot and ensures that you will not miss important communications.
The battery life does last nearly all day to answer your needs and it should be noted that it does take slightly over three hours to completely recharge. It is probably best to get in the habit of charging the hard drive overnight for this reason.
Final Thoughts
Western Digital has clearly done their market research and adequately delivered on a wireless SSD drive that is as convenient as it is fast. Seeing as how this is their first attempt to offer an all-in-one hub, there are some areas that could be improved upon.
The price for SSD storage is expensive and will continue to be for a while. At this price point and with today's technology, the My Passport really should ship with a USB-C and/or Thunderbolt connectivity option if it wants to be the premiere go-to for professionals in the field. While the USB 2.0 port is handy enough for all intents and purposes, it would be even better if WD went full USB 3.0; the slower speeds feel stagnant in comparison.
It would be nice to have the option of rapid charging and the color scheme also feels reminiscent of other offerings on the market, but that is being nit-picky.
The SSD is incredibly fast, portable, and, along with the rugged build, adds peace of mind to anyone who has ever experienced a hard drive failure. The My Passport Wireless SSD is a great product with loads of extra features and functionality that make it a desirable all-in-one portable drive for anyone in the creative industry. It is an easy to use piece of hardware that simply works and works well.
All in all, this is a worthy option for wedding, sports, travel, fashion or any photographer on the go. If you are in the market for a new storage solution, the My Passport Wireless SSD is definitely worth your consideration and can be purchased here.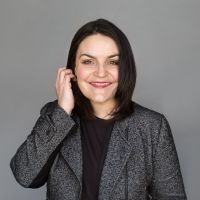 Brittany Smith
Brittany is a fashion and beauty photographer who works between NYC, Montana and LA. She photographs the way she has always wanted to feel and believes in the power of raw simplicity. When not behind a camera she can usually be found at a local coffeeshop, teaching fitness classes at the YMCA, or baking something fabulous in the kitchen. Instagram: @brittanysmithphoto