Have you ever imagined your dream photo shoot? If time, and most importantly, money were no object, what image would you create? What if someone paid you to do it?
For Benjamin Von Wong, who seemingly does larger-than-life, photo shoots of epic proportions on a weekly basis, what would his dream shoot be? Von Wong's work, which blends fantasy and reality seamlessly to tell a story, can usually be described as innovative, technically difficult, and challenging, so would you expect any less for his dream photo shoot? Of course not.
Ballantine's (the Scotch Whiskey maker) contacted Von Wong with the words every photographer would love to hear,
We love what you do and want to support you as part of our Stay True campaign. Is there anything you'd like to do that you've never done before?
Von Wong wanted to create a scene of a Chinese Cormorant fisherman on a raft as a nod to his own traditional culture. Sounds easy enough…right? Except he wanted to create this image 30m (almost 100 feet) underwater in a cenote (a natural swimming hole) in the Yucatán Peninsula above an underwater river and directly above a layer of toxic hydrogen sulfide, which creates an eerie underwater mist perfect for the image he had in mind.
Ballantine's Presents Benjamin Von Wong's Underwater River
The challenges to doing a shoot like this (or for any of Von Wong's shoots) are plentiful. Any time underwater photography is involved, the difficulty meter begins to skyrocket. Setting up an entire scene with a raft, free dive model, and a stuffed cormorant required a team of divers, lights, rigs, props and a film crew to capture it all.
To light up the scene, 6 OrcaLight Dive Torches on plexiglass were placed and secured strategically to a buoy and sent below the surface. Two additional OrcaLights were handheld as mobile light sources. The lantern that the model is holding (shown below) was Macgyver'ed together with a battery powered dive torch, orange gels, and some duct tape.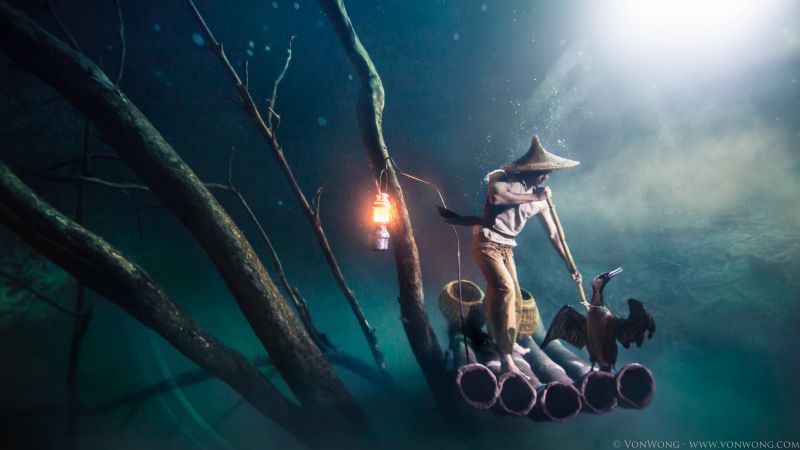 The homemade fiberglass raft presented another challenge as it needed to be hovering but anchored under the water. After getting the props, lighting and crew in place, it was time to shoot. Between two-minute breathing cycles, the 20-minute shoot was executed quickly and seamlessly by Von Wong and his safety diver, a a team of talented people working together to make it all possible.
Gear Used: Nikon D800
| Nauticam Housing | Nikon 14-24mm |
Making of: Ballantine's Presents Benjamin von Wong's Underwater River
To read more about the shoot, visit Von Wong Blog.
Hanssie
Hanssie is a Southern California-based writer and sometimes portrait and wedding photographer. In her free time, she homeschools, works out, rescues dogs and works in marketing for SLR Lounge. She also blogs about her adventures and about fitness when she's not sick of writing so much. Check out her work and her blog at
www.hanssie.com
. Follow her on
Instagram