Usurp. That's the word that comes to mind when thinking about the trajectory of some third party brands in photography right now. Sigma is, of course, making somewhat of a mockery of the CanNikon pillars, and Tamron seems hell-bent on doing the same as their latest offerings are becoming increasingly attractive.
Tokina, on the other hand, has always been making affordable versions of much desired lenses, but where Sigma has offered no compromise, there's always been some with the Tokina. They're not weather sealed, lacking of image stabilization, and they're typically just not quite as sharp wide open. Still, they're literally half the price, and now DxO is saying their 24-70 f/2.8 is a complete stunner.
In a recent review of the Tokina AT-X 24-70mm f/2.8 PRO FX lens, DxO showed it to outperform the Nikon, Canon, and Sigma rivals, and going so far as to call it a 'top performer'.
Its headline score of 32 points puts the Tokina 24-70mm f/2.8 in first place for all fast-aperture standard zooms that we've tested on the D800E, ahead of the Tamron SP 24-70mm f/2.8 at 31 points and Nikon's own 24-70mm f/2.8G at 30 points. While all three boast comparable scores for distortion, vignetting, and transmission, the Tokina is ahead for sharpness, with a superior score of 27 P-Mpix, compared to 23 P-Mpix for the Tamron, and 21 P-Mpix for the Nikon G.
While these numbers are great it helps to add a few more: prices. When you include the prices of these lenses in the mix the Tokina goes from being something interesting into something that you should truly consider. Here's how it stacks up against the competition in terms of price:
Nikon AF-S 24-70 f/2.8G ED $1796
Nikon AF-S 24-70 f/2.8E ED VR $2396
Canon EF 24-70mm f/2.8L II USM Lens $1899
Sigma 24-70mm f/2.8 IF EX DG HSM $899
Tamron SP 24-70mm f/2.8 DI VC USD $1299
Tokina AT-X 24-70mm f/2.8 PRO FX $879
Even if the performance numbers are only a little better than the others, they are astonishing when price is considered. The 24-70 2.8 lenses are common workhorse lenses in wedding photography, fashion, and indeed almost everywhere else, adding a strong competitor to the group is welcomed. I generally tell people when asked which lens they should have if they only had one to get a 24-70, but their prices made that a hard pill to swallow. Not anymore.
So what are you giving up for the tremendous price difference? Well, as mentioned above, it's not weather sealed, and it's not quite as sharp wide open.
The Tokina 24-70mm f/2.8 is an excellent pro-grade standard zoom lens for Nikon full-frame DSLRs. Tested on the D800E, it delivers marginally better image quality compared to the popular third-party Tamron SP 24-70mm f/2.8 and Nikon's own 24-70mm f/2.8G, due to its excellent sharpness between f/4 and f/11 at most focal lengths.
So it's not quiet as sharp wide open, and that's going to be problematic for some, but for a majority, this lens is going to be an absolute boon to your kit for what's comparatively a couple of shillings.
We have a Tokina lens review coming out soon, so keep your eyes open for that one in the coming days.
You can check out the full review on DxO here, or pick one up here.
_________________
New Tokina 24-70mm F/2.8 Lens Spotted at CP+
2/17/2014
It appears that Tokina is looking working on a new 24-70mm F/2.8. While not yet officially announced, they have the lens on display at CP+ in Japan. Tamron released their 24-70mm offering last year featuring image stabilization, and later this year Sigma is rumored to announce a new 24-70 F/2 lens. It seems by the end of 2014 we will have several good third party options in the 24-70mm focal range.
No details on the new Tokina have been released yet, but according to the rumor sites, the lens is expected to be officially announced at Photokina later this year. What we can see from the picture is that this new Tokina 24-70mm will be a full frame lens, styled in the same manner as the rest of Tokina's lineup.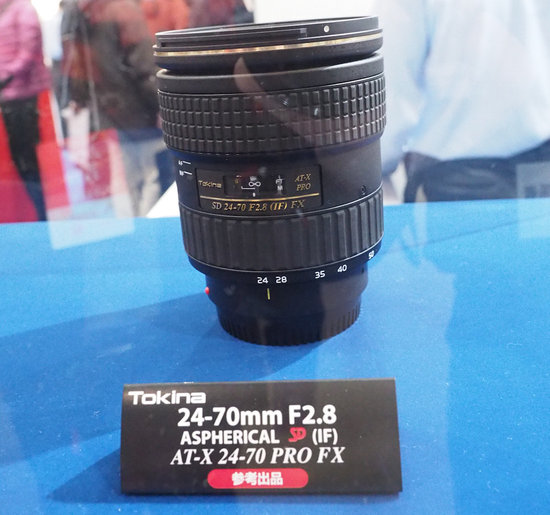 It also looks as if the lens front element will extend and retract with the zooming motion. I can tell this by looking at the very front of the lens, you can see that there is a space between the focus ring and the front of the lens. This almost always means the front element extends and retracts. That might not be a deal breaker for some, but personally, I very much prefer internal zooming lenses.
No specifics on price or anything like that are available, obviously since it is not even actually announced yet, but based on Tokina's current pricing on their lenses I would probably guess this lens falls around the $1,000 to $1,200 range (about the same as the Tamron, but less due to no IS)
What are your thoughts on this new to-be-announced Tokina lens? What about the big influx of third party options in the 24-70 zoom lens market? Should Canon or Nikon be worried at all given the heavy premium they charge for these lenses? Share your thoughts in a comment below to join the discussion.
[via Photo Rumors]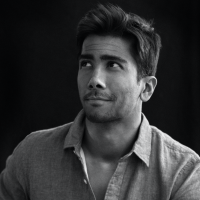 Kishore Sawh
A photographer and writer based in Miami, he can often be found at dog parks, and airports in London and Toronto. He is also a tremendous fan of flossing and the happiest guy around when the company's good.