Yashica wasn't kidding when they said in their teaser posts to 'expect the unexpected', because I don't think in a million years that anyone would've figured that what Yashica had dreamt up was what they've presented today.
A few months back Yashica teased that the iconic company was creating something new, and if it was to be a camera then it would be the first new camera from the brand in decades. The prospect alone was exciting, and for those familiar with the brand and the current market, it seemed just about the perfect time. We've seen a triumphant return of more manual cameras, even just by style, and retro everything looks like it's not going away anytime soon. But what Yashica has delivered is unlike anything else we've seen.
It's called the digiFilm Y35 Camera modeled after the Yashica Electro 35, and it's a diminutive digital camera with some manual controls, but really operates on a system of digital 'films'. The films come in the form of small cartitridges in the shape of film, and upon inserting them into the camera, sets certain parameters of shooting, and sets a particular look. Some with more grain, some b&w, some with retro color, and some with a different format, and some better for low light. And if you want the different looks you do need to use the various cartridges, because there's no other way to select the settings.
"We develop different "digiFilm" with its unique style and distinct effect. Designed for high quality images of different style such as ISO 1600 High Speed, ISO 400 Black & White, 120 format of 6×6 images and ISO 200 Ultra Fine. What's more…? Lot of different digiFilms are coming to give photographers more opportunities to experiment and create beautiful images in different styles."
There are, however, some controls, such as the wind of the 'film' to progress to the next shot, and shutter speed settings from 1s, to 1/30, 1/60, 1/250, and 1/500s like the Electro 35.
"It features a glass lens for super sharp photos, an advanced automatic mode that makes sure every shot is perfectly exposed with an aperture of 2.8 as well as lot of creative digiFilm."
The camera features a 1/3.2 inch CMOS sensor and outputs 14MP, has a fixed focal length lens of 35mm with a fixed aperture of f/2.8, uses SD card storage (wifi card compatible), has a Micro USB port for transfer, and uses 2 AA batteries for power. It's also extremely small, and comes in at around $150.
Thoughts
This is certainly a peculiar move by Yashica, and no doubt many will have been building up their hopes for a Yashica to rival the current slew of retro-styled cameras from Fuji, particularly the X100 series, but that seems like flawed thinking to me. Wishing for something is fine, but add a dose of reality and you'd see that a company like Yashica has no money to speak of, (working via Kickstarter is evidence enough of that), and it takes a lot to make something like the X100.
What they seem to have made instead, is something of a gimmick, yes, but something fun. Something that isn't meant to be taken too seriously, but also something that those who 'get' what makes film enjoyable, will understand. It's trying to bring that feel and process of film into something casual. It places the all the restrictions of film except the development and film purchase costs, and that's an intriguing idea.
As my colleague Marlon suggested, it would be fun if they partnered with a low cost print house that you could just send the card to and they'd print it out for you.
See, what a lot of digital shooters don't understand about film is that the joy of shooting film isn't just in that it looks different, but the process. Digital shooters are always trying to recreate the look and when they have decide there's no need for film, but they've lost the plot, because there's more to shooting film than that. There's really enjoying the process; the film selection, working within its boundaries, manipulating it by say shooting 400 speed and selecting it at 1600 and pushing in development. Film shooters tend to enjoy the pace, the thought, and the reward of the trials that you don't have with the instant gratification of digital. The Y35 could bring some of that.
Of course that will be moot if the quality is really poor, but with a fixed 35 there's a chance it's decent. Decent enough in the way your phone is decent enough anyway. And the film simulation has to look good.
It is not, however, without fault. Not having Wifi or Bluetooth connectivity is a bit of a mistake, because this would be embraced by the mobile shooter and generally we want that ease of transfer today. Also, having a little flash on there would've been great. I mean, you sort of imagine this is the kind of camera someone would grab on a casual night out and want to shoot and a flash would come in handy. Will they bring one out as an accessory? Maybe, but that would be a misstep because it complicates something meant to be simple.
Why doesn't it have this? Not sure, but if you look at the timeline they provide it almost seems like they rushed it. there was not even two months from seed idea to finished mechanical design.
Anyway, it's hard to pass judgement without actually having used it, and for that we'll have to wait.
You can check out the Kickstarter here (which has already passed it's goal).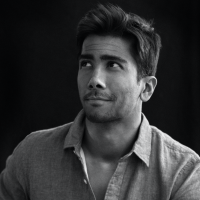 Kishore Sawh
A photographer and writer based in Miami, he can often be found at dog parks, and airports in London and Toronto. He is also a tremendous fan of flossing and the happiest guy around when the company's good.