As one of the most iconic genres of photography, portraiture is a testament that a fantastic capture will withstand the test of time. More than just a headshot, the art of portraiture extends itself into fashion, beauty, weddings and advertising to name a few.
A timeless capture is ultimately made when a true connection is made between the photographer and the subject. Ideally, the gear becomes an extension of the picture taker and all communication, both verbal and non verbal, overtakes the technicalities. Communication and rapport are all the easier to achieve when there is less to worry about such as the reliability and dependability of gear.
Below is a recommendation of some of the top gear that Canon has to offer to freeze moments in time and capture a classic portrait. It should be noted that although Canon has suitable gear for the budget conscience in mind, this list was created without that restriction.

Canon 5DS/R
Intended for controlled sets, The Canon 5DS/R is an ideal high-resolution camera body with the studio and properly lit evironments in mind. Its 50MP sensor yields impeccably sharp images when paired with the appropriate lenses.
5D Mark III/IV
For all other portrait scenarios outside of the aforementioned, you can't really go wrong with the versatility of the 5D Mark III or 5D Mark IV. The most recent claim to fame has had a few quirks that it had to work around, although the owners who haven't had any issues are quick to fall in love and shell out the additional $1400 for the dual pixel feature and bump in resolution specs. Either body is an ideal choice for nearly all of your portrait needs.

85mm f/1.4L IS USM Lens
For years, Canon's 85mm f/1.2L II has often been revered as THE quintessential portrait lens to which all others have aspired to and although their newest addition of the f/1.4L was not meant to succeed or replace any existing glass, its features offer a compelling case as to why it should be the number one lens in your bag.
The 85mm f/1.4L offers IS which is fast becoming a requirement moving into the future as the megapixel race continues. The lens achieves very fast autofocus that is extremely accurate, tack sharp images with an abundance of detail at various crops, and beautiful bokeh when shot wide open. It is also weather and dust proof which makes it possible to shoot in adverse conditions.
Canon's 85mm f/1.4L is ideal for tighter crops, specifically from 1/2 body to headshot, although it can be used to capture up to full body images with more compression in larger spaces.
50mm f/1.2L USM Lens
Nifty fifties are undisputedly one of the most versatile focal lengths on the market and a favorite crowd pleaser for their ability to do it all. From the large group portraits down to the delicate details of the day and intimate portraits of the couple, entire weddings have been captured with a nifty fifty.
The 50mm f/1.2L lens has a slight distortion that provides frames that are more angular and the subjects often appear slimmer. The lens is wide enough to include some of the environment with the subject to add a bit of storytelling as well as bokeh for adequate separation from the background. It is also
Canon's 50mm f/1.2L lens is fast to focus a variety of crops ranging from full body environmental portraits to a closer head and shoulders crop in a multitude of lighting conditions. The weather and dust proofing make it possible to shoot portraits in inclement conditions.
35mm f/1.4L II USM Lens
Portraiture is often more than a simple headshot or pretty picture and extends into the realm of storytelling. The 35mm focal length is a specialized focal length that does require a little practice to embrace the unique angles that are popular in portraits and fashion.
Canon's 35mm f/1.4L is ideal for environmental portraits whereas longer focal lengths focus primarily on the subject. Its close proximity to the subject provides a sense that the subject is close enough to reach out and touch, creating an organic and slightly intimate connection between the viewer and the subject.
24-70mm f/2.8L II USM Lens and 70-200mm f/2.8L Is III USM Lens
If primes aren't your thing, the 24-70mm lens is a fantastic zoom lens to consider. Canon's 24-70mm f/2.8L II USM Lens was created with the intention of being a workhorse lens for professional photographers in a wide range of shooting conditions. Last but not least, Canon's 70-200mm f/2.8 L lens is another favorite among portrait and beauty photographers for its compression.
Both lenses produce tack sharp images with more than sufficient bokeh and are ideal for portraits in nearly any setting and crop.
Broncolor Siros L 800ws
The Broncolor Siros L 800ws is one of the prime candidates out there when it comes to studio lighting. It offers the same standard of quality, reliability and consistency found in their top-tier Scoro pack in one powerful and ultra-portable monolight for a fraction of the price.
The color consistency is top-notch, any fluctuation is nominal, and the recycle time is equally as impressive. The Broncolor Siros L 800ws is powerful enough to overpower the sun should the situation arise and the HS capabilities provide an entirely new set of creative shooting options.

Broncolor Para 88
Parabolic reflectors equipped with a focusing rod are as beloved as they are expensive for their ability to throw incredible light a very long distance and envelop their subject in gorgeous light from head to toe with a single light. The Broncolor Para 88 is a personal favorite for its ability to produce a plethora of lighting that is reminiscent of modifiers such as soft boxes and beauty dishes with additional socks and grids to further control the light.
The Para 88 produces a delicately soft light with subtle contrast and smooth gradation when in the fully defocused position, a punchy light source with sharper contrast that is similar to some of the high-end beauty dishes on the market when in the focused position and nearly everything in between.

Black Forest Rimo 1 Camera Bag
There are no shortage of options when it comes to transporting precious camera cargo. When it comes to packing the essential gear, the Black Forest Rimo 1 Messenger bag is a stylish and functional option. I have traveled the world with this bag and not only has it held up admirably, it is still beautiful, age and all, over a year later.
Handmade in India, the Rimo 1 is crafted of vegetable tanned leather that is water resistant and triple stitched at the joints for extra durability. The inside of the bag includes three removable interior foam inserts made of cotton twill and fits up to a 13" laptop or tablet, 1-2 camera bodies and 2-3 lenses. Additionally, there is extra padding on the bottom and on the side pocket and the bag itself is very ergonomical.
The Black Forest Rimo 1 is a timelessly chic bag that doesn't automatically translate into a camera bag that is sure to meet a variety of portrait photographers' lifestyles.
Related Articles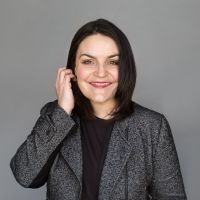 Brittany Smith
Brittany is a fashion and beauty photographer who works between NYC, Montana and LA. She photographs the way she has always wanted to feel and believes in the power of raw simplicity. When not behind a camera she can usually be found at a local coffeeshop, teaching fitness classes at the YMCA, or baking something fabulous in the kitchen. Instagram: @brittanysmithphoto