To create a great surreal fantasy portrait, it doesn't have to be a huge, expensive production.  In the following video, Jay P. Morgan from The Slanted Lens shows you how he created a great-looking fantasy image with a relatively small and inexpensive production. He uses a few studio strobes, leaves and a branch that he places right at the corner of his frame to visually border the shot and some grass in the foreground to create this fun, stylized image.
Watch how it was done:
The Backdrop
The design of the set is also relatively simple. Jay uses a gray backdrop that looks like a thunderstorm cloud. To give the backdrop of the image some depth, he then placed three Photoflex Flex Head strobes right on the ground to produce a nice fall off from the bottom to the top.
Other Elements In The Shot
Jay also places clumps of grass in foreground of the image to make the scene a bit more dramatic. Due to the large aperture of f/2.8, the grass falls nicely out of focus.
The Construction
We created a small structure for her to lean on that will give the impression that she is leaning into the wind. A couple large fans and some handfuls of leaves will complete the set.
And there you have it: a quality fantasy image that was produced without a huge team and a lot of money.
What do you think about this image? Do you have any tips on creating such images?
[via TheSlantedLens]
CREDITS: All photographs shared by Jay P. Morgan are copyrighted and have been used with permission for SLR Lounge. Do not copy, modify or re-post this article or images without express permission from SLR Lounge and the artist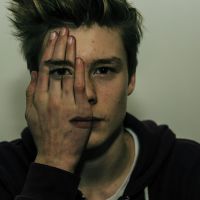 Paul Faecks
Paul Faecks is a portrait- and fine art photographer, based in Berlin. If you want to check out his latest work, you can do so by following him on
Instagram
or by liking his
Facebook Page