As I write this, there are a few cameras dotting the landscape of my desk, sitting idly, waiting to be used and tested. I know their makers, their stats, and each is a fine piece of engineering in its own right. I can see the numbers written on them denoting their names, but frankly, they could be a host of other cameras in their indifference. I won't name them, but for the most part, they've got about as much character as the wine I'm drinking. Actually, scratch that, the wine is developed enough to star in its own novella.
Their lacking, however, has reason; like Pacific Rim cars are tools created to prop up economies of developing countries, as a rival for the moped and mule, these were produced to be tools. They are very utilitarian, function over form, and there's nothing wrong with that. There's another camera which I've just recently parted with, that's very, very different though.
Related Reviews:
Getting Started + Features
As I mentioned in the initial thoughts a few weeks back, it's sexy right out of the box – actually from the moment you see and open the box, as the packaging is a reflection of the camera. The lenses are also opened to much fanfare due to their presentation cradled in a magnetically sealed box with custom foam inserts that look as if they'd be equally adept at cradling eggs of a Fabergé persuasion. Unlike the eggs fit for a Tsar, the camera does feel good in the hand, and durable.
Once out of the box, you'll have in your hand a deceptively light vintage looking camera body, encasing a 16.3MP APS-C, X-Trans II CMOS Sensor soul. Here are the rest of the basic specs of the camera:
EXR Processor II
Intelligent Hybrid AF & Enhanced Manual Focus
3" 1,040k-Dot LCD MOnitor
0.5" 2,360k-Dot OLED Viewfinder
Film Simulation Mode (great) + Advanced Filters (generally useless)

Wi

-Fi Capability Built-In
7FPS Continuous Shooting (Processor allows for 28 consecutive 14-bit Raw files)
Full 1080p Video Recording at 60fps
All of that is contained within essentially the same body as its predecessor the X-E1. The layout is the same for the most part with the manual shutter speed and exposure compensation dials, but a few buttons have been shifted around. More buttons on this model are customizable, though this is something I didn't find the need to do much as the default layout is good. The exposure comp on the X-E2 does allow you to extend to +/-3EV giving you an extra stop over the +/-2EV of the X-E1.
The screen is immobile, and it's also not touch sensitive. I don't think most will miss the inability to use the screen as a touch screen, but I think having a tilting screen would have been beneficial. The screen, however, did allow for accurate representation and has a wide viewing angle.
Performance
It's worthwhile to notice the similarities between the innards of the X-E2 and the X100s in terms of performance. They both have the same heart and brain, in that they share the same sensor and the same processor. This isn't a bad thing. The dynamic duo allows for continuous shooting of 7fps as full res, and for an extremely quick real world start up time of 0.5 seconds. No, I didn't measure that, but there was no need, it's entirely fast enough to not let a capture worthy moment pass. Strangely, the wake-up time when it's been idle for a while takes longer and I found it a bit annoying. One has to depress the shutter button for what seems like just too long.
The X-Trans CMOS II also has some dedicated pixels for phase detection, along with the contrast detection. This hybrid is a departure from the X-E1's contrast only. It's this, I believe, that allows for the camera's routed fast autofocus capability. And it is fast, with the caveat that you're using an appropriate lens. I've mentioned in previous reviews that while most lenses such as the 23mm f/1.4 and 18mm f/2 are nimble and quick, the 60mm f/2.4 felt like a sloth in anything other than bright light.
The continuous focusing option now is no longer restricted to the rather pedestrian center focal point, and functions decently. Nothing to write home about though. All of this was aided by the firmware update that Fuji released for the X-E2 not long ago, which actually was significant in its noticeable improvements.
Some Witchery With The Sensor
I had to speak to someone at Fuji due to the fact that I'm not a camera engineer, and I didn't understand what the significance of a Bayer pattern RGGB was. I was informed that most RGGB receptors are slotted in a 2 x 2 fashion, but the X-Trans CMOS II uses a 6 x 6. I still wasn't getting it so they mentioned that the random arrangement of those filters within each set of 36 receptors means the sensor wasn't in need of an anti-aliasing filter (yawn) and less moire. Now, it sounded like witchcraft to me and I damn near passed out as they were speaking, but the gist is the photos are sharp. And my, are they ever.
The native ISO range of the camera is 200-6400 and normally I don't care about the highest ISO can go since I generally refuse to go above 1600 unless I absolutely need to. However, to my utter surprise, I found myself shooting often at 2000 ISO and unafraid of 4000. The images rendered at those levels were utterly delightful, especially for casual shooting on the street at night, or at a restaurant. Shooting in JPEG gave some slightly unusual renderings of defocused areas, but the problem was nil in RAW. All in all, the sensor and processor combo seem like a match made in a Ben & Jerry's.
The lens modulation optimizer system in the X-E2 does warrant a mention also, as it tailors the image processing to the particular lens being used, focal length, and aperture to give better overall quality in rendering, and certainly sharpness into the corners.
Usability
It's fair to say that the layout of the camera was extremely easy to get used to even if you've never picked up a Fuji X series before. The digital EVF was very, very good. It was bright and seemed to do well in low light. The camera also allows you to do a zoom spilt screen to nail focus and the EFV displays it well.
The EVF wasn't, however, without fault; it has a proximity sensor which it uses to switch it on and off (depending on camera config) and I just felt there were a few too many times where it wouldn't turn on when I needed it to if my face wasn't pressed right up against it. This was clearly noticeable when shooting in portrait mode. In landscape, it wasn't an issue, but in portrait, it was often an issue. Other than that, it functioned well, and the diopter was easy to calibrate. The benefit of the EVF is the same for all EVFs is that you get to preview the actual final result of the image, and the representation on the X-E2 is highly accurate.
Flash
The built in pop-up flash was yet another pleasant surprise. With low light performance being so good on the X-E2, paired with gorgeous Fujinon primes, there wasn't much need to use it, but it was actually effective and easy to use. I'm actually only mentioning it here because it, like the Sony RX100 series, has a flash that can be bent back and bounced off the ceiling. It does a remarkable job spreading out the light by doing this and photos in a room look like they were lit with a giant softbox. Great for parties.
Image Quality
I've sort of spread out my thoughts on image quality throughout this review, but a few things are worth mentioning. The auto white balance setting was more accurate than most cameras I've tried, and the JPEG files are great, though they can seem a little over sharpened if you're nit-picking, and as to be expected, the dynamic range was noticeably poorer than that of the RAW files. Speaking of RAW files, they were truly wonderful; and using Camera Raw/Lightroom, lots of detail was able to be recovered when needed.
One of the nice touches from Fuji is the inclusion of their historic films in the form of a film simulation mode, and the simulations of Provia and Velvia etc. are applicable in RAW. Weird, but it works, which lets you shoot this and still fiddle in post to get just what you want.
Conclusion
Admittedly, I wanted to like this camera. I wanted it to be what it turned out to be. What is that? Well, brilliant, and flawed. It has character in its looks, and in its performance, and it lacks some things I wish it had. I think the addition of an articulating screen would be good, a better performing EVF proximity sensor, maybe even be made more of metal even at the expense of some weight. The software included is rather rubbish in my opinion, but then again, most owners would probably have Lightroom or Photoshop of some sort. I think having the touch screen would also aid in autofocus, but I think one way to better it would be to offer less, yes, less autofocus points around the screen; there are so many it takes a load of clicks to get it where you want. Oh, and if they slapped a full frame sensor in this…one can dream.
But here I'm just nitpicking so you all may see I am being objective. But when you see and use this camera, and place it among its contemporaries from Fuji, it does seem as though we are heading in the right direction. With a stable of primes that are generally magnificent, and coming in at under $900, I just can't think of a reason to tell you not to get this as an everyday shooter. I still found myself reaching for the DSLR when it came time to shoot for work, but maybe with time, that would change too, because its form factor and throwback looks deceive you into thinking it's just for fun and not proper value. But no one judges the value of the Mona Lisa by the size of the canvas. It's seriously good, and it has something about it that made me want to use it.  I took this camera everywhere, and everywhere it went, glances and questions followed.
Parting with the Fuji X-E2 I was reviewing was painful. Handing the box over the shipping counter felt like what I imagine handing over the keys to your dream car to a repo man feels like. Or perhaps giving your daughter away to a man you know is not worthy. I did so begrudgingly.
This morning I just sent back a D610 and, while it's a capable shooter, I dropped it off like I returned a rental car – because comparatively that's what it's like. One's something you use to get something done, and the other you use just because you enjoy it, and you want to. If a friend had asked me to borrow the X-E2 I would've said, "Sure, if I can borrow your girlfriend," because that's how it feels. If you have the budget, if you've been thinking about it, my advice would be, to get one. And never look back. I say this as I have one in my shopping cart.
You can get it here.
CREDITS: All photographs shared by Kishore Sawh are copyrighted and have been used with permission for SLR Lounge. Do not copy, modify or re-post this article or images without express permission from SLR Lounge and the artist.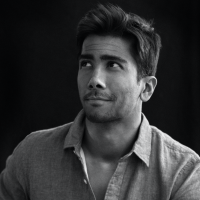 Kishore Sawh
A photographer and writer based in Miami, he can often be found at dog parks, and airports in London and Toronto. He is also a tremendous fan of flossing and the happiest guy around when the company's good.